The cliche, one man's trash is another man's treasure, has never been truer than at Caesars Entertainment. This year, more than a dozen of its retail stores across the country started carrying Bottlehood recycled products that have quickly become best-selling items.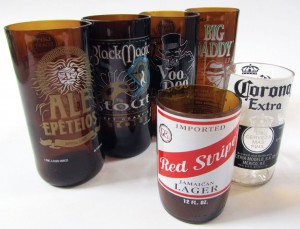 To help reduce their carbon footprint, Caesars Entertainment encouraged Bottlehood to open a Las Vegas-based recycling center that will hold its ribbon cutting ceremony October 18. Top shelf alcohol bottles from brands including Grey Goose, Patron and Belvedere are donated to the facility and repurposed into light fixtures, dishes, jewelry, wine and shot glasses, tumblers and vases, etc. for sale in retail stores.
As the exclusive casino retailer for Bottlehood, Caesars is largest buyer/seller of these products in the country and has plans to expand with the opening of a new Bottlehood store at Caesars Palace Las Vegas in Appian Way this winter.