Three long-time employees from Caesars Entertainment knew they had won the trip of a lifetime in January, when they boarded a plane to the Philippines with partners from Children International and the Clean the World Foundation. Over the next week, Socorro Garcia, Housekeeping Supervisor at Bally's, Bill Knowles, Slot Tech at Harrah's Laughlin, Lance Elliott, Dealer at Harrah's Iowa, along with Jessica Rosman, Director of Supplier Diversity and Sustainability, helped deliver hygiene products and health education tips to schools and community centers throughout Manila.
The winners visited seven distribution sites in all, hand-delivering 17,400 bars of soap to 4,350 children and teachers. Each site welcomed them warmly with leis made by the children, marching bands, food, singing and smiles. During the site visits, the team performed a skit for the children featuring germ-fighting superheroes "Super Sabon" and "Super Tubig" which translate to Super Soap and Super Water in the national language, Tagalog. One trip participant wrote, "The sound of children's laughter filled the air as the super heroes showed their muscle after they fought the germs!"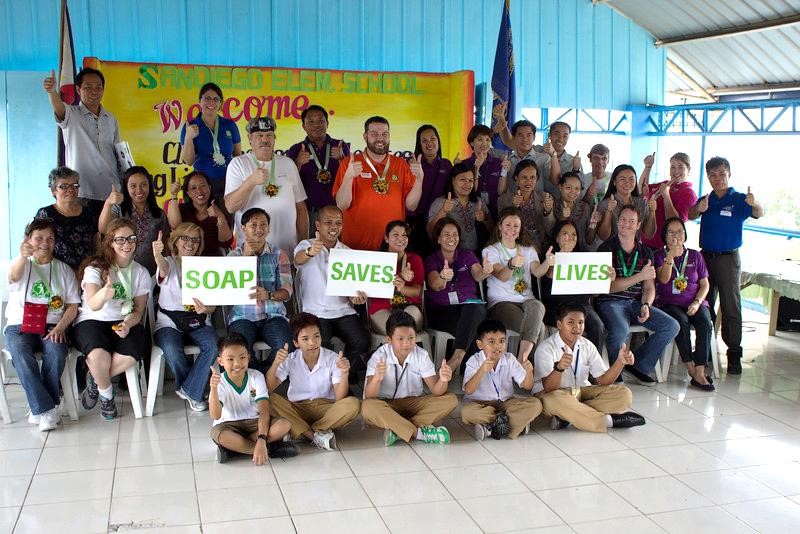 Caesars' sponsored the Clean the World Employee Contest to provide a few dedicated employees a first-hand look at the difference a bar of soap can make. "As we continue to support Clean the World, we are excited to be able to expand our impact by sending our employees to aid an area of need," said Thom Reilly, Executive Director of Caesars Foundation.
Last fall, contest applicants nominated themselves or a fellow employee in one of three categories: Dedication to Community Service, Service with Passion, and Outstanding Housekeeper. Hundreds of employees, from housekeepers to dealers to front desk attendants applied for an opportunity to go to the Philippines and be on the front lines of Clean the World's mission. In their applications, employees shared stories about nominees going above and beyond at work and in their communities. Entries were voted on by leaders throughout the business and winners were announced on November 4th.
Winner Bill Knowles couldn't believe his luck, "I don't know what to expect- I can't believe I won!" Any uncertainty among the team members soon gave way to exuberance. On their last day in the Philippines, the three winners agreed that their trip was unforgettable. They were deeply moved by the generosity and enthusiasm of the children they met and proud to support a great cause. Socorro Garcia called the experience "life-changing" and Lance Elliott said it was the best trip of his life.
Caesars began working with Clean the World soon after it was founded in 2009. The organization collects and recycles soap and bottled amenities discarded by the hospitality industry and distributes them to people in need, aiming to prevent millions of deaths each year resulting from hygiene-related illnesses. To date, the Caesars Foundation and Caesars Entertainment have donated more than $550,000 in grants and in-kind services to establish the Las Vegas Recycling Operations Center for the Western United States.
All of Caesars' U.S. properties are major contributors to the cause. Each day, housekeepers at 34 properties clean thousands of hotel rooms and collect unused soap and shampoo that are donated to the organization. Since the partnership began, Caesars has provided over 300 tons of soaps and shampoos. Additionally employee teams volunteer at Clean the World's facilities to help sort and prepare soaps for redistribution.
To learn more about Clean the World visit www.cleantheworld.org