Caesars Entertainment's State-of-the-Art Facility Offers 550,000 Square-Feet of Conference Space with the World's Two Largest Column-Free Ballrooms,
Opening End of March 2020
**High-Res images/video download, click here**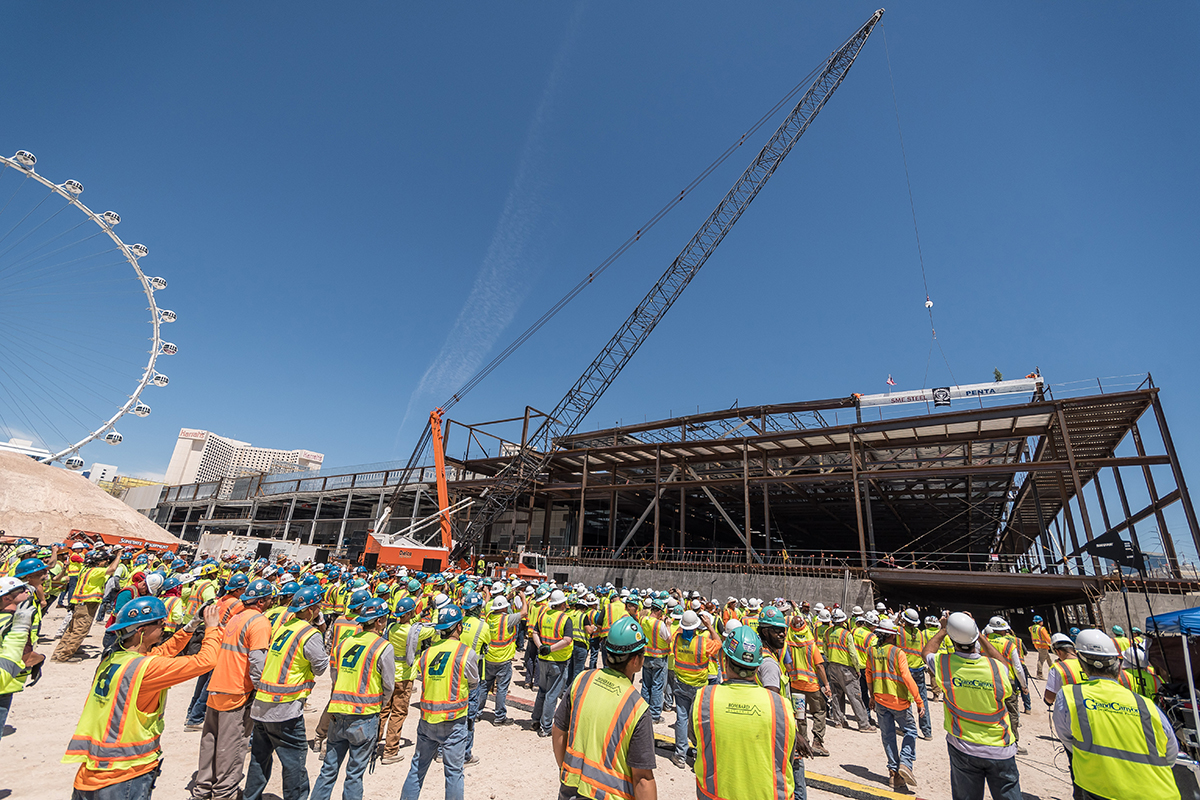 LAS VEGAS (June 13, 2019) - Caesars Entertainment Corporation (NASDAQ: CZR) reached an important milestone yesterday, topping off its new state-of-the-art 550,000 square-foot conference facility, CAESARS FORUM. More than 450 construction workers as well as meetings and conventions customers joined Caesars Entertainment executives for the monumental moment of placing the final steel beam atop the structure. The $375 million conference center will carry a LEED silver-rating and features the world's two largest pillarless ballrooms, anticipated opening before the end of March 2020.
"CAESARS FORUM is one step closer to offering this one of a kind-option in the meetings and conventions industry," said Michael Massari, Chief Sales Officer at Caesars Entertainment. "The interest and bookings for our world-class facility has exceeded our expectations and we look forward to serving a variety of clients when we open the doors to CAESARS FORUM next year."
CAESARS FORUM will be the first facility of this size built on one level and is equivalent in size to twenty-seven tennis courts or three ice hockey rinks. It will also feature FORUM Plaza, the first 100,000 square-foot dedicated outdoor meeting and event space in Las Vegas. Additional features include:
• Within walking distance to eight of Caesars Entertainment's Las Vegas properties with 20,000 hotel rooms citywide• Direct access via skybridge to Harrah's Las Vegas and The LINQ Hotel + Experience• Connected by pedestrian bridge to the LINQ Promenade and Flamingo Las Vegas• 300,000 square-feet of flexible meeting space, including two 110,000 square-foot pillarless ballrooms, two 40,000 square-foot ballrooms and six state-of-the-art boardrooms• Accommodates more than 10,000 participants and offer more than 100 break-out rooms• Divides into limitless configurations for customers, utilizing over two miles of airwalls.
Construction Fast Facts
• Over 7,500 pieces of Steel• 10,000 tons of Steel• 143,500 bolts• More than 300,000 total construction hours• 26,718 cubic yards of concrete• Ten roof trusses: each 315 ft. long, shipped in three pieces• Topping off beam was fabricated in Utaho Typically raised with a pine tree and flago The first topping off with a tree dates back to 700 AD in Scandinaviao The tree signifies, growth and healtho The flag shows patriotism
To view the 24/7 jobsite live camera at CAESARS FORUM, visit https://bit.ly/2pn5kAI.
For more information, visit www.CAESARSFORUM.com .
###
About Meetings and Events at Caesars Entertainment Corporation
The world's most geographically diversified casino-entertainment company, Caesars Entertainment offers meeting and event planners one dedicated team, united nationwide, committed to providing the most successful meeting experiences possible. With one call or email, planners have access to nearly 40 properties in 20 unique destinations, with 2.1 million square feet of meeting space and more than 40,000 guest rooms. Mix and match properties and venues within a destination under a single contract and minimum. Enjoy elite perks, rewards and privileges with our Caesars Rewards Meeting Diamond Program. For more information, please visit www.CaesarsMeansBusiness.com and www.CAESARSFORUM.com.
About Caesars Entertainment
Caesars Entertainment is one of the world's most diversified casino-entertainment providers and the most geographically diverse U.S. casino-entertainment company. Since its beginning in Reno, Nevada, in 1937, Caesars Entertainment has grown through development of new resorts, expansions and acquisitions. Caesars Entertainment's resorts operate primarily under the Caesars®, Harrah's® and Horseshoe® brand names. Caesars Entertainment's portfolio also includes the Caesars Entertainment UK family of casinos. Caesars Entertainment is focused on building loyalty and value with its guests through a unique combination of great service, excellent products, unsurpassed distribution, operational excellence and technology leadership. Caesars Entertainment is committed to its employees, suppliers, communities and the environment through its PEOPLE PLANET PLAY framework. For more information, please visit www.caesars.com/corporate.
Media Contacts:
Ishma Haider
Marketing Manager
Caesars Entertainment
Reina Herschdorfer
Director of Marketing
Caesars Entertainment