Drai's Beachclub Las Vegas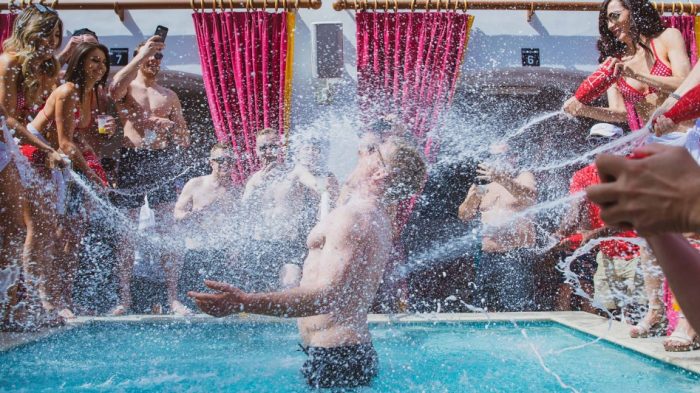 Start of dialog window.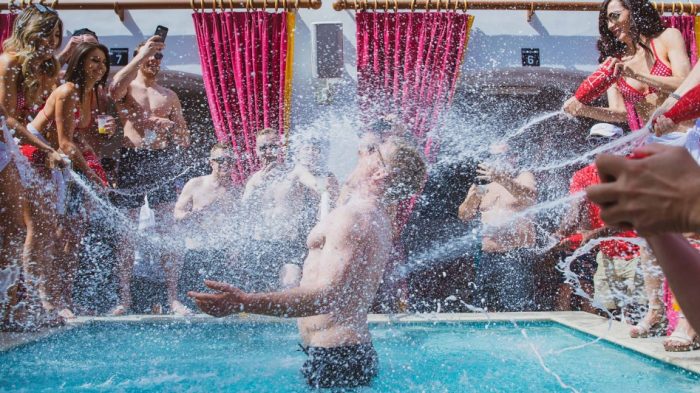 End of dialog window.
Book A Room
Facts
Type of Activity
Nightlife
Attire
Business Casual
Cover Price
Yes
Hours
Temporarily Closed
Contact Number
(702) 777-3800
Additional Info
Cafe Hours:
12 PM - 5 PM
Due to recent developments Drai's Beachclub Nightclub and After Hours will be suspending operations until further notice. The health and safety of our team and guests is our number one concern. Please follow our social media channels and website for updates.
Drai's Beachclub Las Vegas Pool Party offers panoramic partying on the Cromwell's rooftop deck 11 stories above the Strip.
The Beachclub is a hot spot to play during the day. The club is open Friday – Sunday from 11 a.m. – 6 p.m. and features multiple pool experiences, luxury cabanas, bungalows and music from top DJs and special guests.
Guests can enjoy service from two bars and there's food service available from Drai's Café to keep you energized for the party.
Caesars Entertainment hotel guests receive free admission to the Beachclub before 1 p.m. (with room key) and guests of The Cromwell can enjoy an expedited entry line. (Free Beachclub admission is subject to blackout dates + capacity limits. Limited to two guests per room key.)
During the week days, stop by for a more laid back, open format experience.
Beachclub Details
Cabana reservations: (702) 777-3800
Beachclub hours: 11 a.m. - 6 p.m. Friday–Sunday
Square Feet: 35,000 (2,500 capacity)
Admission: Complimentary for all Caesars Entertainment hotel guests before 1 p.m. and Seven Stars & Diamond Caesars Rewards members. Click here for Drai's Beachclub Event Calendar and tickets.
*Free admission subject to capacity.
To inquire about daybed, cabana or booth rental for pool deck hours, please call (702) 595-9366 or email info@draislv.com.
Dress code: Fashionable Beachclub attire required. Dress code enforced strictly with management discretion.
Persons not dressed for bathing will not be allowed in the pool or spa. Clothing which can be considered vulgar, offensive or otherwise likely to cause a disturbance is not permitted. This includes, but is not limited to: transparent and/or see-through bathing suits, chains, torn clothing, or low or baggy pants with exposed undergarments. Management reserves the right to refuse service to anyone unwilling to comply with our dress code. Those unwilling to comply may be asked to depart the property.
The following articles are prohibited: Athletic gear and apparel, pants, torn or cutoff clothing, sandals, basketball shoes, work wear, Jordan shoes/apparel, Timberlands, hats, baggy clothing, chains, offensive prints on clothing, weapons, controlled substances, eye drops, gum, outside food or beverages, liquids, vitamins, supplements, over-the-counter medications, prescription medications without valid prescription, cameras, GoPros, wearable technology, selfie sticks, vaporizers ('vapes'). Any devices found in use will be confiscated and disposed of by management without compensation. Guests noticeably intoxicated or under the influence of a controlled substance will be denied entry and will not be eligible to receive a refund.
All persons, bags and personal items are subject to search. If you remove your shoes you will immediately be escorted out of the venue. We have a zero tolerance policy. Must be at least 21 years old with a valid ID form of ID. Management reserves all rights.
Caesars Rewards Seven Stars & Diamond members: Complimentary entrance and Priority Line access for member plus one guest.
Features:
15 mezzanine-level cabanas each equipped with HD televisions and private bathroom with showers
10 lower bungalows each with HD televisions and private spas
40 poolside daybeds
Central wet deck and perimeter seating
8 luxury pools (2 main, 1 mezzanine, 5 bungalow)
2 main bars
10 35-foot-tall natural palm trees
Unobstructed sunlight and views
Outdoor DJ booth with oversized LED façade
Drai's Café
Drai's Cafe hours: Mon. - Thurs. 10 a.m. - 6 p.m. and Fri. - Sun. 11 a.m. - 6 p.m.
Admission: Complimentary for all Caesars Entertainment hotel guests and Seven Stars & Diamond Caesars Rewards members.
Drai's Beachclub's full-service gourmet kitchen, Drai's Café returns this pool season to keep revelers energized and refueled throughout the day. In addition to serving up jaw-dropping panoramic views from high above the iconic Las Vegas Strip, Drai's Café offers a delectable combination of newly curated and signature menu items. Each day, The Strip's sexiest and most attentive bartenders and servers will be slinging tasty and refreshing beverages from a specialty cocktail menu. Drai's Café is the perfect spot for a power lunch or poolside nosh; the menu can be enjoyed at a Strip-side table or from the comfort of a plush cabana or sun-kissed daybed.