Bound Las Vegas Bar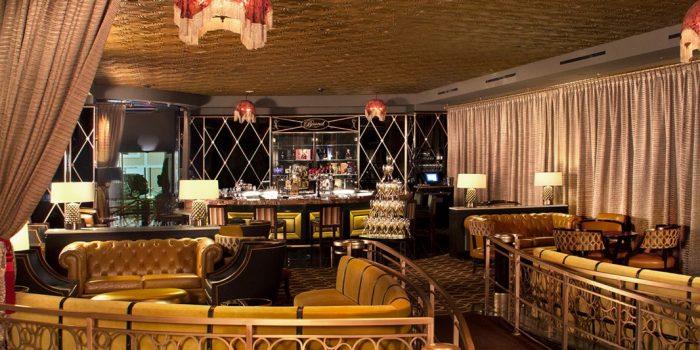 Book A Room
Facts
Type of Activity
Nightlife
Attire
Casual
Hours
Mixology Master Class
There are three things we need from a cocktail – it must be simple, delicious and Instagrammable! Welcome to the Mixology Master Class at Bound, where our skilled bar staff are sharing some tasty tips on how to create the perfect party drink – our very own signature, The Spicy Fifty.
Upon arrival your charismatic host welcomes you to your workstation at the bar, which is beautifully set up with premium tools and quality ingredients ready at your fingertips.
Our fun and interactive drink workshop provides guests with the skills to create bespoke cocktails. In the first phase of the workshop, the host guides you on how to properly use different tools, and may even throw in a few pieces of flair, to get you started off right! Once the prep work is done we move on to assembling the drinks.
ABOUT THIS CLASSY LAS VEGAS BAR
Invite your closest friends and spend an elegant evening at Bound, The Cromwell's sophisticated lobby bar. Located right between the hotel check-in and retail shop, Bound takes your Las Vegas bar experience to a new level of class. The subtle lighting and gold and dark tones create a warm, intimate feel. Plush seating and curtains surround the bar, providing an intimate vibe. Bound's crowning centerpiece is its chic circular bar.
The carefully-curated menu of cocktails features a wide variety, fit for every taste. For something different, try the Breakfast Martini. Inspired by the breakfast staple, the Breakfast Martini cocktail is gin-based and mixed with the "finest orange marmalade." Sip and discover your own personal favorite.
Hungry? Text LVCROMWELL to 555-888 and follow the directions to order delicious bites delivered from eatwell straight to your table or the bar at Bound.
EXPERT TIPS
For bourbon lovers, try The Bound Old Fashioned: This fine cocktail is comprised of Woodford Reserve bourbon, sugar cube, house-made brandied cherries and Angostura bitters.
Unleash your inner bunny with The Bunny Bubbles. Made with raspberry puree and fresh pomegranate, the name draws inspiration from the most iconic centerfold models.
Looking for something sweet and spicy? Don't miss The Spicy Fifty - crafted with Stoli Vanil vodka, elderflower syrup, fresh lime juice, honey syrup and chili pepper.
Why You'll Love It
Spicy Fifty - Signature Cocktail
Grace - Signature Cocktail
Blood & Sand - Signature Cocktail
Bound Entrance
Start of dialog window.
Why You'll Love It
End of dialog window.
Reviews
Bound is a "hidden gem inside the lobby of Las Vegas' Cromwell hotel on the Strip".