Bound Las Vegas Bar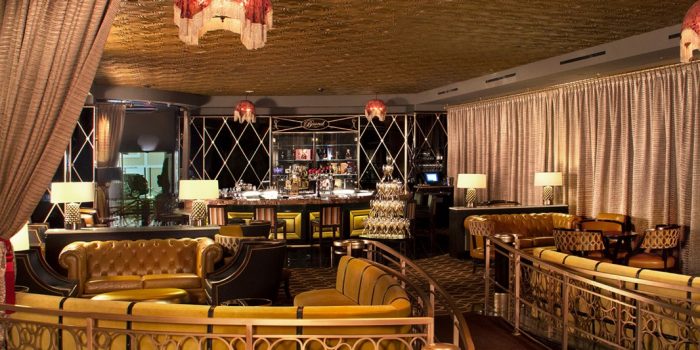 Book A Room
Facts
Type of Activity
Nightlife
Attire
Casual
Hours
Mon. - Thurs. 4 PM - 12 AM
Fri. - Sun. 12 PM - AM
Additional Info
Live Music Nightly:
Sun-Thurs: 9 PM - 11 PM
Nightly: 9 PM - 1 AM
For parties of 14 or more and private dining, please call 702-731-7778 or email Group Sales.
ABOUT THIS CLASSY LAS VEGAS BAR
Invite your closest friends and spend an elegant evening at Bound, The Cromwell's sophisticated lobby bar. Located right between the hotel check-in and retail shop, Bound takes your Las Vegas bar experience to a new level of class. The subtle lighting and gold and dark tones create a warm, intimate feel. Plush seating and curtains surround the bar, providing an intimate vibe. Bound's crowning centerpiece is its chic circular bar.
The carefully-curated menu of cocktails features a wide variety, fit for every taste. For something different, try the Breakfast Martini. Inspired by the breakfast staple, the Breakfast Martini cocktail is gin-based and mixed with the "finest orange marmalade." Sip and discover your own personal favorite.
Hungry? Text LVCROMWELL to 555-888 and follow the directions to order delicious bites delivered from eatwell straight to your table or the bar at Bound.
Live Music
Bound offers live music and spirits nightly. Enjoy a featured singer or DJ from 9 p.m. to 1 a.m. on Fridays and Saturdays and 9 p.m. to 11 p.m. Sunday through Thursday.
EXPERT TIPS
For a citrus kick, try The Cromwell Fizz: This fine cocktail is comprised of Macallan Fine Oak Whiskey, lemon juice and orange bitters and topped with Moët & Chandon Impérial champagne.
Unleash your inner bunny with The Bunny Bubbles. Made with raspberry puree and fresh pomegranate, the name draws inspiration from the most iconic centerfold models.
Looking for a picker-upper? Calabrese created exclusive-to-Cromwell espresso cocktails, ideal for both night owls and early birds. These unique cocktails are served in a frozen traditional Italian Moka Pot. They also have clever names like Keep Me Awake Bro and Never Say Goodnight.
Why You'll Love It
Start of dialog window.
Why You'll Love It
End of dialog window.
Reviews
Bound is a "hidden gem inside the lobby of Las Vegas' Cromwell hotel on the Strip".
Best New Cocktails on The Strip