Drai's Pool at The Cromwell - Reopening March 2021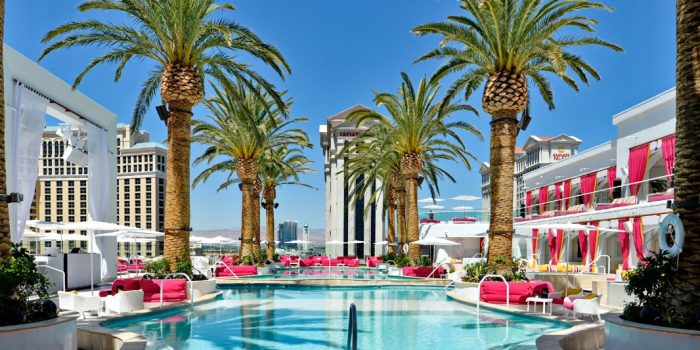 Book A Room
Facts
Type of Activity
Pool
Cover Price
Complimentary with room key
Contact Number
(702) 777-3800
Additional Info
Drai's pool is open to guests 21 years of age and over
Drai's Pool at The Cromwell is currently closed.
Hotel guests can relax and unwind at Drai's Pool located inside The Cromwell, situated on a rooftop deck 11 stories above the Strip.
Take in the spectacular Las Vegas views from two main pools as well as six hot tubs that are accessible if you purchase one of the 10 bungalows surrounding the pools.
There are also 15 cabanas for rental with HD TVs and private bathrooms with showers. Click here to check availability.
Daybeds and lounge chairs are available with a small food and beverage minimum from Drai's Cafe.
Guests can enjoy drink service as they lounge around the palm tree-lined pool. A full bar is available as well as specialty cocktails like spicy margaritas, blueberry mojitos and cucumber lemonade with Grey Goose, fresh lemonade, cucumber soda and fresh cucumber.
You don't even have to leave the pool if you're hungry for lunch. Drai's Café offers an extensive menu of bites to keep you satisfied as you soak up the sun. The menu offers shrimp ceviche, nachos, fries, hot dogs, salads, flatbreads, sandwiches, sliders and more.
Drai's Pool at The Cromwell is open Monday – Thursday from 10 a.m. – 6 p.m. and admission is free for anyone 21 and older. Guests staying at The Cromwell can also access Beach Club pool at Flamingo and Garden of the Gods Pool Oasis at Caesars Palace for free by showing your room key.
Hang late night for Swim Night only on Thursdays starting at 10:30 p.m. On the weekends, this tranquil oasis turns into a hot party spot with Drai's Beachclub. The Beachclub is open Friday - Sunday, 11 a.m. – 6 p.m. and features a party vibe and music from top DJs and special guests.