Las Vegas Spa at the Flamingo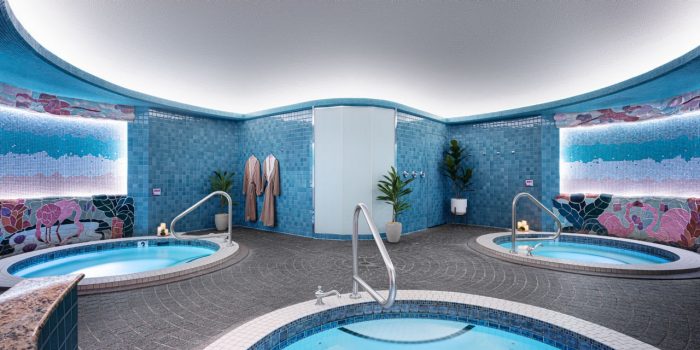 Book A Room
Facts
Type of Activity
Spa & Fitness
Hours
Daily 6am - 7pm
Contact Number
(702) 733-3535
Additional Info
About Flamingo Spa
The spa at Flamingo offers an array of serene treatments, as well as a state-of-the-art fitness center. Located on the hotel's lobby level, the tranquil spa provides a much-needed relaxation from the Strip's hustle-and-bustle. Melt away your stress with a variety of treatments intended to pamper your body from head to toe. From revitalizing massages and facials to body treatments, the Spa at Flamingo is a must during your stay.
Seasonal Specials
This year's Fall and Winter Specials feature your choice of the following: a Seasonal Spa Sampler Package that allows you to choose from a Warm Brown Sugar Vanilla Body Butter massage to soothe your skin, an Organic Brown Sugar Body Scrub to smooth, and/or a Brightening Pumpkin Enzyme Facial to recuperate. Or you can indulge in a Warm Vanilla River Stone Massage to relieve stress and warm the muscles followed by a Cranberry Facial that will nourish and revive the skin from dry cool weather.
SPA TREATMENT PICKS:
Couples Package: An 80-minute relaxation massage that includes two complimentary enhancements of your choice.
Solo Journey: Hydrating Volcanic Clay and White Sand Body Wrap and Perk Facial
Parties and Groups: Desert Detox Body Wrap
Spa Amenities
The spa at Flamingo offers separate men's and women's lounges for spa guests. Each lounge has three multi-temperature whirlpools, a dry sauna, a eucalyptus steam room with cucumber iced towels, detoxifying infused water and an assortment of herbal teas. If you are looking to unwind and relax, indulge in hours of relaxation starting at $20.
Fitness Center
If you are looking to squeeze in an intense workout during your stay, the Flamingo's fitness center has everything you need. If you are a hotel guest (18 or older), the fitness center is complimentary for two guests per room per day. The fitness center includes a variety of free weights, advanced cardio equipment, and strength training machines for full body training. Need a kick start? Personal training is available.
EXPERT TIPS
Personalize and enrich each treatment with an assortment of enhancements
Gain complimentary access to our state-of-the-art spa by booking a service of $50 or more
Restore your body's positive energy with the spa's Reiki Balancing massage
Why You'll Love It
Enjoy a relaxing retreat
Choose one of many soothing facials
Relax and rejuvenate with a soothing treatment
Start of dialog window.
Why You'll Love It
End of dialog window.
REVIEWS
"The spa and fitness center are extensive, with multiple strength machines, a broad set of free weights, and multiple cardio machines."
"With a cozy, quiet atmosphere and personal attention often associated with "Old Las Vegas," the Spa at the Flamingo offers visitors a much needed respite from the chaos of the Strip. A large exercise room greets spa visitors at the entryway, recently expanded to include a stretching area. "