The Flamingo Wildlife Habitat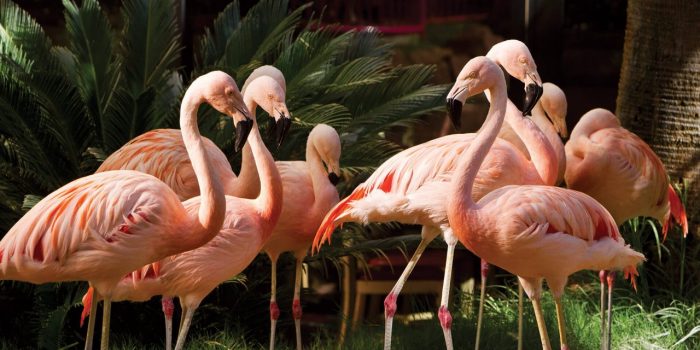 Book A Room
Facts
Type of Activity
Property Feature
Cover Price
None
Hours
Daily Daily from dawn to dusk
Pelican Feedings 8:30 AM and 2 PM daily
Contact Number
(702) 733-3349
Additional Info
Non-Smoking Area
What animals are at the Flamingo Habitat?
Home to a beautiful flock of Chilean flamingos.
A colorful collection of other feathered friends such as Ring Teal ducks and Sacred Ibis.
Two brown pelicans joined the habitat from a pelican rescue in 2012.
In addition to our namesake, you'll find swans, ducks, koi fish and turtles living at the Habitat.
What are the Flamingo Habitat hours?
Open daily: Dawn to Dusk
Pelican Feedings: 8:30 a.m. and 2 p.m. daily
Where is the Flamingo Habitat in Las Vegas located?
The Flamingo Wildlife Habitat is nestled on the Flamingo Las Vegas Hotel's lush 15-acre grounds, the habitat is filled with exotic birds, fish and turtles.
What does the Flamingo Wildlife Habitat cost?
Free of charge and open to the public daily.
When are the feedings at the Flamingo Habitat?
Pelican feedings are daily at 8:30am and 2pm.
Quiet places in Las Vegas?
The habitat is an idyllic stop among the buzzing city boulevard and The LINQ Las Vegas Hotel & Casino is just a few steps away.
Expert Tips
Take your picture with one of the resident parrots
Excellent experience for kids and nature lovers
Free attraction with sumptuous background scenery and photo opps
See expansive assortment of wildlife up close
Two live feedings to watch every day
Reviews
"2015 Winner of TripAdvisor Certificate of Excellence, Awarded to Flamingo Wildlife Habitat"
"Be sure to check out the on-site wildlife area, complete with a koi pond and, naturally, a flamboyance of flamingos."
"Just next to the Flamingo's pool area, a flamboyance of live Chilean flamingos, swans, ducks, koi, goldfish, and turtles live on islands and in streams surrounded by sparkling waterfalls and lush foliage."
"When a little birdie tells you that there is group of exotic birds in the heart of the Las Vegas Strip, you're not hearing a fib. At the Flamingo's outdoor Wildlife Habitat, you can get up close and personal with pink flamingos, exotic ducks, koi fish and so much more. The Wildlife Habitat may only be a few steps from the hustle-and-bustle of the resort, but you'll feel miles away."