Agave's Restaurant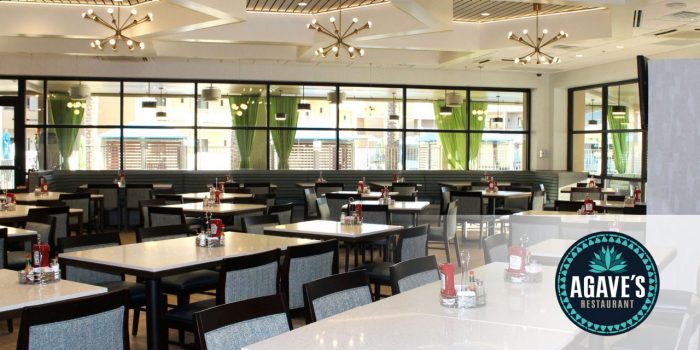 Book A Room
Facts
Cuisine
Cafe/Variety
Price Level
$
Attire
Casual
Contact
(480) 802-5000
Hours
Sunday - Thursday7am - 9pm
Friday & Saturday7am - 10pm
Agave's Restaurant will be your favorite casual dining location after you've sampled the traditional and southwestern flavors created by our award-winning chefs. Enjoy your meal in the Arizona weather as you soak up the poolside views or cool down in our newly remodeled, modern dining space. With an amazing selection for breakfast, lunch and dinner, you'll find something for any meal that is sure to please everyone in your party. Only a mouthwatering dessert or mega cocktail could enhance this experience and luckily, both are available at Agave's Restaurant!
TRI-TIP DINNER DUO
Valentine's Day Dinner for Two
MONDAY, FEBRUARY 14, 2022 • 10AM – 9PM
House Salad
Grilled Tri-Tip, Mac & Cheese, Brussel Sprouts
Turtle Cheesecake with Macerated Raspberries
$70 PER COUPLE
No takeout orders. Reservations are not required. See Agave's Restaurant for more details.