Chop, Block & Brew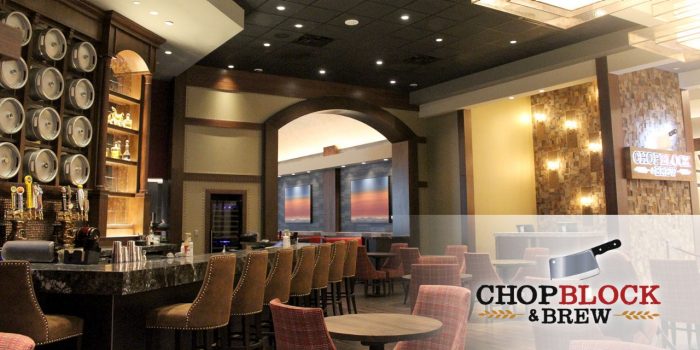 Reserve a Table
Facts
Cuisine
Other
Price Level
$$$
Hours
Dining Room | Sunday - Thursday4pm - 9pm
Dining Room | Friday & Saturday4pm - 10pm
Lounge | Monday - Thursday4pm - 9pm
Lounge | Friday4pm - 10pm
Lounge | Saturday3pm - 10pm
Lounge | Sunday3pm - 9pm
Chop, Block & Brew features a wood-burning mesquite grill. The rustic and relaxed environment serves as a perfect venue to enjoy mouth-watering steaks, prime rib and seafood. Combine your favorite dish with a variety of thirst quenchers including a large variety of draft & bottled craft beers, hand-crafted cocktails, premium Whiskey and premium Scotch.
Make your reservations by calling:
1-855-888-DINE (3463) | 7AM – 5PM PST
OR
1-800-OPENTABLE | 24 Hours
4th OF JULY DINNER
MONDAY, JULY 4, 2022 · 4PM – 9PM
Soup or salad to start
Followed with smoked turkey, smoked pulled pork, smoked brisket, green chili mac & cheese and corn on the cob
Dessert to end the meal, caramel banana pudding
$65 per person
RESERVATIONS ARE RECOMMENDED. Tier discounts apply with cash or credit purchases only. Other restrictions may apply. No substitutions. Alcohol and gratuity are not included.