Harrah's Cherokee's Health and Safety Plan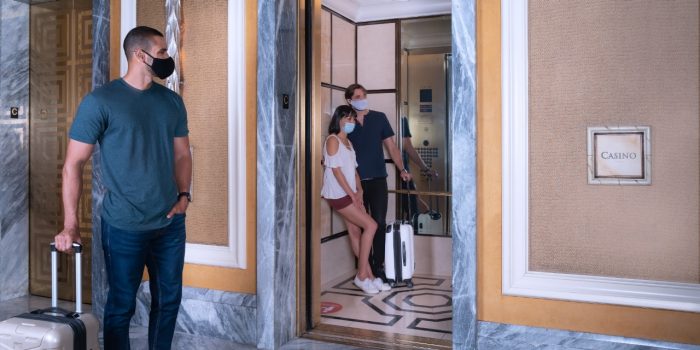 Book A Room
LET'S PRACTICE HEALTH AND SAFETY TOGETHER
Please follow these health and safety protocols with us.
SOCIAL DISTANCING
Join us in practicing social distancing at gaming tables, slot machines, restaurants and more. Please do not congregate in groups.
WASH HANDS
Please wash hands frequently for a minimum of 20 seconds. Hand sanitizing stations are also available.
MASKS
In alignment with Tribal and State health and safety protocols, masks are now optional for both guests and employees. We encourage guests and employees who are not fully vaccinated to wear a mask at their discretion.
CLEAN & SANITIZE
We are frequently cleaning high-touch areas throughout our properties.
GENERAL PROTOCOLS
For the well-being of our guests and team members, employees have been trained on cleaning and disinfectant techniques, including use of PPE, protocols for all surfaces and tracking cleaning schedules. We are facilitating recommended social distancing guidelines throughout the resort and the presence of hand sanitizer stations have been increased across each area.
Masks are optional for all guests and employees.
All guests and team members will be required to have their temperature checked by a designated team member before entering at the property entrance.
Anyone with a temperature at or above 100.4 degrees will not be allowed to enter the building.
Guests will be asked to self screen with questions pertaining to potential COVID-19 exposure. Based on responses, guests may not be permitted access to the property.
Government issued photo identification will be required upon entry into the casino.
Occupancy will be reduced and there may be wait times to enter the casino.
Our team will be frequently cleaning high-touch areas throughout the property.
The gaming floor is smoke free, with designated smoking areas available.
Hand sanitizing stations will be placed at numerous locations around the property.
Guests are encouraged to use sanitizing stations and practice frequent hand washing.
SLOT PROTOCOLS
Slot machine banks will be arranged to allow for proper social distancing.
All machines and chairs will be frequently cleaned and disinfected.
Guests will be encouraged to use sanitizing stations and practice frequent hand washing.
Smoking will be prohibited at the slot machines.
TABLE GAME PROTOCOLS
Player position limits will be implemented.
Chips, cards, tables and chairs will be frequently cleaned and disinfected.
Each dealer will provide every arriving customer with hand sanitizer wipes.
Dice will be disinfected with each new shooter.
Smoking will be prohibited at table games.
Poker Room is limited capacity.
Poker Room will install dividers at tables to allow for adequate social distancing.
HOTEL
Stayover services will not be provided. Guests may contact room services for additional towels, etc.
There will be no coffee makers in any of the guest rooms.
There will be no microwaves in any of the guest rooms.
Rollaway beds will not be available.
Cribs will not be available.
All guest room deliveries will be placed outside the hotel door.
Staff will not enter any occupied room during the guest stay.
Hotel valet is available for guests only.
RESTAURANTS AND BARS
Dine-in seating will be at 50% capacity and carry out is available.
The Noodle Bar will be open for 50% capacity and no carry out.
Room Service is available for hotel guests.
Tables, chairs and barstools have been adjusted to allow for appropriate social distancing.
Restaurants are using disposable cups and silverware.
Hand sanitizer is provided at entrances, which guests are encouraged to use upon arrival.
Self-serve items, such as condiments, have been removed.
Some restaurants hours of operation have changed. Please see our restaurant page for updated hours. Chefs Stage is closed.
AMENITIES
Caesars Rewards will be open on the 2nd floor and the Rotunda area. Card reprint kiosks are located at the Round Bar, located near table games, and Gilded Basket.
Casino Cashier cages are open 24/7 with social distancing access.
Gift shops will be open with limited operating hours.
Spa services are at a reduced capacity and only offering hair, nail, massage services and relaxation room.
Laurel Lounge will offer bar service only.
The indoor pool is open 5am – 11pm for hotel guests.
Hotel Fitness Center

Every other machine is turned off to allow for social distancing
Guests are asked to sanitize machines and equipment after each use with hotel-provided sanitizer towelettes
Maximum capacity is 10 people
Bottled water will be provided to guests
Entertainment
Click here to learn about our entertainment health and safety protocols
Click here to read all of the Caesars Entertainment Health and Safety Protocols.