Gordon Ramsay Food Market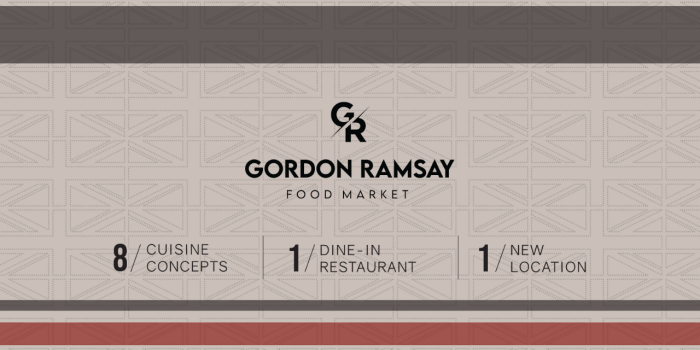 Book A Room
Coming Early 2022
Gordon Ramsay Food Market will feature both full-service dining and market-style elements from iterations of beloved Ramsay restaurants as well as brand-new concepts unique to the Food Market. Offering breakfast, lunch, dinner and late-night options daily, the space will include:
· Truffles Pub: Full-service dining experience with crafted cocktails, Gordon Ramsay classics like Beef Wellington and fish & chips.
· Street Burger: Elevated burgers and fries with a twist, also featuring "scrambled" breakfast items in the morning hours.
· Street Pizza: Neapolitan style pizza combining the freshest local ingredients and seasonal toppings. As Gordon says, "pizza doesn't need to be complicated," and these pies will be just right.
· GR Sushi: Exquisitely crafted sushi and Far East inspired dishes.
· Fish & Chips: Gordon's British-style fish & chips, shrimp and lobster. Extending beyond Gordon's impeccable take on the British classic, you'll find chicken wings, chicken tenders, and an absolutely next level milkshake.
· Catch Café & Raw Bar: NY deli style sandwiches, salads using locally sourced produce, and an incredible raw bar featuring oysters, shrimp, crab, lobster and other seasonal seafood.
· GR Bake & Brew: Full coffee bar, smoothies, bagels, muffins and a variety of grab-and-go pastries to get your morning started right.
Menus will feature hyperlocal and regional ingredients sourced from local farmers and artisans in North Carolina and surrounding areas, including Hickory Nut Gap Farm, Spicewalla, Joyce Farms and many other local and regional sources.