Mandara Spa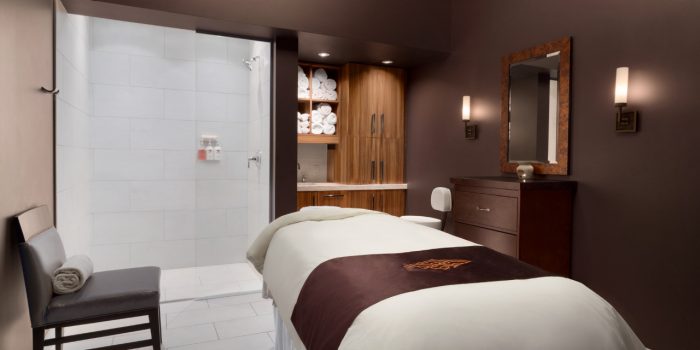 Book A Room
Facts
Type of Activity
Spa & Fitness
Hours
Monday - Thursday9am - 4pm
Friday - Sunday9am - 6pm
Contact Number
828-497-8550
Additional Info
About Mandara Spa
Our Story. The Mandara experience began on the spiritual island of Bali, inspired by the beautiful tradition of healing touches, which is deeply immersed within the culture and passed on from mother to daughter from generation to generation. These time honored therapies, combined with European methods and natural elements indigenous to the spa's region, meld together to provide the most unique and indulgent spa treatment.
The name Mandara comes from a Sanskrit legend about the gods' quest to find the secret to eternal youth and beauty. We believe you will unlock the secret when you experience a timeless Mandara moment. Here, time stands perfectly still.
Drawing on world-inspired therapies and philosophies, immerse yourself in the culture of Asia, India, the Mediterranean, and the New World. Each region is symbolized by one of the four elements and evokes a sense of place and self.
A collection of unique experiences, these Journeys have been curated to transport the mind and spirit to destinations across the globe. Speak to our concierge about your next Journey.
Call to Book: 828-497-8550
Massage
Body Therapies
Salon - Hair
Facials / Waxing
Salon - Nails/Make-up
Utilized for centuries to strengthen and heal the body, this traditional therapy combines stretching, long strokes, and palm and thumb pressure techniques. Flowing and graceful, the Balinese massage relieves tension, improves blood flow, eases stress, and encourages harmony.
Retreat to a private haven that transcends the extraordinary. Whether seeking a luxuriously-relaxing therapy or one tailored to soothe over-exerted muscles, our bespoke massage, based on on the Swedish method and enhanced by worldwide techniques, achieves desired results. This heavenly escape includes a coconut-infused scalp massage and a warming paraffin treatment to hydrate the feet.
Excessive physical activity can cause deep muscular and joint distress. This massage helps to warm and relax the muscles and improve range of motion. Enjoy before physical activity to increase flexibility and afterward to help the speedy recovery of strained muscles.
Indulge in a side-by-side Mandara customized massage and spend quality time together in a suite reserved for two. Select any other massage category for an additional fee. Price is based per person.
Hot Stone Contrast Therapy
Heated basalt stones and an ice-cool, refreshing fel will gently detoxify the body and address areas of concern, alleviating stress and easing aching muscles. While the body is in a pure state of blissful relaxation, melted paraffin on the back will enhance the warming sensation of this contrast therapy.
This unique pregnancy massage is a profoundly nurturing and tranquil oasis. Mothers-to-be are lulled and restored to optimum wellness. An intuitive, sensitive, and relaxing massage hydrates and moisturizes skin that is expanding to accommodate a growing baby. Only nurturing aromatics are imparted - along with wisdom, empathy, and respect.
Choose from tropical blooms, honey milk dream, amber heaven, citrus spice or island paradise. Add a luxurious bathing experience to any massage or body treatment. You get to choose your accoutrements which will always include a bathing elixir, body wash, body scrub and body lotion.
Warm bamboo of various sizes are soaked in essential oils to soothe muscles and melt away tension.
Our paraffin packs stimulate circulation and relieve stiff necks, sore lower backs and chapped dry hands or feet. A perfect addition to any massage, skincare or nail service.
Restores luster to the hair and scalp and promises unadulterated relaxation.
Using the vitality and energy of heated stones to soothe away stress and relieve muscular tension, aches and pains.
50 or 80 minutes just not enough for you? Add 30 minutes to your massage to prolong the Bliss a little longer. Body Add-Ons/Ins Mandara Balinese Body Polish Add a 25 minute exotic body polish to any body treatment.
Let your thoughts drift away while cocooned in a comforting wrap combining the richness of sea plants and marine algae. Enjoy a de-stress scalp treatment and soothing foot massage as the active ingredients help relieve stiff joints and muscular tension.
Found in sub-tropical climates, exotic frangipani flowers are the centerpiece to this silky, mineral-rich salt and hibiscus polish that melts on contact. The salt and hibiscus cleanse and exfoliate while monoi oil and frangipani flowers seal in moisture. The skin is left nourished, smooth, and delicately fragranced.
An evocative blend of coffee granules and coconut oil is used to exfoliate the body, leaving the skin feeling soft and smooth prior to being enveloped in a nourishing and deeply moisturizing wrap of coconut, sweet almond, and starflower oil.
A powerful blend of salts, minerals, and seaweeds work together to target cellulite and poor skin tone on hips, thighs, abdomen, and backs of arms. Nigari salt deeply cleanses while a targeted sculpting massage kick-starts the micro-circulation. A cooling rubberized mask, rich in super detoxing caffeine and green clay, is applied to problem areas as clinically proven Red Algae redefines areas prone to sagging. The result is skin that looks and feels intensely toned and refreshed.
This exotic exfoliation ritual invigorates and brings vitality to the skin. After light body brushing, warm oil is luxuriously drizzled all over before our Exotic Lime and Salt Glow is applied. The skin is deeply cleansed, polished, and softened to a glow.
Orange and white pepper seed extracts are blended with sugar granules and sunflower oil to exfoliate and sumptuously soften the skin. This "scent"-sational polish is followed by a zesty lime and creamy coconut body butter to hydrate and moisturize.
Soothe sore, tired hands and feet with a point release tool utilized on pressure points to alleviate the pain and discomfort of overworked muscles.
Lull the mind and body to a meditative state. Your treatment will begin and end with a beautiful shower of peaceful sound wave vibrations produced by therapeutic singing bowls to promote total relaxation and help re-align your chakras.
Muscles are stretched, pain eliminated, and motion restored. Your therapist will use a revolutionary roller to target major muscles in the back, hips, and legs to increase mobility, reduce soreness, and release restrictions from the body.
We use rich Frangipani Monoi Oil, legendary for its ritual uses in Tahiti. After cleansing your hair, we massage the scalp with this precious ingredient to ease away stress and give the hair a vibrant, healthy shine. To ensure that full benefits are received, we wrap the hair in a warm towel. This treatment includes a blow dry.
Wrinkles are targeted with firming and toning microcurrent pulses to stimulate the skin cells towards dynamic functionality. Circulation is improved, increasing the production of collagen and elastin while the dermis is flooded with with super Hyaluronic hydrating activators, sealed with a re-energizing amber balm. Red and blue light therapy warms and de-stresses the skin as a blast of oxygen delivers a breath of fresh air, effectively ironing out wrinkles and filling in lines. A powerful rejuvenating facial treatment.
This is the treatment to tackle fine lines and wrinkles and help support the cellular structure of the skin. The proven benefits of marine charged Padina Pavonica and Red Coral help plump out fine lines while Indian Mulberry reduces skin fatigue, helping relax wrinkles. Targeted lymphatic drainage massage re-energizes and rejuvenates as an age-defying peel-off mask encourages the highest cellular function, visible improving firmness and elasticity for beautifully-nourished, younger-looking skin.
This revolutionary resurfacing facial addresses skin tone, blemishes and fine lines to transform the texture of the skin. The ultrasonic peel reveals a noticeably smoother complexion, using a combination of Lactic and Hyaluronic acids, Sandalwood, Thyme and lemon oils. Steam and extraction deeply cleanse and detoxify before massage and light therapy restore equilibrium. Wrinkles and fine lines are reduced to leave a complexion that has never been softer or smoother.
This is the facial to de-stress, de-age and de-fatigue the male complexion while activating ultimate skin dynamism. A triple hit of ultrasonic peeling, steam and galvanic current delivers a deep clean, simultaneously exfoliating and powering up Kalpariane's anti-wrinkle properties and Samphire's hydrating potency. An oxygen infusion is the final blast of energy for real, best face forward results. A multitasking, time-efficient solution.
We use a gentle spray of micronized crystal particles to exfoliate dead cells on the skin. The Micro-Crystal Facial helps reduce the appearance of sun damage, skin pigmentation, scarring, age spots, and allows the glowing skin cells beneath to have their time in the sun.
A breath of fresh aid for the skin, this multi-faceted treatment is designed to address individual needs. Following a deep cleansing, exfoliation, necessary extractions, in addition to lifting and firming using microcurrent technology, this facial is topped off with a pure oxygen spray infused with vitamins to brighten and revitalize the skin. This rejuvenating therapy includes a decadent hand, arm, and scalp massage as well as an application of our signature beauty oil.
This is a crafted nutritional boost for stressed, dull skin. Rich in superfoods, essential minerals, and trace elements - Magnesium, Potassium, Zinc, Vitamin A and E - form a mineral army to jump start tired and exhausted skin. An amino active mask helps restore lost moisture, deeply nourishes, detoxes, and packs the skin with powerful, energizing nutrients. Skin is left smoother, plumper, and luminously radiant - stress-free and lit up with good health.
The power of nature, our specialized hands-on technique, and the exclusive Lavender Repair Mask make this facial relaxing and restorative. Lavender is a key healing herb used in Native American ceremonies because of its soothing properties. When used in skincare, it helps to calm inflamed or blemished skin and, at the same time, the beautiful aroma helps the mind achieve a restful state.
Includes a quick fruit acid wash, massage and vitamins, a hydrating hot towel and enzyme pack, and a five minute oxygen spray. Great pre-date, post-flight, mid-life!
Like drinking a tonic this vitamin-bursting concoction is applied to the skin, giving a boost of energy. Highly recommended after periods of high stress or illness.
Build-On a Bilberry & Vitamin C Seaweed Task Mask to soothe, rejuvenate and refine the skin. Or a breakout-busting task mask to heal and replenish problem skin.
Be fuzz free by removing the unwanted hair from your eyebrow area.
An indulgent treaet for the feet to hydrate, rejuvenate and revitalize the soles.
Restores luster to the hair and scalp and promises unadulterated relaxation
This treatment uses a precise combination of red, amber, and infrared light that penetrates the deeper layers of the skin to naturally reduce the appearance of fine lines and wrinkles. Add to the Mandara Signature Facial or Oxygen Blast.
There is no "pout" about this pucker-perfecting treatment which includes a smoothing sugar scrub, a boost of lip-enhancing, microcurrent technology and an application of hydrating lip balm.
These two maintenance musts are essential in removing hair from your face.
The essential addition to any facial, this eye-perfecting treatment is like an energy drink for the eyes. Pure glow-inducing oxygenation antioxidants and eye plumping currents will leave your eyes looking fresh in no time.
The warmth of this therapy stimulates circulation while relieving and mouturizing chapped, dry hands or feet. Select one area - hands or feed - for healing or hydrating. A perfect addition to any skincare service.