Mandara Spa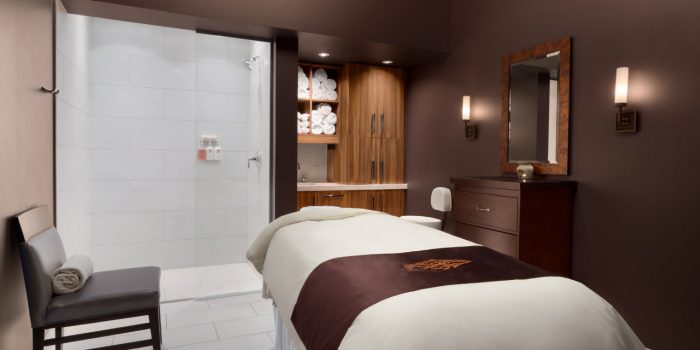 Book A Room
Facts
Type of Activity
Spa & Fitness
Hours
Daily9am-10pm
Contact Number
828-497-8550
ABOUT MANDARA SPA
Our Story began in Bali where coconut trees and Bougainvilleas border the narrow sandy streets. It started with a true love and regard for the Balinese healing systems which are passed from mother to daughter, from generation to generation. This pure human tradition of the healing touch is alive in every culture, but it was here that we discovered it as a way of life. Today Mandara Spas have crossed borders, bringing the healing essence of the Balinese traditions to guests from all over the world.The Mandara Spa at Harrah's Cherokee is a 18,000 square foot oasis promising unadulterated relaxation and pampering.
In keeping with Mandara's Balinese heritage, the spa décor can be described as contemporary with Asian touches, warmed by carved wooden accents, rich granite and brightly colored interior elements. It is both modern and mystical, combining both eastern and western traditions.
Call to Book: 828-497-8550
Massage
Body Therapies
Beauty Salon
Facials
Experiences
Relax, close your eyes and float away to a world of tranquility. Utilized for centuries to strengthen and heal the body, this traditional therapy combines stretching, long strokes, skin rolling, and palm-and-thumb pressure techniques. Flowing and graceful, the Balinese massage relieves tension, and improves blood flow, eases stress, and encourages harmony.
This classical European technique of manipulating muscles with aromatic massage oils is both relaxing and invigorating. While providing tonic for the soul, this massage can help improve the function of the circulatory, lymphatic, muscular and nervous systems.
Excessive physical activity can cause deep muscular and joint distress. This massage helps to warm and relax the muscles and improve range of motion. Enjoy before physical activity to increase flexibility and afterward to help the speedy recovery of strained muscles.
In the privacy of our couples suite, you and your favorite person can enjoy a gorgeously relaxing full body massage of your choice, as you lie side by side. Turn your experience into a ceremony and include a bathing ritual, champagne and chocolate treats to the experience!
Imagine warm bamboo shoots of various sizes soaked in essential oils rolling, sliding, and massaging your muscles. Customize to your preference. Your therapist will use deep tissue techniques or gentle strokes to melt away your tension and soothe your muscles into sweet oblivion.
Therapeutic and relaxing, this treatment alleviates stiffness and soreness while restoring energy and balance. The stone's heat, combined with long flowing strokes, relaxes the muscles and has a soothing effect on your emotions. Simultaneously, other stones are placed on your body's energy points, deeply infusing muscles with heat to melt away tension.
Specially designed for Mothers-to-be, this massage promotes relaxation, increases circulation, and provides comfort during this wondrous time of change. This treatment helps to relieve tension and alleviate swelling in the hands and feet while uplifting the spirit. Comfort and safety is ensured with supportive pillows and Japanese Camilla oil.
Choose from tropical blooms, honey milk dream, amber heaven, citrus spice or island paradise. Add a luxurious bathing experience to any massage or body treatment. You get to choose your accoutrements which will always include a bathing elixir, body wash, body scrub and body lotion.
Our Paraffin packs stimulate circulation and relieve stiff necks, sore lower backs and chapped dry hands or feet. A perfect addition to any massage, skincare or nail service.
Restores luster to the hair and scalp and promises unadulterated relaxation.
Using the vitality and energy of heated stones to soothe away stress and relieve muscular tension, aches and pains.
50 or 80 minutes just not enough for you? Add 30 minutes to your massage to prolong the Bliss a little longer. Body Add-Ons/Ins Mandara Balinese Body Polish Add a 25 minute exotic body polish to any body treatment.
Let us bring the spa to you. Allow the power of touch combined with the healing qualities of aromatherapy relax your mind, body and soul in the comfort of your room. All In-Suite massages are booked with same gender therapists.
An exotic ritual to invigorate and bring vitality to your body. Your skin will be polished and smoothed to a glow with our uplifting Blood Orange + White Pepper Scrub or detoxifying Elemis Lime & Ginger Salt Glow, complete with an application of body butter to hydrate the skin. This treatment includes a 25 minute back massage or 50 minute body massage.
Combining the richness of sea plants and marine algae with aromatherapy, this treatment is deeply detoxifying at all levels for women and men. A warm seaweed body mask containing the synergy of cleansing essential oils is applied to your body before you are cocooned in a comforting foil wrap. Let your thoughts drift away and relax with a scalp and foot massage while the active ingredients work to relieve sore joints and muscular tension. This treatment includes a 25 minute back massage or 50 minute body massage.
Juniper Berry has been used in Native American ceremonies for thousands of years to dispel negative forces from the environment. It has superior cleansing properties and when used in this rich seaweed puree it helps the body to eliminate toxins which are thought to cause cellulite. In this detoxifying treatment we brush the body to eliminate dead skin, apply the puree to the body and wrap you so that the body sweats. Following a shower, you will then enjoy a wonderfully detoxifying 25 or 50 minute massage.
We use rich Frangipani Monoi Oil, legendary for its ritual uses in Tahiti. After Cleansing your hair, we massage the scalp with this precious ingredient to ease away stress and give the hair a vibrant, healthy shine. To ensure that full benefits are received, we wrap the hair in a warm towel. This treatment includes a blow dry.
This facial is clinically proven to reduce the appearance of fine lines, acne, superficial facial scarring, and uneven skin pigmentation, revealing a renewed level of clarity to the complexion. After just one session, this facial can resurface the skin up to 75%* and leave your skin up to 32%* smoother. This superior treatment is further enhanced by a luxurious hand, arm, décolletage, and scalp massage.
This exceptional anti-wrinkle facial has been independently tested, with phenomenal results. Empowered with Quartz micro-crystals and the antioxidant properties of other precious minerals, this treatment is proven to reduce the number of wrinkles by up to 94% and improve skin firmness by up to 57% after just one session. It will slow down the visible signs of aging, leaving skin firmer and uplifted. This exceptional therapy includes a hand, arm and scalp massage.
Independently tested with revolutionary results, this anti-aging face and eye treatment instantly firms, rejuvenates and plumps up the skin, whilst helping to reduce dark circles. Moisture levels of the skin are proven to increase by up to 61% and elasticity by 40% after just one treatment*. Specialized micro-circulatory massage techniques are combined with powerful formulations and the two-phase Amino Active Mask to help smooth, sculpt and restore skin radiance. This amazing treatment is further enhanced by a luxurious hand, arm and scalp massage.
This complexion-reviving, pore cleansing facial starts with a resurfacing peel, followed by an oxygen wrap, extractions (if necessary), a luxurious facial massage and an application of the face freshening Triple Oxygen cream, face mask and eye mask. It finishes with a skinboosting hydrating enzyme pack and vitaminized oxygen spray. It's like a deep, regenerative boost for the skin.
We use a gentle spray of micronized crystal particles to exfoliate dead cells on the skin's surface layers, revealing a fresher, younger looking complexion. Micro-Crystal Facial helps reduce the appearance of sun damage, skin-pigmentation, scarring, age spots and allows the glowing skin cells beneath, to have their time in the sun.
Includes two passes of microderm over the face and neck for serious exfoliation without the extras.
The power of nature and specialized hands-on technique and the exclusive Lavender Repair Mask makes this facial soothing, relaxing and restorative. Lavender is a key healing herb used in Native American ceremonies because of its soothing properties. When used in skincare, it helps to calm inflamed or blemished skin and at the same time the beautiful aroma helps the mind achieve a restful state.
Helping to calm irritation and minimize the signs of ageing, this facial is the ultimate overhaul for male skin. Incorporating the Time Defense Wrinkle Delay and Time Defense Eye Reviver, this anti-aging treatment protects against the harsh effects of shaving and environmental damage.
Includes a quick fruit acid wash, massage and vitamins, a hydrating hot towel and enzyme pack, and a five minute oxygen spray. Great pre-date, post-flight, mid-life!
Like drinking a tonic this vitamin-bursting concoction is applied to the skin, giving a boost of energy. Highly recommended after periods of high stress or illness.
Build-On a Bilberry & Vitamin C Seaweed Task Mask to soothe, rejuvenate and refine the skin. Or a breakout-busting task mask to heal and replenish problem skin.
Transform your facial into an indulgent overhaul by adding one of these peels. Depending on your skin type and goals, your therapist will recommend the best peel for you.
Experience revitalization through the Mandara Balinese Body Polish and a soothing Balinese Massage. Rejuvenate your skin with an Elemis Tri-Enzyme Resurfacing Facial.
Experience revitalization through the Mandara Balinese Body Polish and a soothing Balinese Massage. Rejuvenate your skin with an Elemis Tri-Enzyme Resurfacing Facial. Add a Classic Manicure and Pedicure for a complete spa ritual experience.
Bask in the pleasures of a Mandara Balinese Massage, then emerge radiant from your Mandara Signature Facial. Enjoy a light lunch on our Spa terrace over looking our outdoor water features, followed by a luxurious and pampering Mandara Hand and Foot Ritual. Leave feeling refreshed and renewed all over.
This romantic retreat was designed for couples to share an experience in one of our luxurious grand suites. Embark on a private journey together while you both relax in your generous hydrotherapy tub, then enjoy a relaxing massage for two lying side by side. Your experience is enhanced with champagne and chocolate treats or lunch.
Soothe your overworked and tired muscles with a Mandara Swedish Massage followed by an Elemis Visible Brilliance Facial for skin cleansing and exfoliation.