Executive Host Team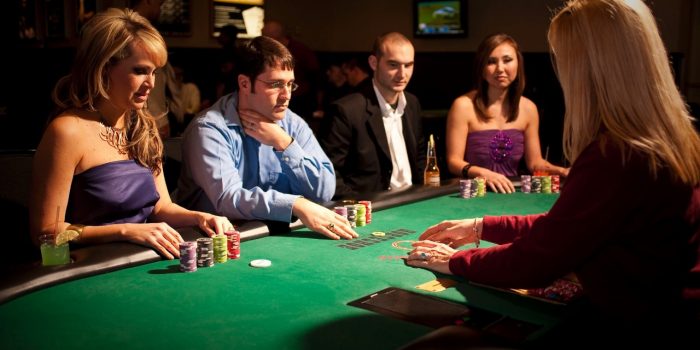 Book A Room
About the Executive Host Team
At Harrah's Gulf Coast, we take pride in giving excellent service to our best customers. Our host team knows all the ins and outs of our experience, allowing you the best access to the greatest gaming experience, finest dining, and premium entertainment. They're your inside hookup to ultimate indulgence.
MEET THE TEAM!
AmieJo Travis
I was born in Pittsburgh, Pennsylvania, but I was raised in Waveland, Mississippi. I graduated from Bay High in Bay Saint Louis in 1988. I have 4 nephews, 2 great nephews and a spoiled Shi Tzu named Bubblez. I started out as a front desk clerk at the Harrah's Gulf Coast in 1998. In 1999 I moved to VIP Services until I became part of the host team in 2011. I love to interact and form relationships with the guests. I feel that becoming a member of the Casino Host team was one of the best things that has happened to me in my career. When I am not at work, I enjoy spending time with my family. I look forward to seeing you in Biloxi!
Kimberly Williams
I was born in Massachusetts and moved to Ocean Springs, Mississippi 40 years ago. After graduating from Ocean Springs High School I attended MS Gulf Coast Junior College for 2 years. I was in the banking business for 10 years before beginning my career in the gaming industry at Harrah's Gulf Coast in 1993. I have been an Executive Host for 28 years and have loved every minute of my job. I am married to a wonderful man and we have furry babies that we consider our children. We love dining out and spending time with family and friends and watching golf and football. The greatest asset of being a host is the warm and meaningful relationships I have built with my guests. They have become true friends. Come to Harrah's Gulf Coast and experience true Southern Hospitality. You can contact me at (228) 436-2754 and I would be happy to assist you.
Jason West
Thanks for stopping by! My name is Jason West, and I am a Senior Executive Host here at Harrah's Gulf Coast. The year 2021 marks my 21st year with the company, with 19 of those being in Casino Marketing. Prior to joining the team at Harrah's Gulf Coast, I attended the University of Southern Mississippi and obtained a Bachelor's Degree in Hospitality Management. Originally planning to enter into the world of hotel management, I was quickly lured by the action and fast paced environment created by the casino. This position allows me to meet new people daily, and build lasting friendships for years to come. When I am away from the office I enjoy spending time with my family, hunting, fishing, and watching the New Orleans Saints! Once again, thanks for stopping by! Please let me know if I can be of assistance in planning your next trip to any of our Caesars properties. You can contact me at (228) 436-2957 and I would be happy to assist you.
Erika "Ricki" Freeman
I've been with Harrah's Gulf Coast just over 3 years, always working closely with our VIP guests on the host team. I'm a firm believer in the mantra "work hard, play harder" and I want to be sure you have the best experience possible while you're visiting us here in Biloxi!
I moved to Mississippi twenty years ago from Ohio, and lived in Pennsylvania and Western New York before that. I have a BA in Psychology from The University of Pennsylvania. I can't tell you how much I love it here on the Coast! There is always so much going on, and the weather is so much better than anywhere else I've ever lived. My husband and I have raised our three sons here, and are currently enjoying a (mostly) empty nest. Our dogs are family, so I don't know that our nest will ever be empty! I enjoy donating my free time to Breast Cancer awareness, arts education and Veterans issues.
For me, the most gratifying part of hosting is knowing my guests had a great time while they were playing here at Harrah's Gulf Coast. I love working closely with my guests and their families to be sure they take advantage of all the amenities Harrah's and Biloxi have to offer. This isn't just a job to me, it's a passion, and I love what I do. Working with people is in my blood.
Come see us here at Harrah's Gulf Coast and experience for yourself why we are one of the best kept secrets in Biloxi. I'm happy to be of assistance. You can find me here on property through the host office, or reach out by email at 228-436-2755.
Kim Nguyen
Hello Everyone! I'm Kim Nguyen, and I'm the Asian Executive Host at Harrah's Gulf Coast. I moved to the Gulf Coast from New Orleans over 20 years ago. When I'm not working, I like to participate in church functions and spend time with my family. I've worked in the casino industry in Biloxi for over two decades, and I'm really excited to be with Harrah's Gulf Coast. I started my career with the Grand Casino Biloxi, prior to Hurricane Katrina, as a Host Assistant. Since then I've held multiple positions in Player Development and Casino Marketing. Whether it is booking a room, Asian event, dinner, or spa reservations, I'm just a phone call, text, or e-mail away. Also, don't forget to check your offers at caesarsrewards.com or on your Caesars Rewards app. If you see something interesting, please give me a shout! You can reach me on my cell phone at (228) 436-2879.
HEATHER CONRAD
Hello from Host, Heather Conrad, at Harrah's Gulf Coast. I was born and raised in Altoona, Pennsylvania, and graduated with a BS degree in Resort, Recreation and Tourism Management with an emphasis on Commercial Recreation and Tourism from the Pennsylvania State University.
Prior to entering the exciting, nonstop action of the casino industry, I worked at a convention and visitors bureau, a convention center in sales and service and as a catering manager. My first casino job was as a Diamond Services Agent for Harrah's in Tunica. I was promoted to a casino host and then an executive casino host. From Tunica I transferred to Caesars Indiana and worked in Caesars Rewards, the Customer Service Assurance department and then I was drawn back to my passion of hosting. In 2009, I moved back to Tunica to be a host at Harrah's and the Horseshoe.
My casino career now has me here in Biloxi, and I couldn't be more excited. While I am not at the casino you can find me on the beach, at the pool or playing bingo...my favorite past times. I am excited about helping guests with their visits to Harrah's Gulf Coast. Please contact me for reservations, with questions or to just chat! I am here to help. My phone number is 228-436-2752.
MELANIE CALLAWAY
I was raised on the Mississippi Gulf Coast in Long Beach. I have 16 years experience in the casino hospitality industry ranging from managing fine dining, nightlife and beverage operations. I lived in California for 10 years working in sales with award winning results. After being away from home for many years, I moved back to the Mississippi Gulf Coast to be closer to family and return to the only place that has always felt like home. It's difficult craving oysters for 10 years!
I have aspired to be a Casino Host for many years and am truly excited to be part of the Harrah's Gulf Coast Casino Marketing team. It is a dream come true for me. When I am not at the casino, you can find me outside gardening, enjoying a good book or playing my favorite computer game. My phone number is 228-436-2921.
Deborah Merrill
Everyday is a great day at Harrah's Gulf Coast! Greetings, my name is Deborah Merrill, Senior Executive Casino Host!
I am fortunate to have worked at a handful of properties across the Caesars Entertainment Enterprise over the last 28 years; and am now I am privileged to call Harrah's Gulf Coast my new home! Throughout my career, I have held various roles, including positions as a Craps dealer, Table Games Supervisor, Customer Service Director, Casino Marketing & Player Development Director, and now my favorite role, a Senior Executive Casino Host. I have absolutely loved being a host, which is why I have chosen to dedicate the last 18 years of my career to this specific position. All of the friendships I have made along the way are so meaningful and precious to me.
My personal goal and expectation for myself, is that all my valued guests receive compassion, and experience my absolute best every time they visit. Because of my superior service, I'm proud to share that several of my beloved guests have followed me to whichever property I've called home since 1993, and a day is never complete until I have met and gained yet another guest and friend!
I am confident you, too, will find Harrah's Gulf Coast just as amazing just as I do. The friendly, welcoming disposition of all the entire team is second-to-none. Plus, Harrah's Gulf Coast comes boasts an amazing spa, beautiful heated pool and hot tub, cabanas, amazing restaurants, and so much more. You must come see us and give it a try! Like the song from Cheers said, "You want to go where everyone knows your name!", so let us know yours!
When I am not here at Harrah's, you may see me riding the coast on my Harley Davidson motorcycle, enjoying a day at the beach, playing with our fur baby Apollo, working in the yard, enjoying family and grandchildren, or supporting cancer awareness (I'm a proud 31-year survivor!) and the less fortunate. What more could I ask for!
Please call me anytime I can be of assistance at (662) 519-6730. I look forward to hearing from you!