Executive Host Team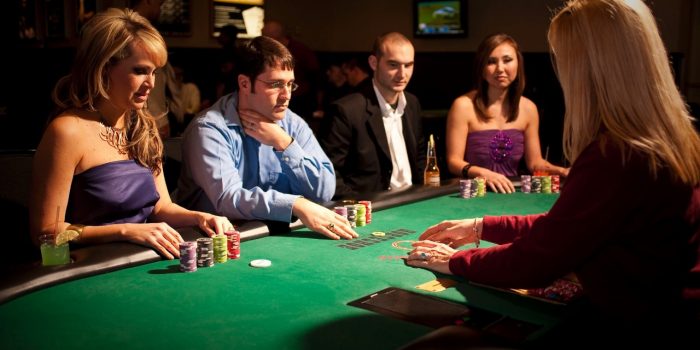 Book A Room
About the Executive Host Team
At Harrah's Gulf Coast, we take pride in giving excellent service to our best customers. Our host team knows all the ins and outs of our experience, allowing you the best access to the greatest gaming experience, finest dining, and premium entertainment. They're your inside hookup to ultimate indulgence.
MEET THE TEAM!
AmieJo Travis
I was born in Pittsburgh, Pennsylvania, but I was raised in Waveland, Mississippi. I graduated from Bay High in Bay Saint Louis in 1988. I have 4 nephews, 2 great nephews and a spoiled Shi Tzu named Bubblez. I started out as a front desk clerk at the Harrah's Gulf Coast in 1998. In 1999 I moved to VIP Services until I became a host in 2011. I love to interact and form relationships with the guests. I feel that becoming a Hospitality Host was one of the best things that has happened to me in my career. When I am not at work I enjoy spending time with my family. Please contact me at (228) 343-7116 or amtravis@harrahs.com and I would be happy to assist you.
Kimberly Williams
I was born in Massachusetts and moved to Ocean Springs, Mississippi 40 years ago. After graduating from Ocean Springs High School I attended MS Gulf Coast Junior College for 2 years. I was in the banking business for 10 years before beginning my career in the gaming industry at Harrah's Gulf Coast in 1993. I have been an Executive Host for 19 years and have loved every minute of my job. I am married to a wonderful man and we have furry babies that we consider our children. We love dining out and spending time with family and friends and watching golf and football. The greatest asset of being a host is the warm and meaningful relationships I have built with my guests. They have become true friends. Come to Harrah's Gulf Coast and experience true Southern Hospitality. You can contact me at (228) 436-2754 or kwilliams3@harrahs.com and I would be happy to assist you.
Jason West
Thanks for stopping by! My name is Jason West, and I am a Senior Executive Host here at Harrah's Gulf Coast. This year marks my 13th year with the company, with 11 of those being in Casino Marketing. Prior to joining the team at Harrah's Gulf Coast, I attended the University of Southern Mississippi and obtained a Bachelor's Degree in Hospitality Management. Originally planning to enter into the world of hotel management, I was quickly lured by the action and fast paced environment created by the casino. This position allows me to meet new people daily, and build lasting friendships for years to come. When I am away from the office I enjoy spending time with my family, hunting, fishing, and watching the New Orleans Saints! Once again, thanks for stopping by! Please let me know if I can be of assistance in planning your next trip to any of our Caesars properties. You can contact me at (228) 436-2957 or jwest@harrahs.com and I would be happy to assist you.
Erika "Ricki" Freeman
I've been with Harrah's Gulf Coast just over 3 years, always working closely with our VIP guests on the host team. I'm a firm believer in the mantra "work hard, play harder" and I want to be sure you have the best experience possible while you're visiting us here in Biloxi!
I moved to Mississippi twenty years ago from Ohio, and lived in Pennsylvania and Western New York before that. I have a BA in Psychology from The University of Pennsylvania. I can't tell you how much I love it here on the Coast! There is always so much going on, and the weather is so much better than anywhere else I've ever lived. My husband and I have raised our three sons here, and are currently enjoying a (mostly) empty nest. Our dogs are family, so I don't know that our nest will ever be empty! I enjoy donating my free time to Breast Cancer awareness, arts education and Veterans issues.
For me, the most gratifying part of hosting is knowing my guests had a great time while they were playing here at Harrah's Gulf Coast. I love working closely with my guests and their families to be sure they take advantage of all the amenities Harrah's and Biloxi have to offer. This isn't just a job to me, it's a passion, and I love what I do. Working with people is in my blood.
Come see us here at Harrah's Gulf Coast and experience for yourself why we are one of the best kept secrets in Biloxi. I'm happy to be of assistance. You can find me here on property through the host office, or reach out by email at efreeman@harrahs.com, or on my landline at 228-436-2755.
Kim Nguyen
Hello Everyone! I'm Kim Nguyen and I'm the new Asian Executive Host at Harrah's Gulf Coast. I moved to the Gulf Coast from New Orleans about 20 years ago. My husband and I have been married 18 years, and we have 4 great kids. When I'm not working, I like to participate in church functions, and spend time with my family. We have a lot of fun together - I'm truly lucky! I've been in the casino business in Biloxi for a total of fourteen years and I'm really excited to be back at Harrah's Gulf Coast. I started here when it was Grand Biloxi, before Hurricane Katrina, as a Host Assistant. I've also held positions in Player Development and Casino Host. The Asian gaming at Harrah's is growing like crazy and going forward we have so much to offer our Asian guests. It is my privilege to build this segment of our business and have some fun along the way! So, whether it is booking a room, Asian events, dinner or spa reservations, I'm just a phone call, text, or e-mail away. Also, don't forget to check your offers at Totalrewards.com or on your Play By TR app. If you see something interesting, please give me a shout! You can reach me through the app, or you can reach me on my cell phone at (228) 436-2879 or email me at knguyen2@harrahs.com.
Eric Gallichant
Thanks for stopping by to check out my profile. I'm Eric Gallichant and I joined the Harrah's Gulf Coast VIP Hospitality Host team New Year's Day 2017. I honestly can't think of a better way to start a new year than with a new career at Harrah's. I come to Harrah's with over 15 years of public relations and marketing experience that spans a very unique and rewarding career path. While serving over 12 years as an officer with the Mobile Police Department, spending five of those years as the Public Information Officer, I earned my degree in communications from the University of South Alabama. After my time with the police department, I moved to the Mobile Museum of Art and later the Girl Scouts of Southern Alabama working in their respective public relations and marketing departments. Most recently, I moved to Dallas to work with one of the largest pub trivia companies in the country where I oversaw nearly 30 host run events each week. Having lived and worked most of my life along the Gulf Coast, I decided to return to my hometown and was fortunate enough to be given an opportunity to join the Harrah's Gulf Coast team. If I'm not on the casino floor or in the Host Office and you need assistance, you can call me at (228) 436-2881 or email me at egallichant@harrahs.com. I look forward to getting to know you better.