Table Games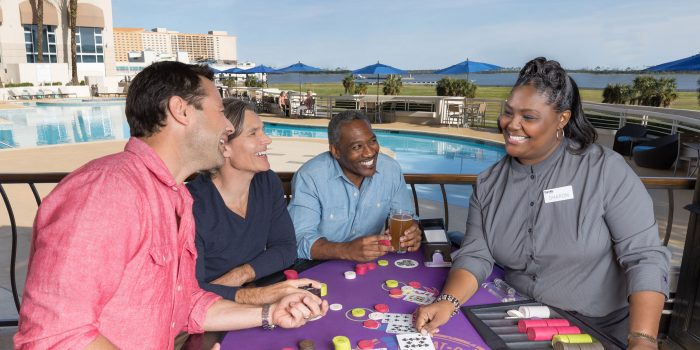 Book A Room
Harrah's Gulf Coast offers 28 table games, including roulette, blackjack, Pai Gow, mini baccarat and more, offering serious casino gambling enthusiasts high-intensity action staffed by the friendliest dealers on the Mississippi Gulf Coast. Play your favorite games right here!
Roulette
Roulette is perhaps the most popular game played around the world. The game consists of a wheel marked with numbers 1 through 36; Harrah's Gulf Coast, Roulette has a 0 and 00. Choose your lucky numbers, or bet on red, black, even, odd – the possibilities are endless, and the payouts can be large.
Fortune Pai Gow - Progressive Jackpot
Fortune Pai Gow is an optimal bonus bet that considers the best hand possible among your seven cards. Harrah's Gulf Coast gamblers may bet any amount within the table limit; however, a Fortune bet of at least $5 qualifies you for the Envy Bonus payout! You win the Envy Bonus when someone else at the table receives a four-of-a-kind or higher.
Blackjack with TRI LUX AND SUPER 3 SIDE BETS
Here at Harrah's Gulf Coast we have spiced up the basic game of blackjack with the Tri Lux and Super 3 Side Bets. This is a bonus bet that combines the player's cards and the dealers up card to make a 3 card poker hand. The Tri Lux and Super 3 payouts are the highest on the coast with up to 1000 to 1 odds.
Blackjack Side Bets
Tri Lux
Super 3
King's Bounty
Blazing 7 Progressive
Progressive Links
Mississippi Stud, Ultimate Texas Hold-Em, Three Card Poker and Let It Ride are linked into one progressive
Blazing 7 Blackjack Progressive is a standalone with other Blazing 7's tables
Pai-Gow Progressive is a standalone progressive
I Love Suits is a standalone progressive
All of our progressives are linked with Horseshoe Tunica to allow them to grow faster!
*****Harrah's Gulf Coast does not have a traditional Poker Room.
CRAPS
Craps is a fast paced, high energy game played with two dice. Players cheer each other on as the "shooter" tries to make the point. Players take turns shooting the dice, while betting on each other's roll. To the new comer it may look overwhelming, but it only takes one roll of the dice to feel the excitement. As the dice "heat up" so does the betting action. All Craps games feature the exciting Diceology side bet.
Mini Baccarat
An elegant version of James Bond's chosen game; Mini-Baccarat is a simple Biloxi table game with only one decision for Harrah's gamblers to make–wager on the "player" or the "banker?" Two hands are dealt, you place your bet and whichever hand comes closest to 9 wins. Fun to play, easy to learn, and the ultimate in sophistication – it's no wonder casino Baccarat is a Harrah's Gulf Coast favorite.
Three Card Poker
Play Three Card Poker at Harrah's Gulf Coast for a chance to win an exciting Progressive Jackpot. This poker variation uses most traditional rankings with a few twists. Three consecutive cards make a straight and three of a suit makes a flush; of the two a straight is higher. Payouts are determined by the pay schedule printed on the table layout.
Fortune Pai Gow Poker, Casino War and Three Card Poker are trademarks used under license from SHFL entertainment, Inc.