Table Games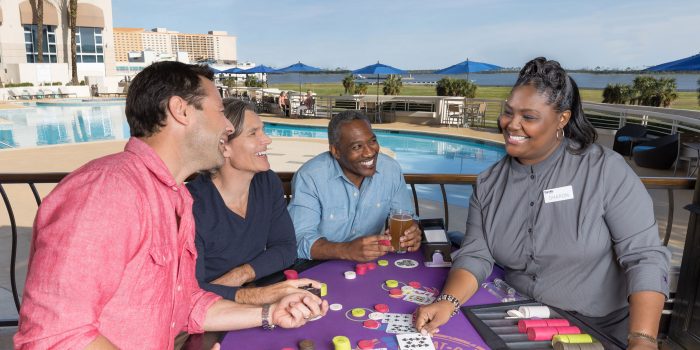 Book A Room
Harrah's Gulf Coast offers 35 table games, including roulette, blackjack, Pai Gow, mini baccarat and more, offering serious casino gambling enthusiasts high-intensity action staffed by the friendliest dealers on the Mississippi Gulf Coast. Play your favorite games right here!
Roulette
There's no thrill like seeing your lucky numbers come up when you play roulette at Harrah's Gulf Coast Casino! This classic table game is pure chance – pick a number or bet odd, even, red, black - when the ball hits wheel, it's all up to Lady Luck!
Pai Gow
Pai Gow combines the ancient Chinese game of Pai Gow tiles with the American classic, Poker, forming a hybrid east-meets-west table game that players at Harrah's Gulf Coast Casino love. Players form two hands, one with five cards and one with two, each going head to head against the dealer's hands. In Fortune Pai Gow, players can make a Fortune Bonus wager to qualify for bonus payouts at the end of the hand!
Blackjack
It's fun. It's fast-paced. It's a classic. 21, better known as blackjack, is a table game tradition that's easy to learn and can be played in a way that reflects each player's personality. The object is simple. Get a hand closer to 21 than the dealer's. How you get there is half the fun.
CRAPS
The reason that craps is so appealing to its devotees is the same reason it can seem intimidating to novices – it has a language and a life all its own. But never fear, the basics of the game are as simple as can be, and our friendly dealers are more than happy to show you the ropes. So get in the game and within moments you'll be cheering and high fiving strangers as the whole table wins together on a hot hand.
Mini Baccarat
You'll feel like James Bond when you play this elegant, simple, timeless casino gambling table game classic. Famed for years in destinations like Monte Carlo, baccarat is popular in part due to its simplicity. Players decide to bet on the player or the bank. The rest unfolds right before your eyes, and fortunes can change hands with the deal of the cards.
Three Card Poker
When you play Three Card Poker at Harrah's Gulf Coast Casino, you're embarking on a casino gambling adventure – a table game that gives you three different ways to win. Bet the Ante, Play and Pair Plus wagers, and get ready for action that's fast-paced and fun, with winning in the air.
Asian Gaming Room
The new Asian Gaming Room at Harrah's Gulf Coast Casino offers Biloxi table games enthusiasts the opportunity to play blackjack, mini baccarat and Pai Gow in a comfortable environment designed using feng shui and traditional Eastern design elements, such as clean lines and plenty of gold, the Asian color of luck. High end finishes such as Chinese terra-cotta tiles, etched stone panel gates and textured glass soffit complete the luxurious and comfortable ambiance.
Fortune Pai Gow Poker, Casino War and Three Card Poker are trademarks used under license from SHFL entertainment, Inc.