Table Games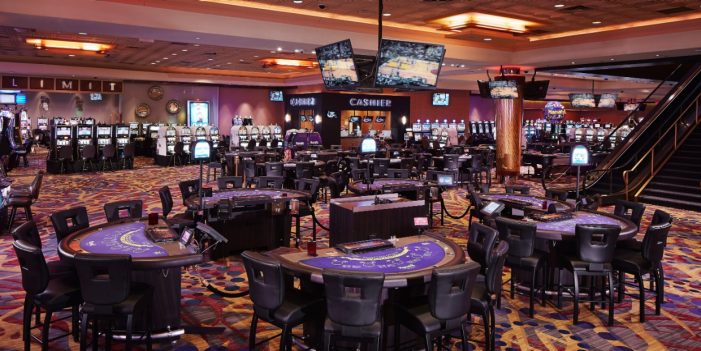 Book A Room
At Harrah's Kansas City, we have the most thrilling table games in town. From blackjack and roulette to Pai Gow Poker, there's never a dull moment on our spacious casino floor. Be sure to present your Caesars Rewards card to our dealers so you can earn Reward Credits® as you place bets.
MINI-BACCARAT
Mini-Baccarat is a casual, fun way to play this sophisticated high-limit classic. Now you can play like James Bond! This Monte Carlo favorite may be the simplest table game to learn, with just one decision to be made. Bet on the "player" or the "banker." Whichever hand comes closest to 9 is the winner. The ease and straightforward play of mini-baccarat make it a Harrah's North Kansas City Casino favorite.
BLACKJACK
Blackjack is often referred to as 21, and to many Kansas City table game players, it is the best-loved game of all. Blackjack has been played around the globe for centuries. The object is simple. Your hand must be closer to 21 than the dealer's, without busting, or going over 21. While Blackjack is basically a simple game, its strategy can be complex and often reflects each gambler's personality.
CRAPS
Craps is the most social Kansas City table game, and when players win big, the table lets the whole casino know it. Hot dice will get entire tables to erupt in unison with cheers and slap high fives. The many different betting options and the quirky slang of the craps tub can seem overwhelming, but even novice Kansas City gamblers can learn the basics of the game quickly and get caught up in the thrills of craps at the Harrah's North Kansas City Casino.
ROULETTE
The Harrah's North Kansas City Casino features American roulette, wherein the wheel is marked with numbers 1 through 36 as well as a 0 and 00. You can choose your favorite numbers, bet on even, odd, red or black or mix and match your wagers. The versatility and flexibility of this Kansas City table game is unmatched!
TEXAS SHOOTOUT
It's not often a game of this caliber comes along. Texas Shootout brings Texas Hold'em to the casino floor. Unlike traditional Texas Hold'em, each player plays "heads-up" against the dealer. In addition, players have the opportunity for huge instant winnings with the optional "Shootout Bonus" wager.
PAI GOW
Pai Gow Poker is a Kansas City gambling favorite combining traditional American poker's strategy and Pai Gow Tiles' structure. This fun, easy Kansas City casino table game offers challenge and strategy where players form two hands from seven cards and each of the player's hands faces off with the dealer's.