Harrah's Restaurants Las Vegas
Offering tasty and playful food options, Harrah's brings the fun to restaurants in Las Vegas. With an array of creative and delightful dishes, the restaurants at Harrah's Las Vegas will make you jump for joy. Just make sure it's not after a big meal!
Upscale
Steakhouse restaurant serving the best sizzling hot prime steak.
$$$
Casual
Live music and down-home Southern favorites make Toby Keith's Las Vegas restaurant at Harrah's your kind of place.
$$
Casual
With fresh shrimp, lobster, crab, and of course, oysters, served up by friendly chefs, the Oyster Bar is a seafood lover's dream.
$$$
Casual
Pizza Cake, by Cake Boss star Buddy Valastro, is an old-school pizza joint, serving the perfect slice of New York-style pizza.
Casual
Fulton Street Food Hall is not a food court, but a chef-driven marketplace offering a variety of selections made fresh throughout the day.
$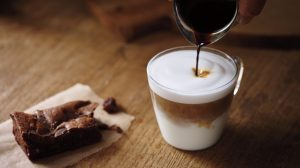 Quick Bites
Starbucks
Starbucks has two locations at Harrah's Las Vegas, near hotel registration and next to the Carnaval Court entrance.
$
Quick Bites
Want to have your Ben & Jerry's ice cream the way it was originally intended? Head to our shop, up the escalator on the 2nd floor, and dig into any of the delicious ice cream flavors in the way the first scoops were served up by Ben and Jerry back in 1978.
$
Promotions
Create your special Vegas moment with one of our curated amenity packages.
Promotions
Feast The Empire, Caesars Entertainment's Vegas restaurants has it all covered from quick bites to extravagant feasts, and top celebrity chef dining. Learn more with this dining guide.