Donny Osmond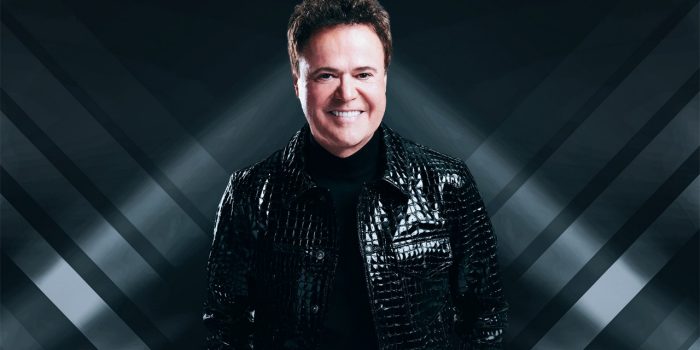 Buy Tickets
Facts
Type of Event
Headliner
Price
Starting at $65 (Plus Tax & Fees)
Time
8:00 PM
Days
Tuesday, Wednesday, Thursday, Friday, Saturday
Contact
(702)-777-2782 or (855) 234-7469
Venue
Harrah's Showroom
Additional Info
GROUPS
If your group exceeds 25, please call 855-234-7469 or email our team
Buy Tickets
ABOUT THIS VEGAS SHOW
Legendary entertainer and music icon, Donny Osmond, announces his return to Las Vegas with his first-ever solo residency inside Harrah's Showroom at Harrah's, opening August 2021.
In an unprecedented and history-making deal for Harrah's, Osmond's return to stage will be an exciting, energy-filled musical journey of his unparalleled life as one of the most recognized entertainers in the world. Guests can expect a party as he performs his timeless hits, shares stories of his greatest showstopping memories and introduces brand new music in a completely reimagined song and dance celebration. The announcement comes almost exactly one year after the curtains closed for the final time on his previous record-breaking 11-year residency at Flamingo Las Vegas. Fans can once again experience an unforgettable night with Donny Osmond – exclusively at Harrah's Las Vegas.
Get tickets and meet & greets at Ticketmaster.com/Donny for the following performances:
August 31 - September 4
September 7 - 11
September 14 - 18
September 28 - October 2
October 5 - 9
October 12 - 16
November 2 - 6
November 9 - 13
November 16 - 20
ABOUT DONNY OSMOND
Spanning five decades of entertainment, Donny Osmond has been a singer, actor, triple-threat television series host (talk show, game show, variety show) and best-selling author (his autobiography entered the UK bestseller chart at #1). Throughout his illustrious career, Donny has earned 33 gold records; selling over 100 million albums becoming a worldwide music legend. Currently Donny is hard at work on his 63rd album which is set to be all original music for the performer. Osmond's debut at Harrah's signifies the launch of his highly anticipated world tour.