Poker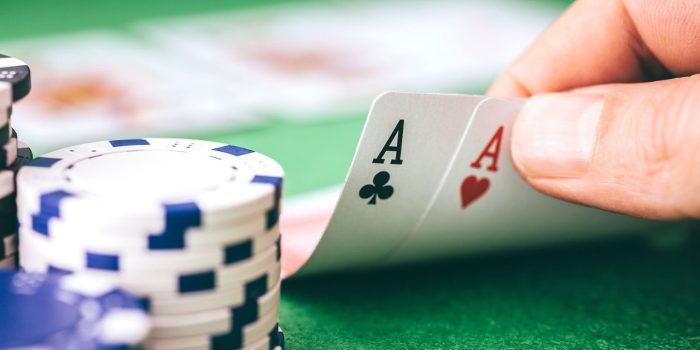 Book A Room
Harrah's Laughlin has boasted the city's best poker room since its opening in July 2004, thanks in part to its amazing views from a prime vantage point overlooking the beautiful Colorado River. Our non-smoking poker room features eight tables of Texas Hold'em action, with Limit and No Limit games available, along with plasma TVs and player tracking. Total Rewards members earn Reward Credits® and Tier Credits for their play!
Big-O and Big-O Limit
It's time for our newest & most exciting game! We are proud to be the first and only poker room in the area to offer Big-O and Big-O Limit! Join us on November 1st as we kick off Big-O and Big-O Limit at the Harrah's Laughlin Poker Room. Popular at the World Series of Poker (WSOP), Big-O is an action-packed version of Omaha Hi-Lo, but is played with five cards. A variety of structures will be offered: 3/6 limit, 4/8 limit and pot limit. Don't miss your chance to stack big pots in Big-O!
Starting on Wednesday, November 1st, Big-O and Big-O Limit will offer the following promotions:
$25 Quads
$50 Straight Flushes
$100 Royal Flushes
7 days a week.
Splash Pots : Every Saturday in November and December From 3pm-7pm join a Big-O game for $100 worth of splash pots each hour, on the hour.
NO-LIMIT TEXAS HOLD'EM TOURNAMENTS
Deep Stack
Every Friday and Saturday at 7 p.m.
$75 buy-in plus $5 bonus at the table (15,000 in starting chips)
20 min Blind levels
Super Duper Stack
Every Sunday at 10am
$65 buy in gets you 15k in chips
20 min blind levels
Super Stack
Every Saturday at 10am
$55 buy-in, 10k in chips
20 min Blind levels
Daily Morning Tournament: Monday - Friday
Tournament begins at 10 a.m.
$40 buy-in
$5 optional bonus-buy gets additional 2,000 t-chips
Sunday- Thursday Evening Tournament
Tournament begins at 7 p.m.
$60 buy-in
$5 optional bonus-buy gets additional 2,000 t-chips
POKER PROMOTIONS
Quad Pay: $50
Straight Flushes $100
Rolling High hands: From 11am - 1pm, 1pm - 3pm, 3pm - 5pm. 11am - 1pm pays $125. 1pm - 3pm pays $125 & 3pm - 5pm pays $250 If no one qualifies during a session the money rolls over to the next session. Monday - Friday.
Cool Winter Aces: Wednesday - Saturday Night. 5pm - 12am or until all same colored aces have been hit. the first hit pays $100, the second hit pays $ 150, the third hit pays $150, & the fourth hit pays $300.
It Pays to play: From Sunday 12am - Friday 11:59pm the top fourteen players with the most hours played for that week will recieve a paid entry into our 7pm Saturday night $75 deep stack tournament.
Progressive Royal Flushes (24/7)
Royal flush pot starts at $100
Progresses daily until hit
Aces Cracked (24/7)