Live Poker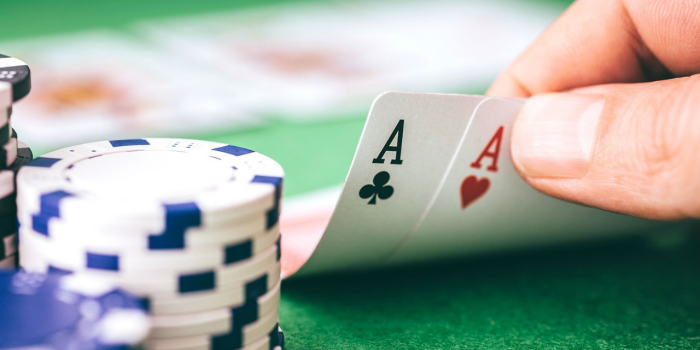 Book A Room
Our non-smoking live poker room features 8 handed poker tables and brand new chairs with USB charging stations on each seat. Enjoy amazing views from a prime vantage point overlooking the beautiful Colorado River. Featuring Texas Hold'em action, with Limit and No Limit games available, along with plasma TVs and player tracking. Caesars Rewards members earn Reward Credits® and Tier Credits for their play. Voted Best Live Poker 2020 in Laughlin.
Check us out on the Bravo App.
Opens at 9am Thursday thru Monday, closed Tuesday & Wednesday.
POKER PROMOTIONS
ROYAL FLUSHES (24/7)
Quads pay $50
Straight Flushes pay $75
Royal Flushes pay $400
ACES CRACKED (24/7)
Same color aces $50
SUPER ACES CRACKED 9am until room closes
Thursdays and Mondays
Same color aces cracked (red and black) win $200
FOOTBALL SQUARES
Player earns squares from live play
Earn squares for Sunday day and Monday night football
Each quarter pays $100
BIG-O and BIG-O LIMIT
Omaha Hi-Lo played with five cards
Structures offered include 3/6 limit, 4/8 limit and pot limit
Quads, Straight Flushes and Royal Flushes promotions 7 days a week
See Poker Room for complete promotion details.
NO-LIMIT TEXAS HOLD'EM TOURNAMENT SCHEDULE
Monday - Friday Morning 10am Tournaments
$55 Buy in gets you 4,000 in t-chips
15 minute blind levels, players may enter in until the end of the first break
Sunday - Thursday Night Tournament 7pm
$65 Buy in plus gets you 5,000 in t-chips
20 minute blind levels, players may enter in until the end of the first break
Saturday Morning 10am Tournament
$65 Buy in plus gets you 10,000 in t-chips
20 minute blind levels, players may enter in until the end of the first break
Friday Night 7pm Tournament
$75 Buy in plus gets you 10,000 in t-chips
20 minute blind levels, players may enter in until the end of the first break
Saturday Night 7pm Tournament
$100 buy in gets you 15,000 in t-chips
20 minute blind levels, players may enter in until the end of the first break
Sunday Morning 10am Tournament
$65 buy in gets you 10,000 in t-chips
20 minute blind levels, players may enter in until the end of the first break