Table Games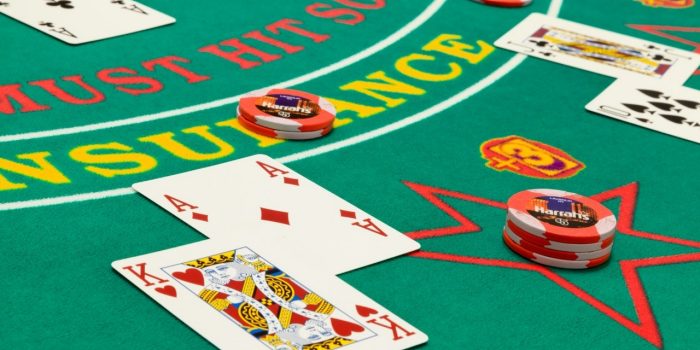 Book A Room
Voted 2019 Best Table Games, excitement is always on the table. Our 38 table games offer you thrills with cards, dice, or spinning wheels – whatever your style of action, it's always fun and friendly when you play your favorite table games here. Be sure to use your Caesars Rewards card every time to play in order to maximize your return on fun!
BLACKJACK
21 is better known as blackjack and is one of the best ways to experience all the excitement of Harrah's Laughlin. It's a timeless and popular game, with a simple objective and countless ways to get there: get your hand as close to 21 as possible, closer than the dealer, without going over. While its basics are simple, the game's strategy can be complex and often reflects the personality of Harrah's Laughlin blackjack players. We offer 6-5 single deck 21, double games and six-deck shoe games.
CRAPS
There's something about the craps table. Players win together, and the energy erupts. Cheers break out and strangers trade high fives when the dice are hot. Craps may look intimidating to novices, but it's really quite simple – and our friendly dealers are happy to show you the ropes. Step up to the table and in moments you'll be in the thick of the unparalleled excitement of craps. Harrah's Laughlin offers 3x/4x/5x odds.
ROULETTE
One of the most popular table games in the world and one of the simplest, roulette combines an elegantly spinning wheel and a little metal ball to create a game with endless excitement. Bet your favorite numbers, from 1 to 36 – maybe even 0 or 00 – or take your chances on red, black, odd or even. The possibilities are endless and the payouts can be large!
LET IT RIDE BONUS
Got a great hand? Let It Ride and you could win a big payout! Let It Ride is a popular spin-off of Five Card Stud that gives you three chances to win, with three wagers. Not so sure? Pull your bet. Confident in the outcome? Let It Ride! Let It Ride's optional bonus bet offers payouts up to $25,000.
PAI GOW POKER
In Pai Gow Poker, players get in on east-meets-west action that combines poker's familiarity and ease of play with the strategic elements of Pai Gow, the ancient tile game from China. Players compose two hands out of a seven-card deal and both go head to head with the dealer's hands to create a table game with multiple layers of excitement for Harrah's Laughlin players.
THREE CARD POKER, SIX CARD BONUS
Three Card Poker is a variation that uses the traditional poker rankings with a couple of exceptions. You only need three consecutive cards to make a straight, and three suited cards makes a flush. The payoffs are determined by the pay schedule printed on the table layout, so you compete for hands, not against the dealer.
PROGRESSIVE TABLE GAMES
Progressive Table Game Jackpots are now linked to all Nevada Caesars Entertainment properties with payouts reaching over $1,000,000! The Progressive bet is a $5.00 side bet on your hand with specific cards needed to hit the jackpot. There are three separate Mega jackpots for Blazing 7's Blackjack, Pai Gow Poker, and Poker derivative games: Three-Card Poker, Let It Ride, Mississippi Stud and Ultimate Texas Hold 'Em.