Pin-up Pizza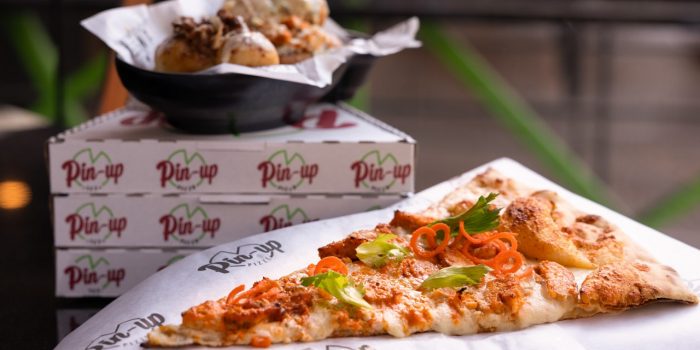 Book A Room
Facts
Cuisine
Other
Hours
Sunday4pm - 10pm
Monday & Thursday5pm-10pm
Friday & Saturday4pm - 11pm
Closed Tuesday & Wednesday
WHAT TO EAT AT THIS UNIQUE PIZZA PLACE
Let us start off and say these slices are huge. You can request to have the slice cut in two. These New York-style hand-tossed pizzas come in four varieties: cheese, sausage, pepperoni, and veggie.
The overall quality makes this pizza stand out. The chefs make dough flown in from Naples, Italy with low-gluten flour (which makes crust thin and crispy) and a seven-year sourdough starter. The sourdough starter gives the dough extra oomph, resulting in a flavorful crust.
Like the dough, the pomodorini pelati tomatoes are also from Naples. This pizza sauce is much sweeter and more intensely flavored than a San Marzano DOP tomato, the most popular tomato used by quality pizza shops. Lastly, this Laughlin pizzeria uses whole milk, dragon cut Sorrento mozzarella from Buffalo, New York, as well as imported Pecorino Romano cheese. The Sorrento mozzarella creates the perfect melt with a more developed cheese flavor.
Fancy, right? Even with these top-quality ingredients, it's still only a few bucks for a slice. Other menu items include hand-rolled garlic knots and made-to-order cannolis.
EXPERT TIPS
Perfect for those in the mood for New York-style pizza
Try the soft, buttery garlic knots
Chicken wings and cannoli's
Located in the food court next to Smashburger.