Pools & Beach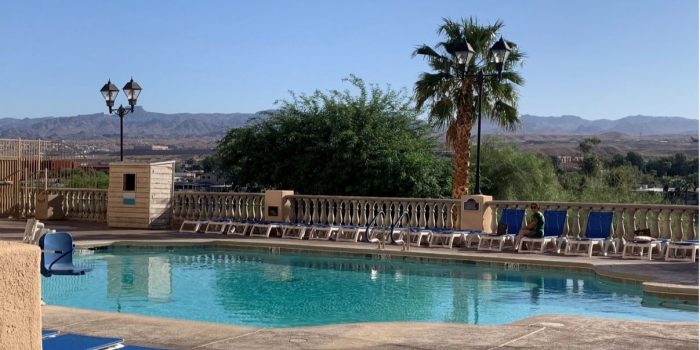 Book A Room
Facts
Type of Activity
Pool
Contact Number
(702) 298-4600
Harrah's Laughlin has a private, soft sand beach as well as two outdoor swimming pools overlooking the Colorado River. Fun in the sun and the perfect getaway at Laughlin's premier riverfront resort is waiting for you. Visit our sunny resort today and escape to paradise! Access to the Harrah's Laughlin beach and pools is reserved for hotel guests only. The South Pool is for adults only. Guests must be at least 21 years of age. The North Pool is for families; children must be accompanied by an adult.
Pool Cabanas (Available beginning March 11th)
To place a reservation call 702.298.8562 or inquire at the Cancun Lagoon Pool Bar for availability and pricing.
Full day rental from 10AM - 6PM (weather permitting)
Half day rental from 10AM - 2PM or 2PM - 6PM
Pool hours subject to change.
Rates fluctuate based on availability and holidays. Price sheet is guideline only. Check with management for rates.
Regular priced cabanas are designed to fit 1 - 6 guests. More than 6 guests are required to rent an additional cabana.
Each cabana includes four pool side chairs, table with ice bucket, 42" TV, ceiling fan, refrigerator stocked wth 6 bottles of Harrah's water, 4 towels, a Food and Beverage menu and a Cabana Host for your convenience.
Pool Cabana/Pool Policies: Please note the maximum occupancy for cabanas is limited to six people. Animals, glass containers, cooler and outside food and beverages are prohibited in the cabanas and pool deck. Food and beverage purchased within the hotel is permitted with valid proof of purchase. Guest's items may be inspected prior to entering the pool. Must be 21 or older with valid ID to be in Adult Pool area. Cabanas vary based on seasonality, holidays, special events and daily demand. Rentals are assigned at the Cancun Pool Bar at 10:00AM.
Pool Cabana Rental Cancellation Policy: If you choose to cancel your reservation, cabana must be cancelled within 72 hours prior to the date of your reservation. If not cancelled within 72 hours of date of reservation, your credit card is charged 50%of the rental price; No Shows are charged full price.
Full Day Rentals:
Monday - Thursday: $125 Rental or a $250 Food and Beverage minimum
Friday - Sunday: $150 Rental or a $300 Food and Beverage minimum
Holidays: $175 Rental or a $350 Food and Beverage minimum
Half Day Rentals:
Monday - Thursday: $75 Rental or a $150 Food and Beverage minimum
Friday - Sunday: $100 Rental or a $200 Food and Beverage minimum
Hollidays: $125 Rental or a $250 Food and Beverage minimum
*18% Auto Gratuity on all Cabana Rentals*
Inquire About Our Bottle Selection
Bottles range from $125 to $200 (plus 18% Auto Gratuity)
Add On's:
6 Bottles of water $20
6 cans of Red Bull $30
Carafe of Bloody Mary Mix $15
Carafe of OJ (for Champagne) $15
All bottle purchases include free mixers up to 6 people. All bottle purchases are poured at the Cancun Lagoon Pool Bar and served ay the Cabana Host.