Casino Table Games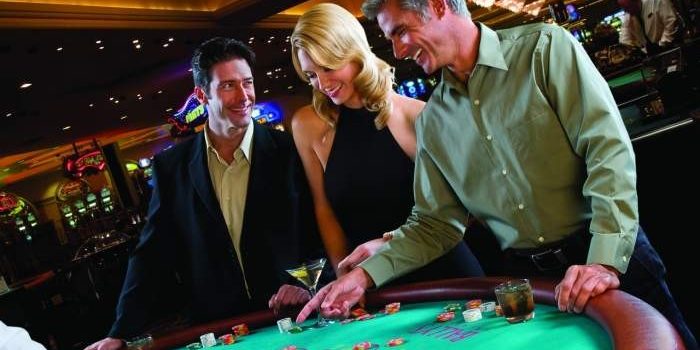 Book A Room
Excitement is always on the table at Harrah's Metropolis Casino.
Here you'll find friendly and knowledgeable dealers ready to witness the winning as you Come Out & Play all your favorite table games, ranging from casino gambling classics like Blackjack, Craps, Roulette, Three Card Poker, Mississippi Stud, High Card Flush and Mini Baccarat.
Visit Harrah's Metropolis Today For:
10X odds on craps: If you enjoy rolling the dice, you'll find generous 10X odds on craps.
HOW TO PLAY TABLE GAMES
New to table games? Check out these handy gaming tutorials:
21, better known as blackjack, is perhaps the world's most popular card game, played for generations. Its goal is simple: get a hand closer to 21 than the dealer's without going over. Though basic strategy is simple to learn, the beauty of the game is that its style of play can often reflect the personality of its players.
At Harrah's Metropolis, there's nothing like the fun and excitement of cheering along with the table when the dice get hot at the craps tub. This casino classic is easy to learn despite the unique slang and myriad betting options. Our friendly dealers will have you in the swing of things in no time, and you'll be high fiving strangers before you know it!
Is it the game's elegance? The simplicity? The choices? Whatever the reason, roulette is one of the most popular casino table games in the world. And here at Harrah's, you can bet on your lucky numbers, or take your chances on red/black, odd/even or whatever you're feeling! The choice is up to you, and the rest is up to Lady Luck.
HIGH CARD FLUSH
Feel the rush of the High Card Flush! This is a suits-based table game.
Three Card Poker gives Harrah's casino gamblers three ways to win. Bet the Ante, Play and Pair Plus wagers. Play not against the dealer or against other players but against the pay table you'll find on the felt.
If it's good enough for James Bond, baccarat should be your casino gambling experience of choice! Mini Baccarat is an elegant version of the longtime Monte Carlo staple, where players have just one betting decision to make: wager on the bank or player. Watch the hands unfold and whoever gets closest to 9 wins!
MISSISSIPPI STUD
Harrah's Metropolis is happy to introduce Mississippi Stud Poker, where players compete not against the dealer but against a paytable where a pair of 6s or better is a winning hand, and if you've got the cards, you can bet up to triple your ante wager!