New Orleans Table Games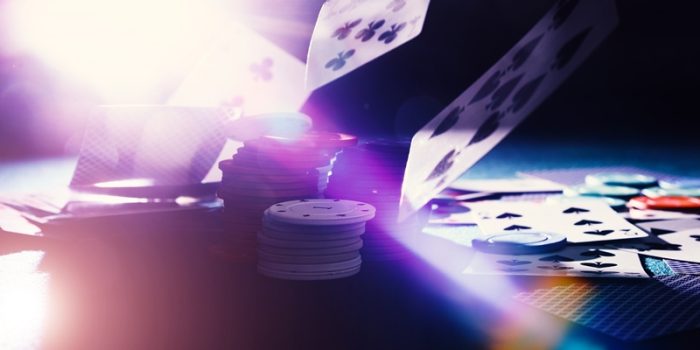 Book A Room
Experience a fun, friendly casino atmosphere at Harrah's New Orleans – one that removes you from the ordinary, with helpful dealers and attentive servers who ensure your total comfort. New and old friends cheer you on as you hit your lucky streak when you're at Harrah's New Orleans. So choose your favorite casino table game and let the good times roll!
Party While You Play
Saints Party Pit
If you're looking for a lively atmosphere to play Blackjack or Roulette, look no further than our Black & Gold Party Pit which is located near the Canal Street entrance. This Party Pit offers Saints themed Blackjack - the lowest limits in the casino, Triple Zero and Hoodoo Big Six. This pit is a winning bet for fans of the New Orleans Saints looking for action packed fun!
MINI & MIDI BACCARAT
An elegant version of James Bond's chosen game, Mini-Baccarat is a simple New Orleans table game with only one decision for Harrah's gamblers to make–wager on the "player" or the "banker?" Two hands are dealt, you place your bet and whichever hand comes closest to 9 wins. Fun to play, easy to learn, and the ultimate in sophistication – it's no wonder casino Baccarat is a Harrah's New Orleans favorite.
Side Bets - Dragon Bonus 30 to 1 and 5 Treasures 200 to 1 payouts.
Looking for lower limits - try the Fusion Baccarat and Roulette.
FORTUNE PAI GOW
Fortune Pai Gow is an optimal bonus bet that considers the best hand possible among your seven cards. Harrah's New Orleans gamblers may bet any amount within the table limit; however, a Fortune bet of at least $5 qualifies you for the Envy Bonus payout! You win the Envy Bonus when someone else at the table receives a four-of-a-kind or higher. Hit a seven-card straight flush on Fortune Pai Gow at Harrah's New Orleans Hotel and you could win up to $40,000! A fun variation of this game that we offer is Face Up Pai Gow, where players are offered the option to see the dealer's hand first.
CRAPS
Craps is a fast paced, high energy game played with two dice. Players cheer each other on as the "shooter" tries to make the point. Players take turns shooting the dice, while betting on each other's roll. To the new comer it may look overwhelming, but it only takes one roll of the dice to feel the excitement. As the dice "heat up" so does the betting action. Players have multiple amounts of bets that can be made line bets, hardways, field bets, proposition bets. Try the "Make Em All" side bet which pays 150 to 1. In addition to traditional craps tables we also offer Craps No More and Craps, Roll to Win - both just as thrilling as traditional craps.
BLACKJACK
Here at Harrah's New Orleans we have spiced up the basic game of blackjack with Blazing 7's progressive, Royal 3 and Bonus 3 - option to win 1,000 to 1. We also offer single and double deck blackjack.
HIGH CARD FLUSH
Win big with a Straight Flush. The larger the Straight Flush, the more you win! Win when your Flush is higher than the Dealer, or if the Dealer doesn't qualify. Make up to 3X your Ante wager, depending upon your Flush. The better your hand, the more you can wager! (Dealer must qualify to win).
InBet
Harrah's now offers an added bonus to the exciting game of Blackjack. This bonus uses the player's two cards and the dealers up card. If the dealers up card falls in between the players cards, you win!
Let It Ride and Fortune Pai Gow Pokerare trademarks used under license from SHFL Entertainment, Inc.
High Card Flush is a trademark used under license from Galaxy Gaming, Inc.
Roll to Win is a trademark under Aruze Gaming