The Steakhouse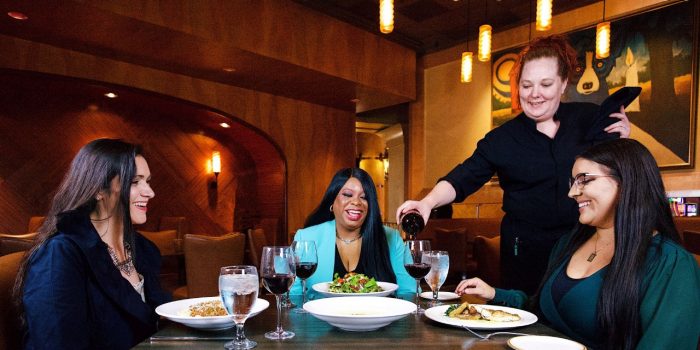 Reserve a Table
Facts
Cuisine
Steakhouse
Chef
Chef Chris Lusk
Price Level
$$$
Contact
504-533-6111
Hours
Sunday-Thursday5 pm-10 pm
Friday and Saturday5pm-11 pm
The Steakhouse at Harrah's New Orleans
Under the direction of the talented culinary team led by Chef Chris Lusk, The Steakhouse pays homage to the legendary flavors and spirit of New Orleans. Expect exceptional service along with an extensive wine and cocktail selection.
Group Reservation (15 Person Minimum)
PLEASE NOTE: If you would like to make a reservation within the next 72 hours please call 504-533-6111 to check availability. Completing this form and receiving an automated response does not guarantee a reservation.
Special Events
Sunday December 1 6 pm
Celebrate Réveillon Season with Rosé & Rouge at The Steakhouse on Sunday, December 1 at 6 pm. Chef Chris Lusk has prepared a holiday inspired menu featuring 5 courses perfectly paired with wine and cocktails. Tickets are $95.00 per person inclusive of tax and gratuity.
Upcoming Events
Thursday, November 14 @ 7 pm
Join us for a Champagne Soirée at The Steakhouse! Grab your friends and enjoy an evening of champagnes including Perrier-Jouët and G.H. Mumm paired with savory bites from The Steakhouse. Tickets are $65 all inclusive! Free valet parking for your designated driver.
Special Events
Réveillon
December 1-25
Join The Steakhouse during December for Réveillon, a holiday dining tradition. Chef Chris Lusk has created a special four course menu for $70 that includes oyster and duck gumbo, chee wees crusted shrimp and grits, steak filet Dianne and a gingerbread cupcake. The menu is available nightly through Christmas Day.
Executive Chef
Chris Lusk
An accomplished culinarian with more than 20 years of experience under his chef's toque, Chris has led the kitchens of some of the finest restaurants in New Orleans at their peak. These include Commander's Palace, Café Adelaide, Restaurant R'evolution, and, most recently, the Caribbean Room at the Pontchartrain Hotel.
Chris earned a bachelor's degree in psychology from Stephen F. Austin State University in Nacogdoches, Texas, and had no plans to cook professionally. However, he had a restaurant job while in high school, and after graduating from college he felt he needed to give the culinary field another shot. He went back to school to hone his craft, earning an associate's degree in culinary arts from the renowned Johnson & Wales University in Charleston, South Carolina.
Chris' talent has earned him accolades both locally and nationally. In 2009, he was named one of Esquire magazine's "Four Breakout Chefs to Watch, " as well as a "Chef to Watch" by Louisiana Cookin' magazine. In 2010, Chris achieved top honors as the winner of the Louisiana Seafood Cook‐Off, and in 2011 he was honored with an invitation to cook at the esteemed James Beard House. That same year he was recognized again by Esquire magazine's John Mariani with a nod for "Best Dessert of 2011"--a grilled-cheese sandwich made with a triple-crème Délice de Bourgogne and a dark-chocolate ganache on brioche bread, fried in clarified butter, and accompanied by wild huckleberry sauce.
He now joins the Steakhouse as Executive Chef. "I'm very excited to join the Harrah's New Orleans team," said Lusk. "The Steakhouse is located in the heart of downtown New Orleans and we have a loyal following but I hope that with our evolving menu and our incredible bar and wine program that we can attract locals and tourists who may not have dined with us before."
Awards and Accolades
Wine Spectator Award of Excellence
The Steakhouse is proud to be recognized by Wine Spectator Magazine as a 2019 Award of Excellence recipient for our extensive wine collection. Only 28 restaurants in New Orleans hold this prestigious honor.
Why You'll Love It
Pan-Fried Crab Cake
20 ounce Prime Bone-In Ribeye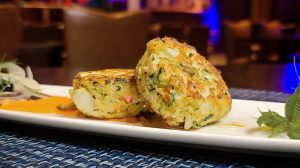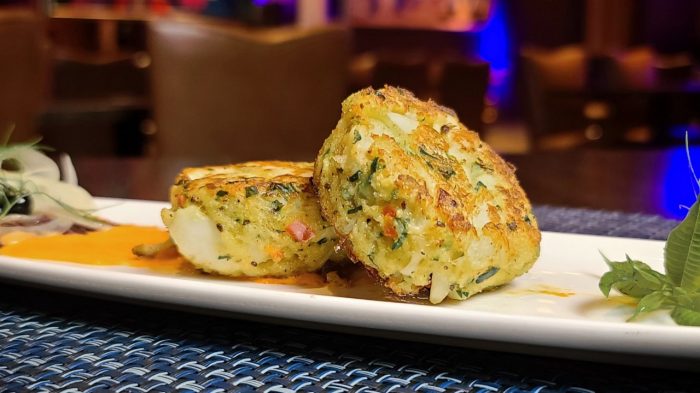 38 ounce Prime Porterhouse
30 day dry-aged Prime N.Y. Strip
Start of dialog window.
Why You'll Love It
Panko-Crusted, Sauce Remoulade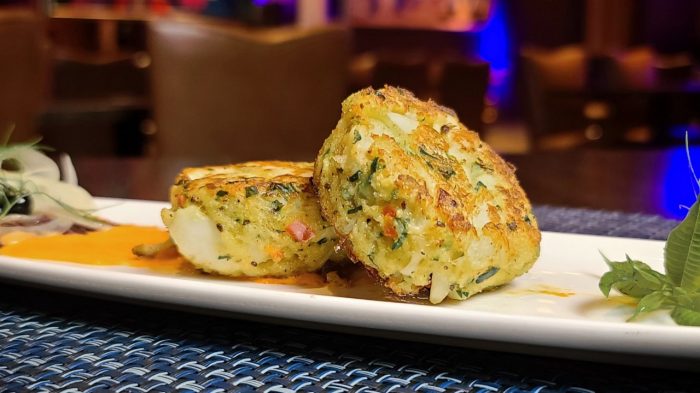 End of dialog window.