Fulton Alley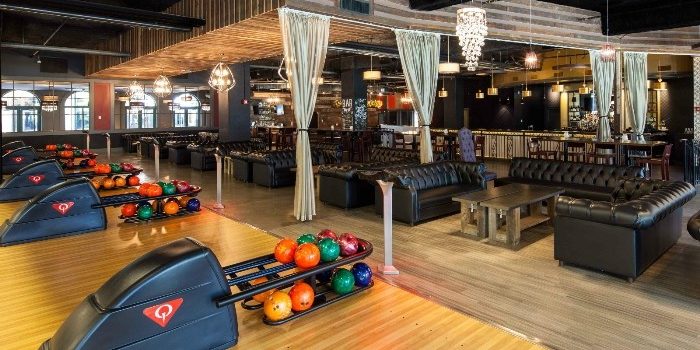 Book A Room
Facts
Type of Activity
Property Feature
Attire
Casual
ABOUT FULTON ALLEY
CRAFT FOOD AND DRINK. BOUTIQUE BOWLING.
Fulton Alley is New Orleans' newest and most unique entertainment bar & restaurant that features 12 bowling lanes wrapped in an atmosphere of art, music, craft food and cocktails.Fulton Alley's executive chef, Mike Nirenberg, formerly of Tivoli & Lee, Oak and Delachaise, has created a Southern-American-influenced menu, including homemade meat pies, sliders, deviled eggs and smoked, fried and glazed chicken wings. Snacks and sharable small plates are primary on Nirenberg's menu.
Fulton Alley's craft cocktail program is curated by the leadership of Cure – Neal Bodenheimer & Kirk Estopinal. Serving both a mixture of traditional & craft cocktails, Fulton Alley has one of the most extensive collections of liquors in the New Orleans area.
Fulton Alley is in many ways the new gateway to all that New Orleans has to offer. On the doorsteps of New Orleans tricentennial, Fulton Alley is a nod to the fun, flirty, laissez-le-bon-temps-rouler attitude New Orleans is known for – in a new, modern, & hip way. Both fun and refined, Fulton Alley is characterized by a rich mix of uses – lounge & leisure.
An adaptive reuse of a former bus barn and ground-floor parking garage, Fulton Alley's design is comfortable and approachable, but refined for an evening out with your partner or a casual get together among friends. Artwork from local, New Orleans-artists, Mitchell Gaudet & Michel Varisco, flanks the walls and ceilings of Fulton Alley. A sleek incorporation of reused brick and reclaimed barge board inform the design aesthetic of Fulton Alley, combined with soft-light fixtures and candles.
Open Friday - Sunday
To book a private event, please call (504) 208-5593 or email events@fultonalley.com.
Use your Reward Credits to Dine! $1 / 200 Reward Credits
REVIEWS
"Fulton Alley: Is it a bowling alley? A craft cocktail bar? A small-plates destination? An entertainment venue? Yes, to all of the above. Only in New Orleans could a creative team come up with a concept that mixes bowling, drinks and clever cuisine all in the lower level of the Harrah's Casino garage. Twelve lanes provide the necessary bowling theme audio backdrop and a rather entertaining array of amateur bowlers, who either will or already have enjoyed pulled pork sliders, deep-fried Brussels sprouts, meat pies, smoked chicken wings, and a chiffon cream cake that will induce momentary euphoria. Add to that a full cocktail program from the same people who brought you the uptown bar Cure, and you're likely to sample something called "Gimme Danger" --- dry gin, grapefruit juice, two kinds of bitters and a touch of grenadine. There is also a surprisingly well-thought-out, albeit limited, wine list featuring something called Zinsane Zinfandel that fairly explodes with fullness when the first drop hits your tongue. Fulton Alley is a welcome addition to the emerging Fulton Corridor of restaurants that already includes Ruth's Chris Steak House and Grand Isle."