Welcome to Harrah's Philadelphia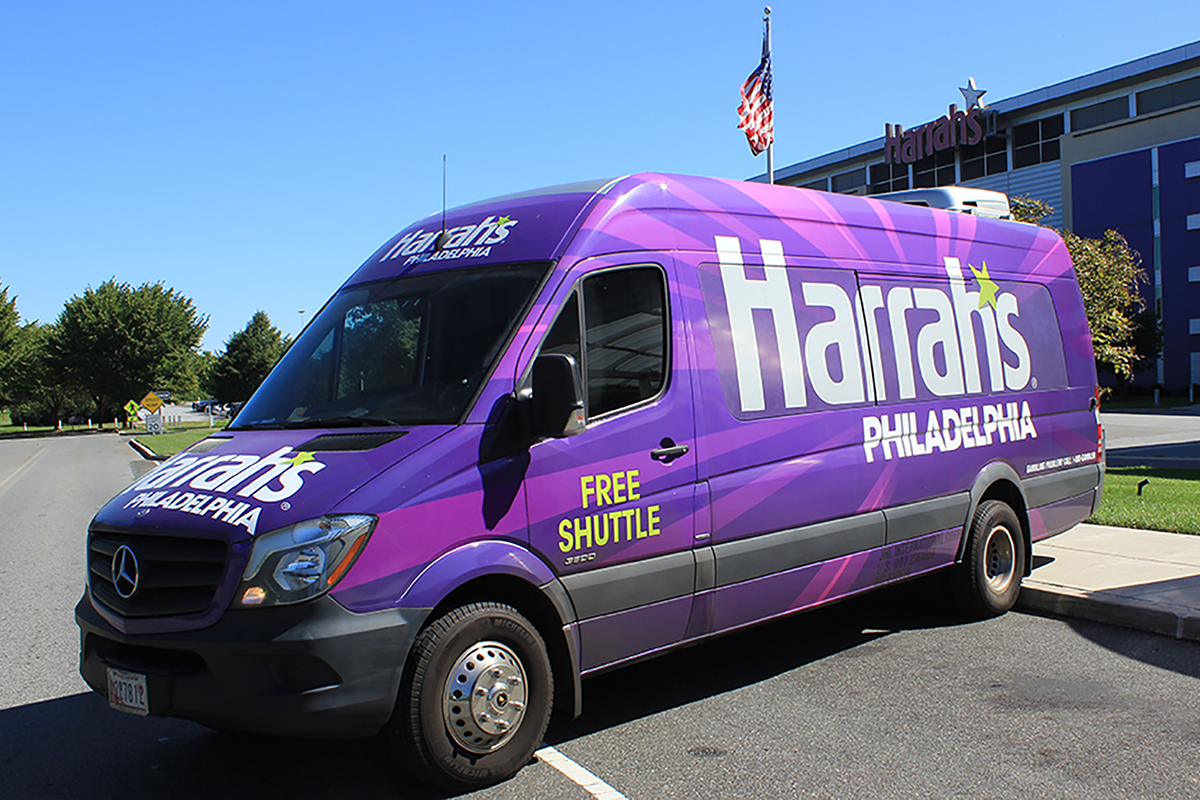 WELCOME TO HARRAH'S PHILADELPHIA
Home of Total Rewards, the #1 Players Card.
Harrah's Philadelphia is a bus friendly casino property catering to both individual line run and group travelers alike. You will feel our friendly warm welcome the instant you enter into our establishment with the industries friendliest, helpful staff.
Come in and dine at one of our food eateries which include, our newest restaurant, Guy Fieri's Philly Kitchen + Bar, Mien which offers casual Asian Fusion and The Market, a quick grab and go option, The Cove featuring fine dining, Steak Shack and Krispy Kreme Doughnuts, Americas favorite.
Enjoy the non-stop excitement of our over 2000 slots which include penny slots, video poker or high limit action games. If slots is not your game step up to one of our table games which include blackjack, craps, roulette, baccarat and our poker room.
If the above is not enough to get you excited, come enjoy our live harness racing which boasts one of the fastest 5/8 mile tracks in North America. Harrah's provides a state of the art inside wagering area with plenty of seats and simulcasting options.And don't forget that points earned at Harrah's Philadelphia are good at any Caesar's entertainment property.
From Philadelphia to New Orleans to Las Vegas, the fun doesn't end here!
To visit Harrah's Philadelphia by line run please see scheduled line run days, times and package information listed below.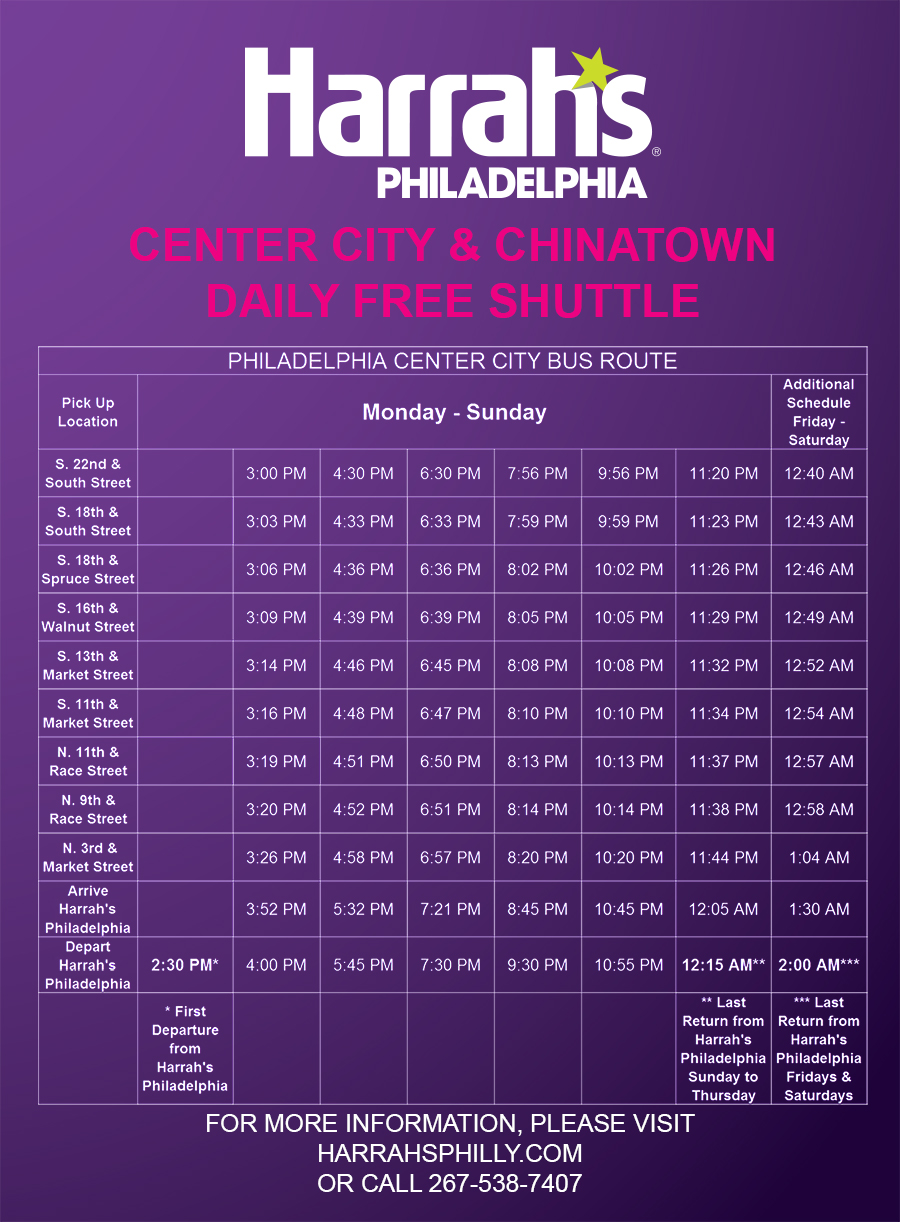 City 2 City Tours & Travel - (215) 476-2145
Service from the following times and locationsTicket price is $20.00 round tripPackage is $25.00 free play and a $5.00 food creditAgent
1.Mecca Unisex Salon 10:00AMProgress Plaza(Broad & Oxford Street)Philadelphia, Pa 19122(267)974-9271
2.Eagle Super Food Mart, LLC 10:10AM2208 N. Broad StreetPhiladelphia, Pa 19132(215)235-3415
3.Maria Mini Market 10:15AM3154 N. Broad StreetPhiladelphia, Pa 19132(215)221-6135
4.Mike's Deli 10:30AM527 W. Butler Street(between 5th & 6th Street on Rising Sun Avenue)Philadelphia, Pa 19140(215)225-7424
5.Kelly's New 10:45AM3179 Kensington AvenuePhiladelphia, Pa 19134(215)426-7669
6.Polish Amercan Travel 11:00AM2714 E. Allegheny AvenuePhiladelphia, Pa 19134(215)634-3396Arrival Harrah's 12:00PM
7.Depart Harrah's 4:00PM
City 2 City Tours & Travel Door 2 DoorExclusive door to door casino service.Morning, afternoon and evening.Service available seven days per week.For reservations and information call toll free at (844)245-7677.
BUCKS COUNTY
David Thomas Trailways
For information and reservations call (215)969-6700 x-3Bonus Package $30.00 free playCost is $26.00 Round Trip9:45am: 3435 Horizon Blvd on the street alongside Wal-Mart parking lot, past theWal-Mart entrance.10:00am: 2320 Route 1, (Target & Borders on right) at the turn loop for Oxford Valley Mall, bus will pick up at the Septa Bus stop, Across from Oxford Valley Mall, Langhorne.10:10am: 540 S Oxford Valley Rd, Fairless Hills, pick up on the street in front of Sears Hardware.10:20am: 4767 New Falls Rd, Levittown, in front of Newport Plaza (pick up on the street)10:35am: Pick up at rear of Golden Corral Buffet, 1465 Street Rd, Bensalem11:25 pm: Arrive Harrah's4:30 pm: Depart Harrah's
PENNSYLVANIA
Werner Coach
For information and reservations call (610)933-7100
Ticket Price: $28 Round TripPackage: $25.00 Free Play9:25 am: Line Run Service from: Lansdale9:35am: Every Friday North Wales10:00am: Norristown10:30am: Arrive Harrah's2:30pm: Depart Harrah's
DELAWARE
CMT ExpressFor information and reservations call (610) 222-91408:30AM: Newark, DE – pick up at the Delaware House Rest Area (off of Route 95)9:00AM - Wilmington , DE – pick up near the Riverfront Westin at the parking lot to the far left9:30AM - Wilmington, De – pick up at the Naamans Road Commuter lot on Carpenter Station Road10:00AM - Arrive Harrah's Philadelphia2:00PM - Depart Harrah's Philadelphia
SOUTH JERSEY
Carrier Coming Soon
NEW YORK
Carrier Coming Soon
To book your group by bus please call (800) 621-0200, press 3 for the bus menu, then 3 to make your reservation.
For any and all bus information for Harrah's Philadelphia, please call Brandon Yaconis at 484-490-1941 or email at CCRBUSOPS@Harrahs.com