Attraction
Harrah's Lake Tahoe offers an expansive arcade game room for the young at heart. The arcade provides fun for the whole family. Featuring many popular and state of the art games and ticket redeemable prizes.
Spa
Reflections Lake Tahoe Spa at Harrah's Lake Tahoe integrates the finest health and beauty treatments from around the globe.
Nightlife
Located next to the President's Lounge at the Summit, the hip ultra lounge, Cliché, is Lake Tahoe's most elegant and exciting cocktail lounge and cigar bar.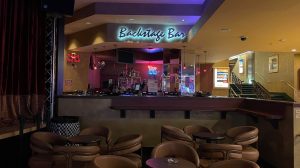 Property Feature
Backstage Bar
The Backstage Bar is the best spot in Tahoe to see free live entertainment and grab a cocktail! Located on the Harrah's casino floor next to Center Stage.
Property Feature
California Bar
Take a seat, grab a drink and play some video poker at Harrah's California Bar. Centrally located on Harrah's casino floor you will be in the center of all the excitement!
Nightlife
The South Shore Room is celebrating over 50 years in show business with top-notch entertainment.
Shopping
Harrah's Lake Tahoe shopping includes fashion, souvenirs, sundries and seasonal sports equipment.
Property Feature
The resorts in Lake Tahoe are the ideal place to hold your next meeting or event. Take advantage of a 28,000-square-foot Convention Center, meeting rooms and ballrooms, professional catering teams, a business center and more, all set against a backdrop of breathtaking views. Try Harrah's Lake Tahoe and Harveys Lake Tahoe to take your gathering to the next level.
Salon
Visions Salon
If you're feeling beat up from the feet up, Visions Salon is the place for you. Settle into our massaging pedicure chairs, enjoy a complimentary glass of wine, get a facial, visit the Blow Dry Bar and emerge ready to enjoy Lake Tahoe. BOOK NOW @ (775)580-6200
Local Attractions
Explore the many amazing year round local attractions near Harrah's Lake Tahoe from our friends at Tahoe South.
Property Feature
For qualified and new guests we provide luxury transportation to Harrah's Reno and Harrah's and Harveys Lake Tahoe.
Pool
Make a splash in our domed pool, with a hot tub and shaded cabanas.
Shopping
Introducing the new power couple Livia and Augustus, the signature Caesars women's and men's fragrances.