Table Games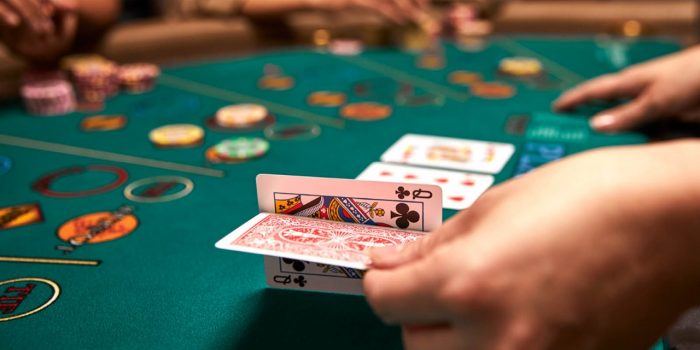 Book A Room
Harveys Lake Tahoe brings adventure to the table. All your favorite games are here, and there's never a dull moment, whether you prefer the strategy of Blackjack, the sheer chance of Roulette or the camaraderie of the Craps table. Be sure to use your Caesars Rewards card every time you play at Harveys to earn Reward Credits, comps, special event invitations and more exclusive perks. Not a member? Sign up today!
BLACKJACK
Take part in the fun with a fast-paced game of 21, also known as Blackjack. Everyone in Blackjack plays against the dealer. While Blackjack is a simple game, its strategy can be complex and often reflects each player's personality. Hit, stand, split, or double down trying to get closer than the dealer to 21 without going over and win big.
MINI BACCARAT
Baccarat is a casual, fun way to play this famed Monte Carlo high-limit sophisticated classic. Baccarat may be the simplest of table games due to the fact you need only make one decision, bet on the "player" or the "banker". Whichever hand comes closest to 9 is the winner. Our optional 5 Treasures Side bets add exciting spice to the game.
ROULETTE
Played in every major casino worldwide, Roulette is an exciting game of chance. Players test their luck by picking numbers on a wheel, choosing from 1 to 36, with a 0, 00 and (on some tables) 000. Roulette offers many ways to win – betting individual numbers, intersections of up to five numbers at once, odd or even, red or black. It's always fun when your number comes up playing Roulette at Harrah's.
LET IT RIDE POKER
Make your bets on this popular variation of Five Card Stud Poker, and if you've got a good hand, Let It Ride. The player receives 3 cards and, along with the dealer's two community cards, makes their best 5 card poker hand. Hit a winning hand and you could go home with a bundle of cash.
PAI GOW POKER
Pai Gow Poker is an action-packed table game that combines the ancient Chinese game of Pai Gow with the strategy of the American classic, poker. The game is played with a regular deck of 52 cards, plus one joker that can be used either as an ace or to fill out a straight, a flush, or a straight flush. The result is a game that produces exciting card combinations as players compete to make the best five-card and two-card hands from a seven-card deal. Both hands go head-to-head against the dealers, and since both player and dealer need to win both hands to win the bet, Pai Gow keeps you in the action.
I Luv Suits Poker
If you want to get flushed with cash, then this game will surely suit you. I Luv Suits Poker is an exciting new poker variation and is one of the easiest games in the casino. Played with a deck of 52 cards where your objective is to build a bigger and better hand against the dealer. Unlike traditional poker, I Luv Suits is all about making the highest possible flush out of seven cards. This fun new game is easy to learn and includes multiple ways to win.
3 CARD POKER WITH PROGRESSIVE & 6 CARD BONUS
This is an exciting stud poker game that offers two games in one, with four ways to play, and five ways to win. You may bet against the dealer, bet on the value of your own three-card hand, or bet both. Bonus payouts may be had for certain hands when wagering against the dealer. The 6 Card Bonus is an optional bonus wager (side bet) that will be incorporated into selected existing Three Card Poker table games. This bonus is based on the best 5-card Poker hand that can be made considering each player's three cards in conjunction with the dealer's three cards.
Roll To Win Craps
Designed to appeal to both seasoned craps players and those completely new to the game, Roll To Win Craps occupies the same footprint as a traditional craps table. Roll to Win Craps features the same rules as a traditional craps table but is a chip-less table game. The table has 10 betting stations that act as individual betting terminals where guests can place their bets electronically. Players are able to place bets privately on their screen, and then see their virtual chips displayed on the main playing field. They can even tip the dealer right from their player station.
Ultimate Texas Hold'em with progressive
Play with all the excitement of traditional poker, but with bigger payouts and no poker face needed. Ultimate Texas Hold'em is a poker-based game in which you may make one raise at any time during the course of the hand. The earlier the raise is made the higher it may be. Unlike other poker-based games, raises made after the ante still have action, even if the dealer doesn't open. Players and the dealer each receive two cards. They combine them with five community cards to make their best five-card hand. This game features two optional bets, the Trips, and Progressive. The Ante and Blind must be played before Trips or Progressive bonus bets are allowed. Players win the Trips Bonus if their final five-card hand is three of a kind or higher. Players may also bet the optional $5 Progressive side bet. The Progressive bet will win when the player's two cards and the first three cards of the Community Cards, known as the flop, form a five-card hand of Three of a Kind or better. The Trips and Progressive wagers must be made prior to the player receiving cards.
*Let It Ride, Fortune Pai Gow Poker, Casino War, and Three Card Poker are trademarks used under license from SHFL entertainment, Inc.