Table Games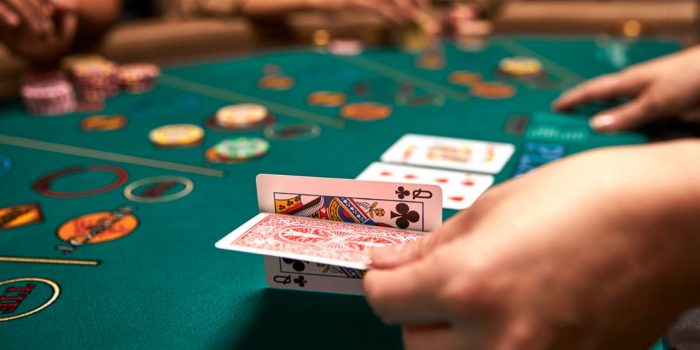 Book A Room
Harveys Lake Tahoe brings adventure to the table. All your favorite games are here, and there's never a dull moment, whether you prefer the strategy of Blackjack, the sheer chance of Roulette or the camaraderie of the Craps table. Be sure to use your Caesars Rewards card every time you play at Harveys to earn Reward Credits, comps, special event invitations and more exclusive perks. Not a member? Sign up today!
BLACKJACK
Take part in the fun with a fast-paced game of 21, also known as Blackjack. It's the most popular casino table game in the US and among the most popular worldwide. The object is simple: get a hand closer to 21 than the dealer's without going over. Everyone in Blackjack plays against the dealer. While Blackjack is basically a simple game, its strategy can be complex and often reflects each player's personality.
BACCARAT & MINI BACCARAT
Famed for years in Monte Carlo and favored by James Bond, the sophisticated game of Baccarat has been popular for years and may be the simplest of casino table games. Players make only one decision: to wager on the player or the bank. Two hands are dealt, gamblers place their bets and the hand that comes closest to 9 wins. Mini Baccarat is a simple, straightforward way to enjoy this action, with fast-paced action and lower minimum wagers.
ROULETTE
Played in every major casino worldwide, Roulette is perhaps the most popular table game on earth. The game consists of a wheel marked with red and black numbers 1 through 36, and on American wheels, a green 0 and 00. Bet your favorite numbers for big payouts on the inside portion of the layout, or take an even money bet on red or black, or odd or even. It's always fun when your number comes up playing Roulette at Harveys.
LET IT RIDE POKER
Make your bets on this popular five card stud poker variation, and if you've got a good hand, just Let It Ride! You don't play against other players or the dealer. Hit a winning hand and you could go home with a fabulous bundle of cash. Let It Ride is a popular poker game in which the player is dealt three cards and uses the dealer's two to form a five-card community hand. Win up to thousands of dollars on a single hand.
PAI GOW POKER
Pai Gow Poker combines the ancient Chinese game of Pai Gow tiles with American poker to give players the best of both worlds. This exciting game is played with a regular deck of 52 cards plus one joker. That card can be used either as an ace or to fill out a straight, flush or a straight flush. Players form two hands and each goes head to head against the dealer's. Beat the dealer once to push, twice to win.
*Let It Ride, Fortune Pai Gow Poker, Casino War, and Three Card Poker are trademarks used under license from SHFL entertainment, Inc.