Baltimore Marketplace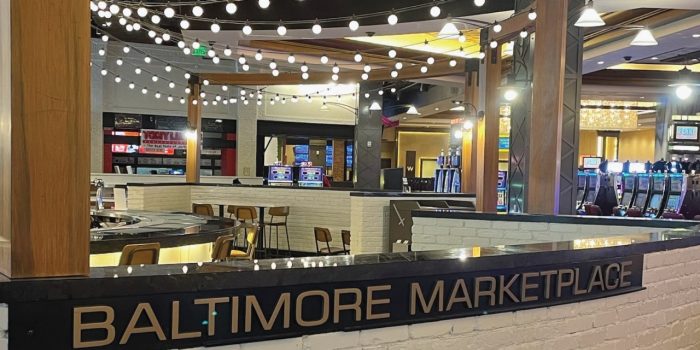 Book A Room
Facts
Cuisine
Cafe/Variety
Price Level
$
Attire
Casual
ABOUT BALTIMORE MARKETPLACE
Located on the first level of the casino, the Baltimore Marketplace showcases some of Baltimore's favorite foods, including Guy's Bar-B-Que Joint, Piezzetta, Heavy Seas Burger Bar, Lenny's Deli, and B'More Beers.
Barbecue by National BBQ Hall of Famer and chef, restaurateur and Food Network host Guy Fieri, located in the Baltimore Marketplace.
B'More Chicken & Donuts
B'More Chicken & Donuts, the newest addition to the Baltimore Marketplace. Whether it's signature donuts to the best chicken sandwiches in town, B'More Chicken & Donuts has devised a new twist on iconic favorites.
HEAVY SEAS BURGER BAR
Heavy Seas, founded by prominent Baltimore brewer Hugh Sisson, offers a bevy of well-balanced and interesting beers as well as some of the best casual fare in the area – from burgers to mussels to ham hush puppies.
Lenny's Deli has been feeding Baltimore-area residents since 1985. With three previous locations – in Harborplace, on Lombard Street and in Owings Mills – Lenny's is the place to go for the ultimate corned beef sandwich, pastrami, hot dogs and all your deli favorites, as well as all day breakfast offerings.
Piezzetta serves individually baked pizzas and salads made with locally-sourced and homemade ingredients. Craft your own or choose from our chef-inspired options. The goal at this Baltimore restaurant is simple: give people a pizza experience the way it was meant to be.
Must be 21 or older to dine in accordance with Maryland State Law