Facts
Cuisine
Steakhouse
AVG Entree Price
$60
Price Level
$$$
Attire
Business Casual
Contact
443-931-4254 grsteakbmore@caesars.com
Hours
Thur & Sun5pm-9pm
Fri & Sat5pm-11pm
Additional Info
Take a Virtual Tour
Baltimore Steakhouse Restaurant
Since its grand opening in November 2017, Gordon Ramsay Steak has quickly become a staple in Baltimore's fine-dining restaurant scene. Offering exceptional dishes with the finest locally sourced ingredients, internationally renowned Chef Gordon Ramsay has made it his mission to work with Maryland's most qualified purveyors. Enjoy succulent cuts of dry aged prime beef paired with glasses of wine from our award-winning selection, or taste Chef Ramsay's world-famous signature dishes featuring the iconic Beef Wellington and Sticky Toffee Pudding. At this posh Baltimore steakhouse, no detail is left untouched.
Ravens Parking: Gold, Platinum, and non Caesars Rewards members will be charged $100 for parking on Ravens home gamedays. Patrons with dining reservations on home gamedays will receive a $100 reimbursement off their checks. *Must redeem the entire $100 the same day or the offer will be voided
Wednesday, September 29, 2021
Join Casamigos Tequila for a specialty pairing event! Walk from station to station as you experience the finest tequila paired with Gordon Ramsay Steak's signature food items.
Guest of Honor: Master Chef Season 10 winner, Dorian Hunter!
Admission: $125 per guest (+ transaction fees)
Live entertainment including a Mariachi Band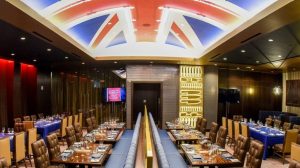 Gordon Ramsay Steak
Private Event Packages
Searching for an incredible venue to host your next private event? Look no further, Gordon Ramsay Steak has you covered with abundance of customizable layout/dining packages:
Bar Area | Happy hours
Bar & Lounge Area | Large scale happy hours and private events
Private Dining Room | Intimate dining for private parties and business meetings
Restaurant Buyout | Guaranteed exclusivity for corporate events
Book Event: Call 443-931-4254 or email GM Tamia Tripp at grsteakbmore@caesars.com