Things To Do Near Horseshoe Baltimore
Located along Russell Street on Baltimore's south side, this urban casino was designed to maximize connectivity with existing hospitality operators, neighboring professional sports venues M&T Bank Stadium (NFL-Ravens) and Oriole Park at Camden Yards (MLB-Orioles) and the city's famed Inner Harbor.
Promotions
Be legendary and take advantage of all Horseshoe has to offer. We're prepared to customize each visit with one of a kind promotions, dining and nightlife experiences. The only place where you can dine, game and have some fun in one stop.
Property Feature
Employing more than 1300 team members, Horseshoe Baltimore is always hiring and offers a wide variety of career opportunities. Whether you are just starting out or looking for a second career, Horseshoe may be the place for you.
Nightlife
Never miss out on a moment of the fun! Keep up-to-date on all of the legendary entertainment that Horseshoe Baltimore has to offer.
Nightlife
Introducing Poe's Nest - Baltimore's first and only Ravens themed bar!
Nightlife
Choose from an abundant selection of local craft beers while enjoying video poker at the bar and your favorite sports teams on our flat screen televisions!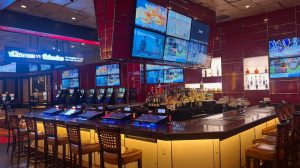 Nightlife
Tag Bar
Experience the next level of play in this sleek, energetic and interactive lounge that features a full-service bar with beers from around the world and state-of-the-art electronic table games │ TAG Bar also features over 40 televisions so you can watch every game that is on TV at any given night, plus every game at once on Sundays during football season.
Property Feature
Free Wifi
Free wireless internet is available to all guests throughout the property │ Log on to like us on Facebook and follow us on Twitter @Horseshoebmore
Property Feature
Outdoor Gaming & Smoking
Gamble and smoke on one of our 10 outdoor patios located throughout the casino, the only casino in Maryland with this unique feature.
Property Feature
We make it easy to plan a successful business meeting or event with solutions tailored perfectly to you. No matter the size or the event type, we can accommodate every event need.
Local Attractions
For most of you, just being at Horseshoe Baltimore is enough. But we know that some of you like to get out and see the sights.
Property Feature
Horseshoe Baltimore joins two legends: the Caesars Entertainment family and the Baltimore community. From our team members to our large-scale partnerships, Horseshoe works closely within the community to affect positive change.
Property Feature
Diamond and Seven Stars members are invited to experience our exclusive VIP Lounge. Take advantage of a brand new a la carte food menu, enjoy discounted premium cocktails, watch your favorite sports team on flat screen TV's, or simply take a break from the casino action!
Property Feature
Learn more about our self-parking and valet options in our 7-story parking garage. Parking is always free for Platinum, Diamond, and Seven Stars members.
Promotions
Click for information about Horseshoe Casino Baltimore's standard policies and operating procedures.