Table Games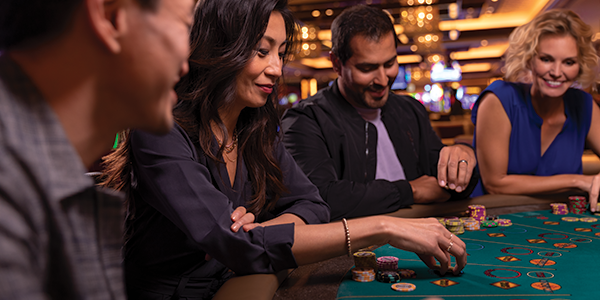 Book A Room
Table Games at Horseshoe Bossier City
Horseshoe Bossier City features 68 of the most popular table games with the best odds and the highest limits, designed to give gamblers the authentic action they can count on here – after all, the Horseshoe name has been synonymous with great table games action since 1951.
Guests can play craps with up to 100X odds! BEST BLACKJACK IN LOUISIANA! Blackjack players enjoy limits of up to $25,000. Plus, there's Roulette, Three Card Poker, Ultimate Texas Hold Em', High Card Flush, Mississippi Stud, and Poker and Blackjack Progressives. Horseshoe also has mini-Baccarat and Dragon Bonus Baccarat tables.
BLACKJACK
Blackjack is the most legendary table game around, and for good reason – the action is always fast-paced, and the possibilities are endless, though the goal is simple: get a hand closer to 21 than the dealer's. A player's style can often reflect personality, so sit down at our tables and let your personality shine through! Horseshoe casino gamblers can also place side bets such as Bet the Set and Field Gold 21.
CRAPS
Craps is perhaps the most social game at any casino, and for true gamblers, it is the thrill among thrills. Pick up the dice and make your point. The whole table erupts in cheers. This casino gambling experience may intimidate newcomers due to its many betting options and unique lingo, but don't be fooled – craps is a simple game to learn and in moments you'll be exchanging high fives with strangers when the dice come up hot.
ROULETTE
Roulette may be the world's most popular game of chance, and it is a game of pure chance. Just a ball and a spinning wheel – and your intuitions. Bet your lucky numbers, or place your wagers on red or black, even or odd. Lady Luck and you could meet up at the roulette wheel at Horseshoe Bossier City! Also available is Rapid Roulette, which combines the traditional spinning wheel with the convenience and privacy of personal betting stations.
ULTIMATE TEXAS HOLD'EM
Ultimate Texas Hold'em translates the popular Texas Hold'em poker game against other players to a table game where you play against the dealer. At any point during the course of the hand, the player is free to make one raise. In this poker-based game, the earlier the raise is made, the more you can bet. If your five cards beat the dealer's hand, you win!
MISSISSIPPI STUD POKER
Play this table game at Horseshoe Bossier City! Mississippi Stud is a five card poker game where gamblers can bet up to 10 units on a single hand. In Mississippi Stud you don't compete against the dealer but a fixed pay table. A pair of jacks or better is a winning hand, and a royal flush pays out 500 to 1.
THREE CARD POKER
The Ante, Play and Pair Plus wagers in Three Card Poker at Horseshoe give our casino gamblers three chances to win in a game that's always fast-paced and full of energy.