EXECUTIVE HOST TEAM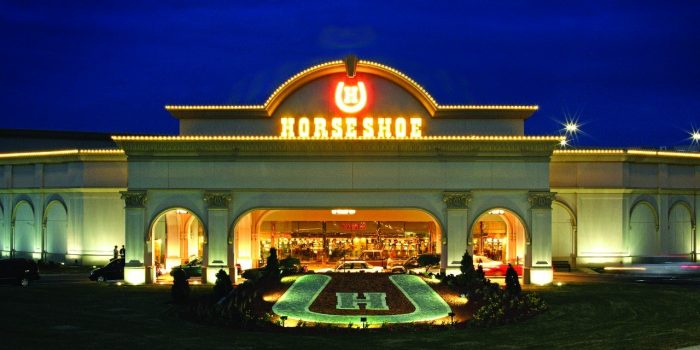 Book A Room
At Horseshoe Council Bluffs, we take pride in giving legendary service to our best customers.
Our host team knows all the ins and outs of our experience, allowing you the best access to the greatest gaming experience, finest dining and premium entertainment.
They're your inside hookup to ultimate indulgence. Meet the team!
BRAD BEASLEY
Senior Executive Host
Hi, my name is Brad Beasley, Senior Executive Host with Harrah's and Horseshoe Council Bluffs, IA. I graduated from the University of St. Francis in Joliet, Illinois and started my career in the casino industry at Harrah's Joliet over 15 years ago. I am proud to work for Caesars Entertainment, where world-class gaming and exceptional customer service is always a priority. Growing up in the Chicago area made me an avid sports fan. When I'm not working I enjoy cheering on my favorite Chicago teams - White Sox, Bulls, Bears, and Blackhawks. My friends call me "Beas", so next time you're at Harrah's or Horseshoe Council Bluffs or planning your next trip to any of our 40+ properties, be sure to ask for "Beas" and I will be happy to assist with your needs.
Phone: 712.396.3773
E-Mail: BRBEASLEY@harrahs.com
JANA JEDINAK
Senior Executive Host
Hello and welcome to Harrah's and Horseshoe Council Bluffs! I am originally from Slovakia and I started my career in August of 1995 as a cocktail server at Bluffs Run Casino, before joining the Executive Host team in 2006. I really enjoy creating a memorable and unique experience for any guest that comes to play with us here in Iowa. It will be my pleasure to take care of your gaming and entertainment needs. Please feel free to contact me to help you plan your next trip to our properties.
Phone: 712.308.5016
E-Mail: jjedinak@harrahs.com
ANN CAPPELLO-SCHRAMM
Senior Executive Host
I have been with Caesars Entertainment since 2007 and have enjoyed this career to the fullest. It is great to work in an environment where you meet many wonderful people. When I am not here, I spend time with my 3 children. I also enjoy remodeling and gardening. It would be my pleasure to book your next stay and allow you to experience all that Horseshoe & Harrah's have to offer in grand style. My hope is that this will be a trip well remembered!
Phone: 712.308.5012
E-Mail: aschramm@harrahs.com
DIANA NORDSTROM
Senior Executive Host
My name is Diana Nordstrom and my hometown is Sidney, Ohio. I have been with Caesars Entertainment since 2008. I have held multiple titles since working for Caesars Entertainment, including: Caesars Rewards Representative, VIP Host, Inside Sales Host, Casino Sales Executive, and now Senior Executive Host. The properties that I have worked at are Harrah's St. Louis, Planet Hollywood, and now Harrah's & Horseshoe Council Bluffs. My husband and I have two great kids! My daughter Barbara lives in Eugene, Oregon with my two grandkids, Ava and Ryder. My son Derek was in the Navy and is now going to school full-time at the University of Missouri. I love to read and take care of our family dog Snoopy and Derek's dog Harley. Fun fact about me, I use to work for the Parks & Rec department in Carthage, Missouri and there is a plaque in the Municipal Park with my name on it for my work in getting new playground equipment. I am a very hard-working, detail-oriented person, and love challenges. Next time you are in the area, ask for Diana and I will make sure your stay is relaxing and enjoyable!
Phone: 712.396.3841
Email: dnordstrom@caesars.com
CHOM PANYATHONG
Senior Executive Host
Hello, I'm Chom. I started working at Horseshoe Council Bluffs in 2006 as an EMT Security Guard, accepted the VIP Host position, then VIP Host Supervisor, and now am a Senior Executive Host. In my free time I love to play golf, football, soccer, go camping, fish, and travel. I feel that being a host fits my personality because I am a people person and have always enjoyed an interacting people that I have just met. I love meeting new guests and getting to know each of them. Every encounter gives me the opportunity to surprise and delight players, which strengthens our relationship and gives me the opportunity to book them for another trip. Next time you visit, ask for Chom!
Phone: 712.396.3786
Email: cpanyathong@harrahs.com
LUAN NGUYEN
Senior Asian Executive Host
Hello, I'm Luan! I'm originally from Vung Tau, Vietnam and have worked for Caesars Entertainment since 2009. I started out as a dealer, transferred to table games supervisor, and now am a Senior Asian Executive Host. I would describe myself as a people person and love to have fun. A fun fact about me, is that 40% of the Vietnamese in the world have my same last name. My favorite things to do outside of work would be grilling, singing karaoke, and spending time with my son. Next time you come to our casinos ask for Lu and I'll make sure that your trip will be well remembered and enjoyable!
Phone: 712-396-3945
Email: luannguyen@harrahs.com
MORGAN PRATHER
Senior Executive Host
Hello! My name is Morgan Prather and I am a Senior Executive Host for Caesars Entertainment in Council Bluffs, Iowa. My responsibility is to provide the finest customer service and ensure your complete experience at any of our properties is the most enjoyable possible. I studied Business Marketing and had a minor in Native American Studies at the University of Nebraska at Omaha. When I'm not at work I enjoy going to concerts, camping, traveling, and cooking. I am also a KU basketball fan, Rock Chalk Jayhawk! My passion and experience have helped mold my career and I am proud to be a part of the Caesars Entertainment team. I truly enjoy creating memorable experiences for any guest that comes to Horseshoe or Harrah's in Iowa. On your next visit, ask for Morgan and I will provide you with an unforgettable gaming and entertainment experience.
Phone Number: 712-396-3790
E-Mail: mprather@harrahs.com
Quy Trinh
SENIOR EXECUTIVE HOST
Hello! My name is Quy Trinh. I started with Caesars Entertainment in 2016 as a VIP host, and now as Senior Executive Host. I love this position because it gives me so opportunities to meet with all different guests. It gives me opportunity to provide excellence exceptionalservice! I am a sports person, I love all sports but basketball is my favorite. Oh yeah, go Lakers! Fun fact about me is that I'm half Chinese and half Vietnamese! Please ask for a Quy next time you come to Horseshoe in Council Bluffs, I'll make sure your trip is the most memorable one!
Phone: 712-329-6216
E-mail: qtrinh@harrahs.com
RC Schmidt
Senior Executive Host
Greetings! I'm R.C Schmidt and I'm thrilled to be a part of the Host Team in Iowa! I have over a decade of experience and I'm excited to bring that experience to making your next trip one to remember. I really enjoy pop culture trivia and sports, odd combo, I know. In fact, I once appeared on a game show broadcast by Comedy Central and won! I look forward to seeing you in Council Bluffs soon and make sure you ask for R.C.!
Phone: (712) 396- 3837
Email: rschmidt@caesars.com
Meet Our VIP Hosts
You can find them on the casino floor, ready to help you with whatever you need