Table Games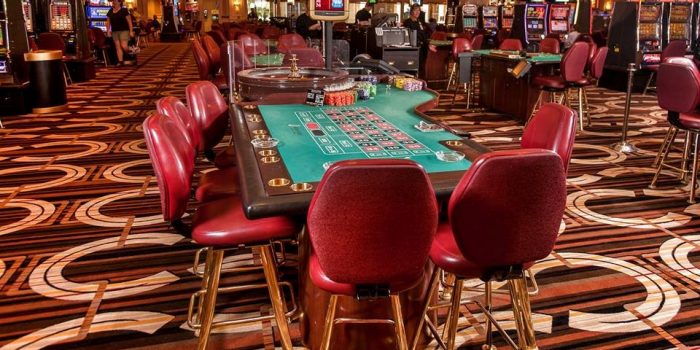 Book A Room
Horseshoe Golden Treasure
A voyage to wealth and excitement
Get on-board a treasure ship. A voyage to wealth and excitement, featuring Baccarat, Fortune 7 and Dia Bacc, along with 3 Dragon Bonus games and Roulette. Plus, enjoy our new Noodle Bar menu, now featuring Banh Mi and weekly specials! The Noodle Bar is now open Fridays - Sundays from 10PM - 2AM. Check back soon for pictures and the latest updates.
Over 50 table games await you at Horseshoe Council Bluffs, the casino where gamblers always come first – with the highest table limits and best odds, so you can win big. We're talking about the biggest and best action just east of Omaha: 100x odds at craps and bets of up to $10,000 a hand at blackjack. This is world class casino gambling, Horseshoe style. Jack Binion would have it no other way.
BLACKJACK
With table limits as high as $10,000, blackjack at Horseshoe Council Bluffs beckons to the serious gambler. It's a classic game, where the thrill of a natural 21, the rush of out-maneuvering the dealer and the strategy of playing your game your way combine to make blackjack an expressive game where your personality shines through your play – and could win you a bundle! We also offer Down Under Blackjack on the main floor and in our Whiskey Pit on Friday and Saturdays!
CRAPS
Step up to the craps tables at Horseshoe Council Bluffs and discover why this may be the most social of all casino table games. When the whole table wins together, something magical happens. Strangers become friends. Friends share moments of camaraderie that last a lifetime. CRAPS NO MORE is a variation on the most exciting game in any casino Craps. Visit us and give it a try!
ROULETTE
What's your lucky number? Hit it and you could win big at Horseshoe Casino. The roulette wheel goes from 1 to 36, with a 0 and 00 thrown in for good measure. Bet the numbers, red or black, odd or even – any number of combinations. Step right up and play today!
PAI GOW POKER
East meets West in the casino game of Pai Gow Poker. Place your bet and seven cards are dealt your way. Form two hands – one with five cards and one with two – and go head to head against the dealer. One winning hand pushes, two wins in this exciting game that keeps you in the action longer!
MINI BACCARAT
This casino table game of choice for high rollers everywhere has long been among the most popular casino games around the world, especially in Europe and Asia. While many associate this elite game with sophistication, it may just be one of the simplest table games to learn and play! Plus our Dragon Bonus feature adds an extra dose of excitement. Mini Baccarat is a simple, straightforward way to enjoy the action of Baccarat at Horseshoe Casino Council Bluffs. We invite you to sit down at any of our games where our dealers will be happy to show you how to play and answer any of your questions. We're the only Mini Baccarat action in town, so come check it out!
MISSISSIPPI STUD
In Mississippi Stud Poker, Horseshoe Casino Council Bluffs gamblers compete against a fixed pay table rather than against the dealer or each other; a pair of Jacks or better is a winning hand. The game is easy – make an ante bet to receive your first two cards. As the dealer reveals three community cards, players can make additional Street bets up to three times their ante. You can win big when Lady Luck is on your side! Plus, you could hit our Progressive Jackpot!
ULTIMATE TEXAS HOLD 'EM
In this exciting variation of the five-card classic, the thrill of heads-up play against the dealer combines with the big-money possibilities of the optional bonus bet that pays off for a final five-card hand of trips or better, with a 500:1 payout for a royal flush! Plus, you could hit our Progressive Jackpot!
WHISKEY PIT
Gambling like you've never seen before. The best in live entertainment and world class gambling like blackjack & craps. Our Whiskey Pit is the highlight of excitement at Horseshoe Casino Council Bluffs Casino.
Criss Cross Poker
2 five-card hands, double your chance to win! Win across, win down, or win both!
Emperor's Challenge Pai Gow
As Horseshoe Council Bluffs continues to bring you the best table games action around, we now present Emperor's Challenge Pai Gow! A twist on the classic tile-based game, this game is played with a 52-card deck and a single Joker card and is played heads up against the dealer to make the best possible hands! Dealt seven cards, the player will attempt to make the best two-card hand and a separate five-card hand, attempting to beat the dealer! Emperor's Challenge is as legendary as the Horseshoe name and we can't wait for you to experience them together.