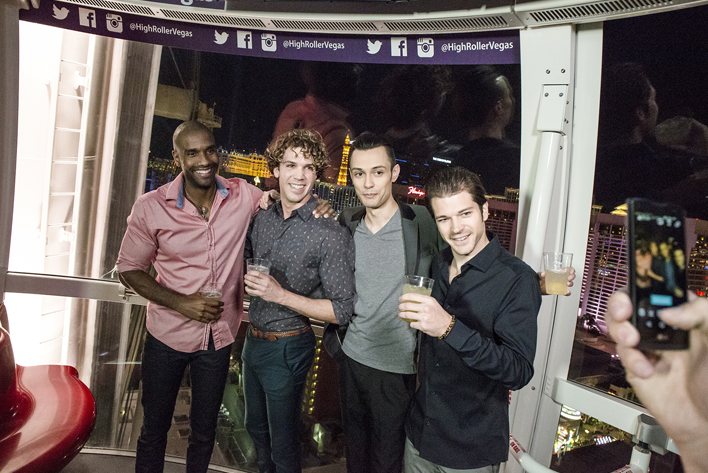 Coming to Vegas? That alone is a reason to celebrate. In your High Roller glass-enclosed cabin, toast 550 feet in the sky while admiring birds-eye views of the Las Vegas Strip and city.
Whether it's a wedding proposal, party with your closest friends or your own personal nightclub, you can choose the perfect High Roller package for you. Half-hour and hour-long High Roller rides are available. Amenities include Champagne flutes, chocolate-dipped strawberries, customized music and more.
For special ticket rates and package pricing, contact Group Sales at (702) 322-0537 or email HighRollerSales@caesars.com.
Check out these great packages starting at $925. View options listed below.

Love is in the air
VIP Cabin for 2-10 guests for 30 minutes
Champagne flute
Chocolate dipped strawberries
Customized Music
Gratuity Included
Club High Roller
Private cabin for 1 hour for up to 25 guests
Open Bar
Private Bartender (Includes minimum gratuity)
VIP disco party lights
1 appetizer or dessert selection
Bluetooth speaker for custom music
10 High Roller souvenir photos and a digital upgrade
Expedited boarding with guest service escort
BBQ Cabin
BBQ 550 feet in the air. The Summer BBQ Bar Cabin is now available. In conjunction with Virgil's Real BBQ, guests can get away from the heat by riding the air-conditioned High Roller while feasting on Virgil's signature Texas Beef Brisket, Memphis-style Pork Ribs Carolina Sliders, Texas Beef Brisket Melts and Cornbread. This will also include an open bar and private bartender. Guests may bring their own music to listen to during the 30-minute rotation. The BBQ cabins will be available daily from 12 p.m. to 7 p.m.