The Book At The LINQ Hotel + Experience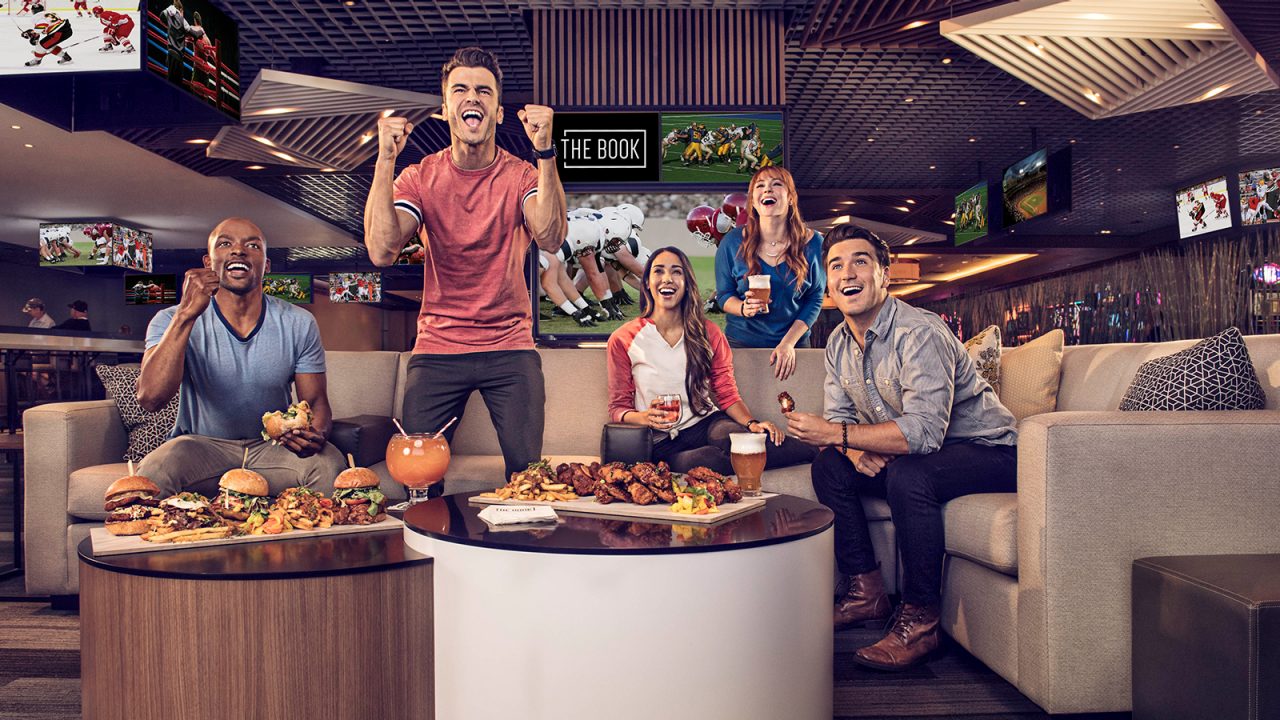 Book A Room
About the Book - Vegas sportsbook
Group Dining
For private dining and groups of 14 or more, please call Group Sales at 866-733-5827 or fill out an inquiry form.
Operating Hours: Thursday - Sunday 12 pm - 8 pm
The games will never be the same at The Book inside The LINQ Hotel + Experience. With more than 50 televisions, food and beverages crafted specifically for game day, and the Las Vegas Strip's highest resolution LED video wall, you won't miss any of the game day action.
From the moment you arrive, you'll know you aren't in a traditional sports venue. When you enter The Book, you'll be handed a tablet to control your entire experience. Select and order from The Book's digital menu, play social and augmented reality games, place bets through the Caesars Sports app, surf our custom beer menu and even control your own audio and video displays at the touch of a button within our Fan Caves. The choice is yours at the Vegas sportbook, The Book.
The Strip's newest and most innovative race and sports book experience offers more ways to play and win. Think you have the best betting skills? Prove it on The Book's live leaderboards, and earn bragging rights against your friends. Or, challenge your friends to one of five augmented reality games built right into your drink coaster.
Fan Caves
Sports with a twist: The Book also offers Fan Caves that feature a 98-inch TV. These 12 rentable living rooms feature a 98-inch split-screen TV, two 49-inch TVs, Xbox, game consoles, VR and more, basically a rentable living room, but better. Enjoy bottle service plus food from Sticky Chicken. From drinks to boxes of wings and fries for you and your friends, we've got you covered.
Sip, Savor & Sports
Enjoy finely crafted cocktails from a menu of more than 15 unique drinks or grab a draft from the self-pouring beer wall with 24 beers on tap including seasonal specialties. Interactive technology in and around the bar let you take on augmented reality and VR challenges.
What To Order & Experience (Secrets from the Staff)
More that 50 televisions and the highest resolution LED wall on the strip.
Control your own audio and video in your fan cave.
Order from The Book's digital menu.
Play social and augmented reality games.
Sample a variety of stouts, lagers, and IPAs at our self-serve beer tap wall featuring 24 unique options.
Build Your Own Moscow Mule.
Order from the Sticky Chicken food truck, which has more than 20 different wing combinations, sandwiches, and more. Try the Gladiator sandwich, with grilled mozzarella wrapped around the best fried chicken west of the Mississippi.
Get spicy with the Nashville Hot wings.
Share an Orange Crush Punchbowl with Patron Silver, Absolute Citron, Triple Sec, Orange Juice and Orange Crush.
For questions regarding reservations and booking information, please contact us by phone at 702-370-7736 or email.
Property Feature
Get your brew on with this beer tasting experience at The Book. A beer expert will guide you through a tutorial and tasting of eight beers and you'll learn tips and tricks about pouring the perfect pint. End your experience with a glass of your favorite. Mat Franco will be making a special appearance at The Book on Thursday, March 19 at 2 PM.
This ain't your neighborhood food truck: "Sticky Chicken" is chicken with an attitude. Over 20 different wing combinations and monster sandwiches make this the best chicken west of the Mississippi.
Wings from Sticky Chicken
Mules
Grub Box From Sticky Chicken