The Book At The LINQ Hotel + Experience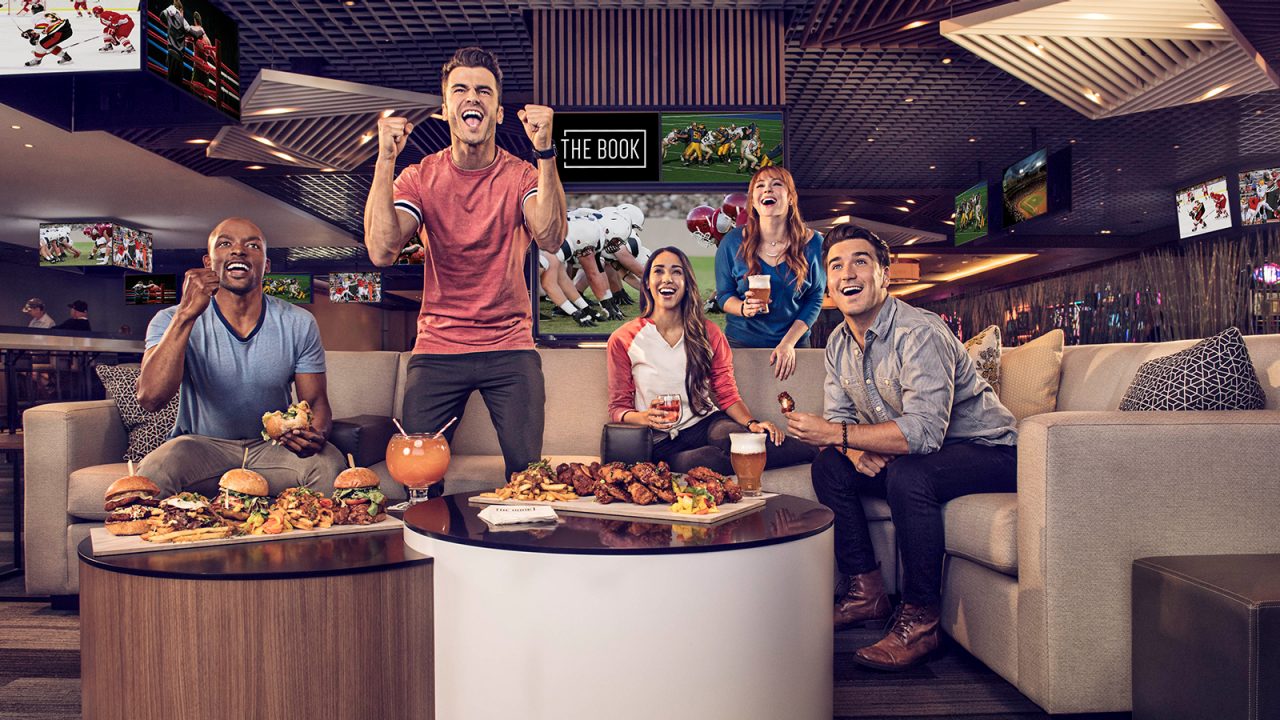 Book A Room
About the Book - Vegas sportsbook
Sports Betting Operating Hours:
Monday - Thursday 9 AM - 8 PM
Friday - Sunday 8 AM - 9 PM
Fan Cave/Lounge Area, Serving Guy Fieri's Vegas Kitchen
Thursday, Friday & Monday - 3 PM - 11 PM
Saturday & Sunday - 8 AM - 11 PM
The games will never be the same at The Book inside The LINQ Hotel + Experience. With more than 50 televisions, food and beverages crafted specifically for game day, and the Las Vegas Strip's highest resolution LED video wall, you won't miss any of the game day action.
From the moment you arrive, you'll know you aren't in a traditional sports venue. When you enter The Book, you'll be handed a tablet to control your entire experience. Select and order from The Book's digital menu, play social and augmented reality games, place bets through the Caesars Sports app, surf our custom beer menu and even control your own audio and video displays at the touch of a button within our Fan Caves. The choice is yours at the Vegas sportbook, The Book.
The Strip's newest and most innovative race and sports book experience offers more ways to play and win. Think you have the best betting skills? Prove it on The Book's live leaderboards, and earn bragging rights against your friends. Or, challenge your friends to one of five augmented reality games built right into your drink coaster.
Football Fan Caves
Get a front row seat to the action at this premium Las Vegas Football viewing experience. The Book at The LINQ provides not only the best place to watch football in Las Vegas, but an upgraded spin on a Vegas Sportsbook with interactive fan caves surrounding TV columns surrounding you in the game. This season, we will be offering a Game Day menu from Guy Fieri's Vegas Kitchen, delivered right to your seat. If you want the best football experience, The Book is the place to be.
Group Dining
For private dining and groups of 14 or more, please call Group Sales at 866-733-5827 or fill out an inquiry form.
What To Order & Experience (Secrets from the Staff)
More that 50 televisions and the highest resolution LED wall on the strip.
Control your own audio and video in your fan cave.
Order from The Book's digital menu.
Play social and augmented reality games.
For questions regarding reservations and booking information, please contact us by phone at 702-503-8320 or email.
Wings from Sticky Chicken
Mules
Grub Box From Sticky Chicken