3535 Las Vegas Cocktail Bar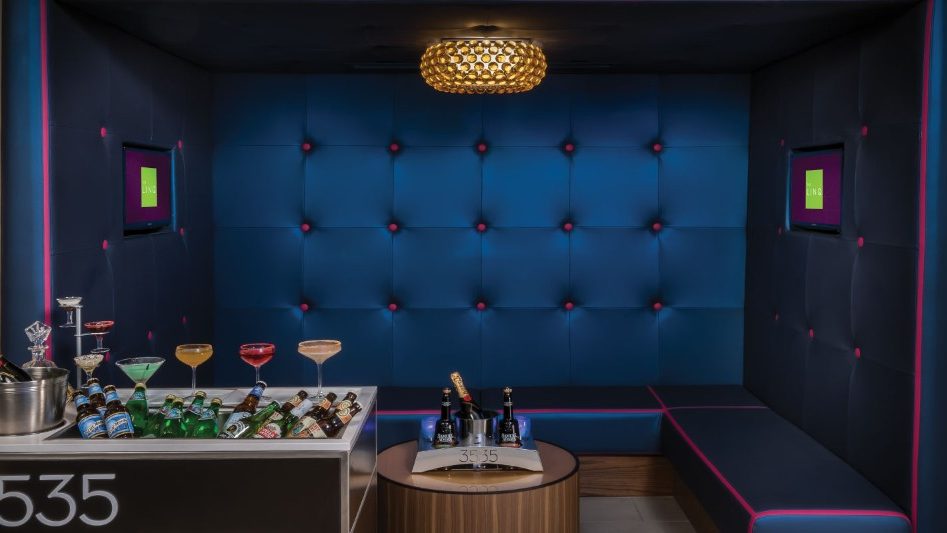 Book A Room
Facts
Type of Activity
Nightlife
Attire
Casual
Hours
Daily 10 AM - 4 AM
Additional Info
Bar & Lounge Area
10 AM - 4 AM
Gaming Area
Noon - 4 AM
The Menu
3535 at The LINQ Hotel & Casino is Las Vegas' only infusion bar, with 35 custom-made infusions used to make the most unique cocktails on the Strip. 3535 is all about experimentation and discovery, empowering guests with the opportunity to sample never-before-tasted flavors, select different sizes, order cocktail flights, and even customize their bottle service experience.
Featured creations include the Pig Newton, made with fig-infused Jack Daniels Honey and ancho chili Makers Mark rimmed with a bacon salt mix, and the Mint Oreo Martini, made with Mint Oreo-infused Skyy Vodka and rimmed with crushed Oreo cookies. In addition to the 35 infusions, 3535 features six wines on tap, as well as an array of champagne selections.
The Space
The bar features a colorful vortex LED fixture that spans from floor to ceiling, mimicking the larger version on the exterior of the building, lined with the various house-made infusion creations in stunning glass jars. The bar also includes USB and electrical outlets to keep guests plugged in. 3535 features six VIP booths which seat up to eight guests, each with two televisions, as well as six additional televisions placed throughout the space.
Why You'll Love It
Oreo Mint Martini
Manhattan
Wat-A-Pear
Chocolate Chai Peanut Butter Martini
Ruby Rose
Espresso Bourbon
Start of dialog window.
Why You'll Love It
End of dialog window.