O'Sheas Pub Las Vegas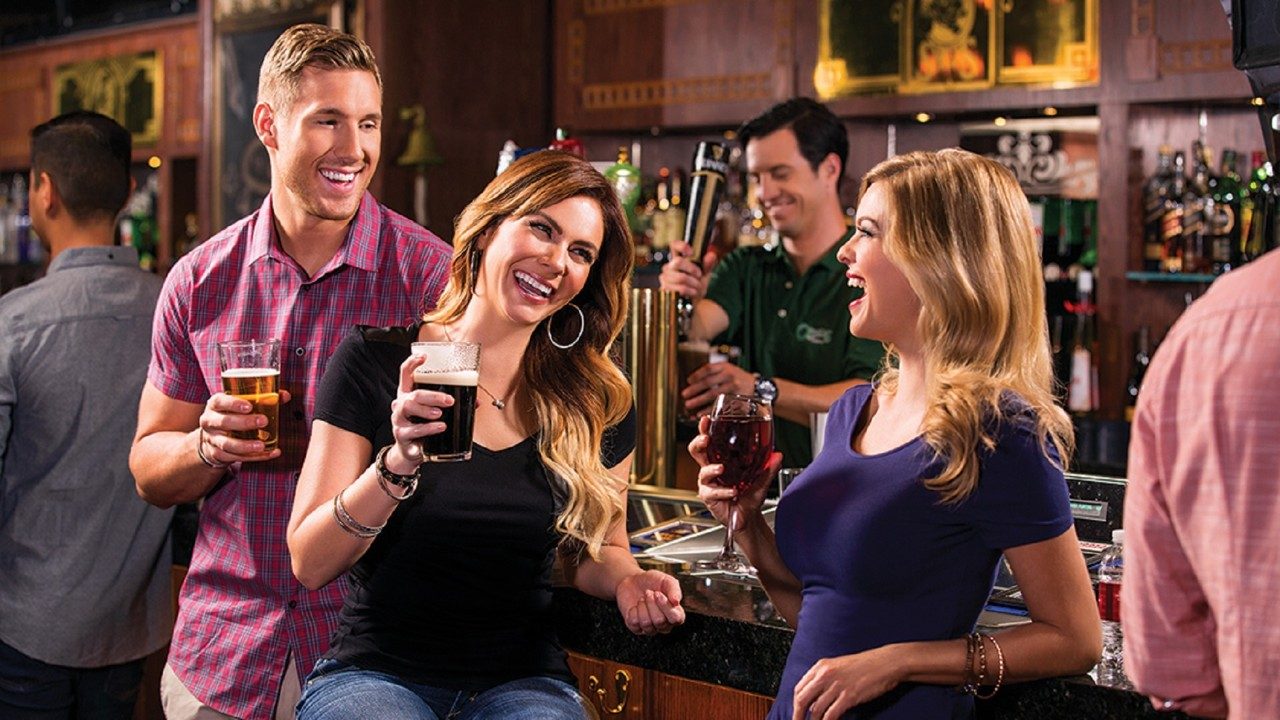 Book A Room
Facts
Type of Activity
Nightlife
Attire
Casual
Hours
Daily Open 24 Hours
HIGHLIGHTS OF THIS IRISH-INSPIRED CASINO AND PUB:
With the raucous atmosphere of a traditional Irish pub, longtime favorite O'Sheas is a destination that's pure fun. It features the same gaming tables, beer pong tournaments and drink specials that made the original O'Sheas so popular. In its heavily social and dynamic environment, enjoy more than 50 types of beer, table games, a lively outdoor bar and nightly entertainment at its Irish-inspired stage area with live performances. And just like before, O'Sheas' popular host, Lucky the Leprechaun, always keeps the party upbeat.
THE O'SHEAS BACK STORY:
O'Sheas was one of the first tenants to debut in the Promenade, a shopping, dining and nightlife district anchored by the High Roller observation wheel. The renovated 5,000-square-foot pub maintains the spirit of the original with a state-of-the-art touch. Its prime, center-Strip location, games and drink specials mean the revelry never stops. Take your experience up a notch and order the signature Irish margarita, infused with whiskey.
O'SHEAS LAS VEGAS LOCATION
Next to Chayo Mexican Kitchen + Tequila Bar, bridged between The LINQ casino floor and The LINQ entrance.
O'Sheas Dirty 30 Birthday Celebrations
Celebrating 30 years with 30 days of live entertainment, O'Sheas will feature performances by Evenflow, Roxy Gunn Project, Flannel Channel and more beginning at 7 p.m all month long. Drink specials including $3 birthday shots, $3 Murphy's Irish Stout and other Jameson cocktails will be in effect for the full month of September.
The 30 days of shenanigans wouldn't be complete without two new weekly events! Beer pong Thursdays and St. Patrick's Day Fridays. Think you got game? We've got Beer Pong Thursdays. Beginning Thursday, Sept. 5, guests can sign-up at noon with the 1st tournament starting at 4 p.m. Teams of two are $30, and one-time re-buys are $20 per team.
Starting Sept. 6, every Friday throughout the month will go green with St. Patrick's Day Fridays. Brian "Lucky" Thomas, will host games, trivia and raffles with festivities beginning at 4 p.m. Don't forget to wear your green!
Saturday, Sept. 28 will be the 30th Grand Finale birthday bash featuring appearance by famous O'Sheas friends, games, live bands and more. There will be a 8pm signature toast to 30 years of shenanigans so don't miss out!
For a high energy game day experience packed with all the fun and excitement of a classic Irish themed pub, head to O'Sheas.