Qua Baths & Spa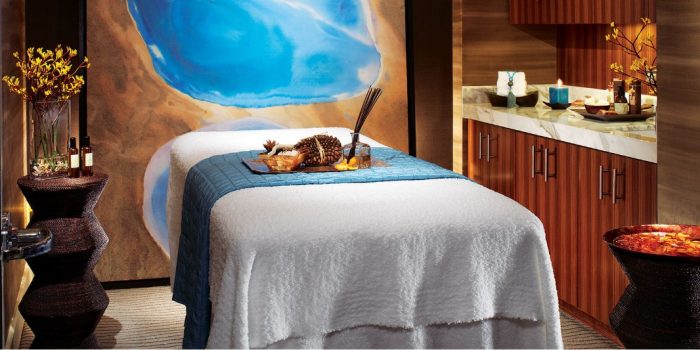 Book A Room
Facts
Type of Activity
Spa & Fitness
Hours
Daily 6am - 8pm
Contact Number
(866) 782-0655
Additional Info
Spa services provided to adults 18 years and older
Celebrating our Nobu Hotel's 5th Anniversary we introduce the
NOBU GO
Designed exclusively for Caesars Palace Las Vegas an ultimate luxury facial experience. It begins with the "Mindful Touch", an immersive virtual reality that allows you to disconnect, quiet your thoughts and fully relax in the present moment. Delight in revitalizing masks for back, hands and feet while you skin is treated to a "Cinderella Lift" hydrating facial.
(Natura Bisse travel gift included)
$555
100 minutes
Envelop yourself in Qua's sprawling, 50,000-square-foot spa grounds that includes a Laconium Room and Crystal Body Art Room. Three Roman baths use the ancient healing powers of water, while the snowing Arctic Ice Room is the only one of its kind in the world.
AWARD WINNING SPA
Qua Baths & Spa received the following awards:
Desert Companion, Best of the City - Best Luxury Spa 2017
Spas of America - Spas of America's Top 100 Spas of 2016
In Vegas Magazine Awards - Best Spa - 2015
Condé Nast Traveler - Top 50 U.S. Resort Spas - 2014
Las Vegas Review Journal - Best Spa - 2015 & 2014
Trip Advisor - Certificate of Excellence - 2015
Trip Advisor 2015 Hall of Fame - 5 consecutive years of winning Certificate of Excellence
The Southern Nevada Hotel - Best Spa Concierge Association - 2014
EXPERT TIPS
Voted 2015's Best Place To Get In Shape by Las Vegas Review Journal
Only spa in the world with official Nobu brand treatments
Seasonal treatments complement popular holidays
Add on the crystal-free diamond tip microdermabrasion to facials
Snowfall in the Arctic Ice Room
NOBU SPA TREATMENTS
EXPERIENCES
FACIALS
RED FLOWER
A journey of sensations in this spectacular ritual that deliciously stimulates the senses. This exquisite experience begins with a relaxing floral foot bath and foot treatment to tenderly exfoliate your tired feet. Aroma nectars are then drizzled along the spinal column as a prelude to the luxurious massage performed with your chosen aroma massage oil. An intoxicating fusion of Asian-influenced massage techniques work to increase relaxation, joint mobility and energy flow. This ritual includes a facial treatment incorporating facial reflexology along with an exfoliation and mask, leaving your skin restored and revitalized providing a healthy glow all over.
Ease away the day's stresses and strains and bring body and mind back into balance. This signature massage takes customization to the next level. No two bodies are alike. No one treatment fits them all. Our multi-talented Artisans utilize a combination of several massage techniques along with your own chosen aroma oil blend in a completely customized treatment that addresses your specific needs. An intoxicating blend of different aroma nectars are drizzled along the spinal column, resulting in serenity and balance. As you indulge in this treatment, you'll feel stress and tension melt away.
The Art of Youth, a genuine multisensory cosmetic lift in this union of sophisticated ingredients with anti-aging properties. It penetrates to the deepest layers, bringing the necessary firmness that provides an unparalleled skin rejuvenating action. This intensive treatment ensures brighter, firmer, noticeably younger skin. Restoring youthful contours, lasting hydration, improving skin texture and diminishing fine lines and wrinkles.
Infuse every pore with a blast of pure O2xygen Our light-as-air formula penetrates the skin and releases pure O2xygen molecules into the epidermal layer to re-energize natural cellular functions and eliminate toxins. This facial treatment will target skin congested from daily exposure to toxins and pollutants. A deep O2xygenating and breathing massage further cleanses the body and mind.
Inspired by the traditional art of caring for the body developed and perfected in Japan, experience a luxurious and energizing body ritual to stimulate circulation and the flow of energy. Begin with an exhilarating exfoliation with Ohana Gingergrass Bamboo Scrub, preparing the body for a nutritive buff of rice bran and cherry blossom, bringing healthy minerals and softness to the skin. Delicately mist with hydrating fresh rose, camellia and plum blossom as a prelude to the shiatsu-inspired full body massage performed with a blend of rare kinmoxei flowers and softening oils of lime, monoi oil and silk, finished with Plum Blossom Silk Cream. Finding balance, revitalized and restored.
Indulge your body with the highest concentration of Vitamin C and rose hip oil. This is performed in our Vichy shower, where our highly skilled Artisans perform a full body scrub using natural exfoliating agents to eliminate dead cells and provide a radiant and glowing appearance. A highly nutritive C+C Vitamin Body Cream further hydrates the skin leaving it soft to the touch.
Why You'll Love It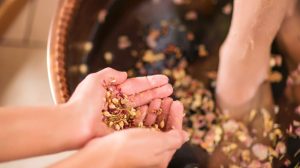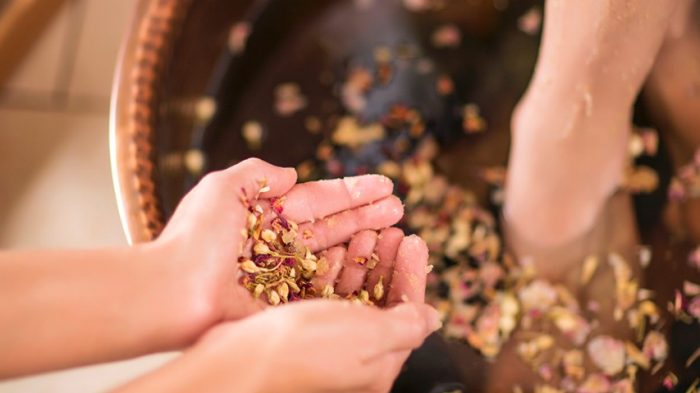 Try a Nobu Zen or Nagomi Ritual Treatment
Start of dialog window.
Why You'll Love It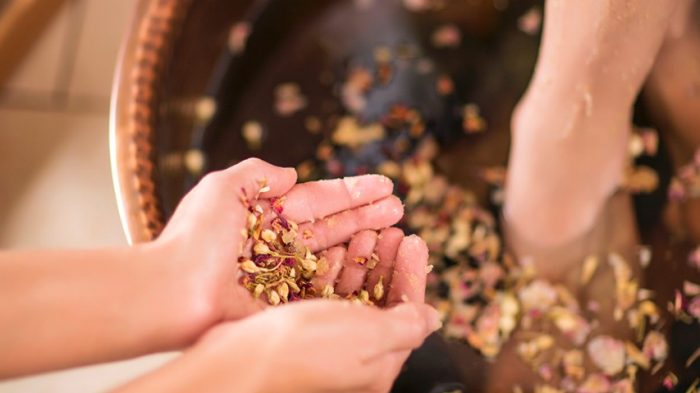 End of dialog window.