Vegas Casino Table Games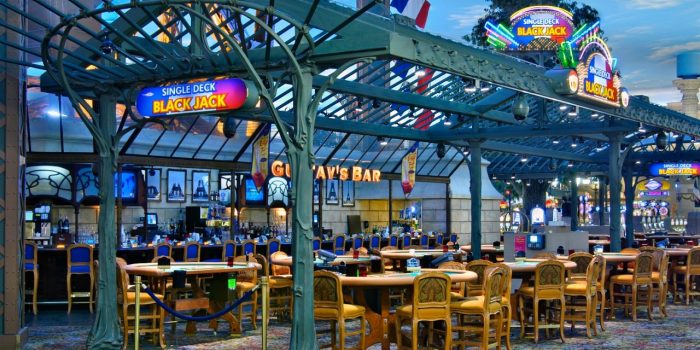 Book A Room
There's nothing like strolling up to a Las Vegas table game with a lover on your arm and trying your luck with the dice or cards. For high rollers, our Salon des Tables right off the main casino floor offers high limit excitement.
BLACKJACK
Blackjack, also known as 21, is many Las Vegas gamblers' table game of choice. Blackjack has been played across the globe for centuries, and the object is simple for each player at the table. Get a total closer to 21 than the dealer's, without going over. While blackjack is a basically simple casino table game, its strategy can often reflect the personality of its players.
CRAPS
When Craps players win big, the Paris Las Vegas casino knows it. Hot dice have entire tables erupting in cheers and strangers high-fiving. While the many wagering options and the unique Craps table slang are a lot to take in, learning the basics of the casino table games is simple, and even novice players soon lose themselves in the excitement of Craps at the Paris Las Vegas casino.
BACCARAT
For a truly continental gambling experience in Las Vegas, play this Monte Carlo favorite at Paris Las Vegas casino. Baccarat may be the simplest table game to learn, but is stylish enough for James Bond. Bet on the "player" or the "bank." Two hands are dealt, and whichever one comes closest to 9 is the winner. It's no wonder baccarat is a favorite table game among Las Vegas gamblers with its ease and sophistication.
MINI BACCARAT
While many associate the elite game of Baccarat with sophistication, it's also surprisingly easy to play. Paris casino Mini Baccarat is a simple, straightforward way to enjoy this action. It is fast-paced and minimum wagers are lower than in regular Baccarat.
ROULETTE
At Paris Las Vegas Casino as elsewhere in the United States, roulette wheels are marked with numbers 1 through 36 as well as a 0 and 00. Choose your lucky numbers, or bet on even, odd, red, black – the possibilities are endless, and the payouts can be exciting, hence its unparalleled popularity.
PAI GOW POKER
Combining poker's familiar feel with the challenging strategy of Pai Gow Tiles, the Paris casino's Pai Gow Poker is a fun and easy game. Players form two hands from seven cards and each goes head to head with the dealer's two hands. This is a Las Vegas casino table game with challenge and strategy.
Three Card Poker, Six Card Bonus
Six cards could win you $100,000 with a Diamond Super Royal Flush at the exclusive Caesars Rewards Three Card Poker game. Three Card Poker uses mostly traditional poker rankings with several action-enhancing twists. Three consecutive cards form a straight and three of a suit is a flush – and of the two, a straight pays more. The pay schedule printed on the Las Vegas table game layout determines the payout, and getting a nine through ace in Diamonds is worth $100,000. This Paris Las Vegas table game is a Caesars Rewards exclusive.
PAI GOW TILES
Pai Gow Tiles is also known as Chinese Dominoes, one of the more challenging and rewarding games on the Paris Las Vegas casino floor. Out of four tiles, create two hands and square off against the dealer.
LET IT RIDE
Let It Ride is a popular variation of Five Card Stud Poker. In this casino table game, you don't play against the dealer or other Paris Las Vegas casino gamblers. Let It Ride players are dealt three cards and use the dealer's two cards to form a full hand.This Las Vegas casino table game offers the possibility of winning up to $25,000! Make your bets, and if you've got a good hand, just Let It Ride and you could win a ton of cash.
*Let It Ride, Fortune Pai Gow Poker, Casino War and Three Card Poker are trademarks used under license from SHFL entertainment, Inc.