Las Vegas Shopping at Paris Hotel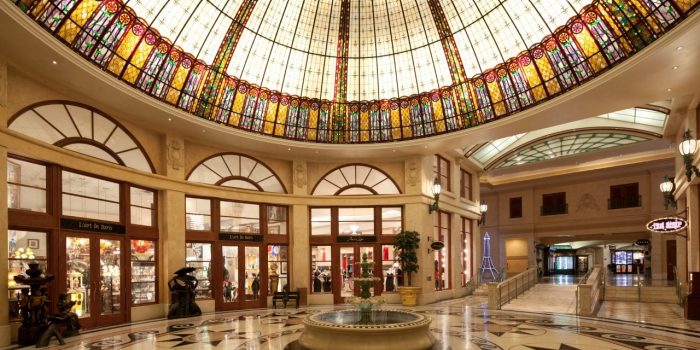 Book A Room
Facts
Type of Activity
Shopping
Contact Number
(702) 946-7000
Just like the real thing, Paris Las Vegas features exquisite shopping from designer shoes, handbags, casual clothing and accessories at Paris Line to unique gift ideas at Les Eléments. The hotel boasts two retail areas reminiscent of a quaint Parisian village with cobblestone streets and painted ceilings. Stroll through the Bally's Promenade and Le Boulevard to shop until you drop by picking up jewelry and accessories, cigars, gourmet treats, memorabilia and stylish clothing.
Highlights at Bally's Promenade include French-inspired fashion boutiques, jewelry and women's designer accessories. Stop by the Paris Las Vegas shops at Le Boulevard for great gifts such as wine, perfume or Eiffel Tower memorabilia. Spoil yourself in charming boutiques, gift shops, a home and garden store and our gourmet food shop.
Expert Tips
Shop for glittering jewelry and accessories at Swarovski
Trendy shoes influenced by major label fashion designers
Pick up an exquisite children's toy or apparel at Petits Cheris
Sundries boutique at Le Journal
Find Modern Men's fashion apparel at Misura
Shops at Paris
Davidoff Boutique
Where there's smoke, there's this premium boutique for cigars for novices and connoisseurs alike, located next to the Paris Diamond Lounge on Le Boulevard. Open daily from 8 a.m. – 2 a.m., shop its quality collection of premium and rare cigars, international and domestic cigarettes, and tobacco related accessories.
La Cave
Gather some goodies to stock your home kitchen, or treat your friends to gourmet food gifts with goods from La Cave. Peruse the Premium French wines, patés, hand-crafted artisan chocolates and imported cheeses you won't find at home. These tastes of France become a wonderful import into even the most domestic of kitchens.
Eiffel Tower
If you can't get to the real thing, pick up adorable Eiffel Tower designs on everything from plates to candles, keychains, postcards, magnets and clothing. A memento of your Paris Las Vegas experience is a necessary splurge at this quaint casino gift shop. You'll find it beside the Le Pont Alexandre III Bridge on the main casino floor.
Le Journal
Whatever time of day you're looking to splurge, hit this 24-hour hotel gift shop. It stocks Paris Las Vegas apparel, souvenirs, beverages, liquor, cigars and cigarettes to satisfy any retail cravings.
Les Eléments
Want to add a French twist to your abode? The home and garden items at Les Eléments let you incorporate the styles and aesthetic of Paris and Provence into your favorite space. Charming gifts, accents and collectibles abound, including Limoges boxes.
Pérola
Shop for cosmetics to help you look and feel your best.
Presse
Catch up on the day's events and current news at this Parisian-inspired newsstand offering newspapers, magazines, tobacco, snacks and sundries 24 hours a day.
Paris Line
Get dressed up head-to-toe here and sport the latest high-fashion look at this women's retail apparel store. Dresses range from casual to evening wear in bright colors, with detailed adornments and embellishments that perfectly play off the Las Vegas lights. Designer shoes, handbags, casual clothing and accessories complete the look.
Misura
Misura sets the bar high. The fine men's apparel, shoe and accessories boutique specializes in European designs, fun fashion and classic casual style from sought-after designers including Hugo Boss, Rock Revival, Affliction, True Religion, Roar, Tommy Bahama and Donald Pliner.
Swarovski
Swarovski offers the design of a new generation with precise crystal workmanship, bold design and artistic implementation.
Optica
Designer eyewear and opticals.
Perfume de Paris
Retail collection of cosmetics and perfumes.
Travel+
Handy travel and vacation accessories.
Glitz To Go
For the latest in jewelry and accessories.
Les Nécessités
Candy, snacks, sundries, tobacco, cigars and beverages.
Why You'll Love It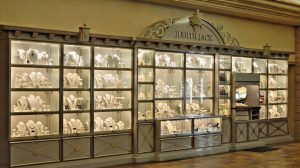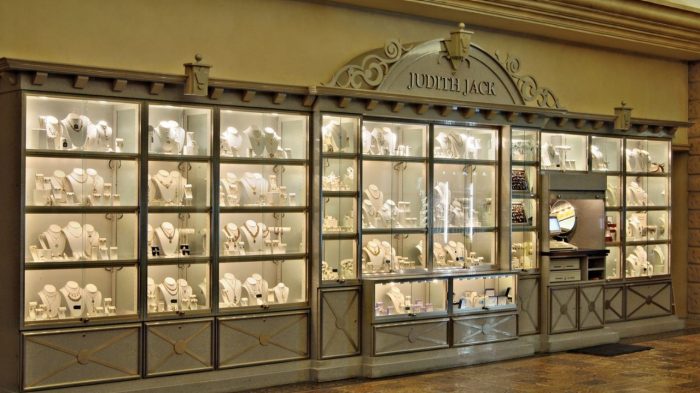 Boutiques, gift shops, and much more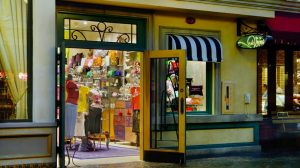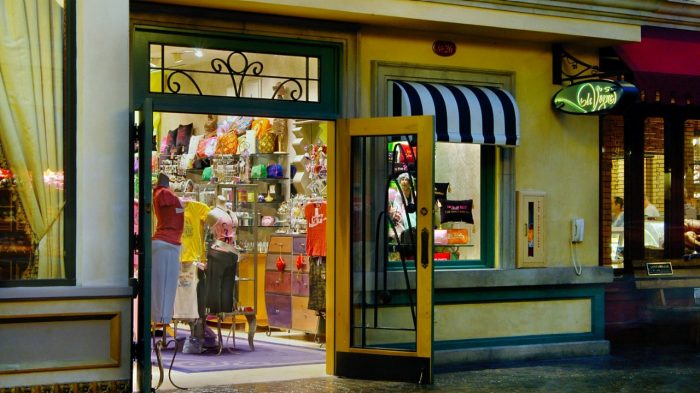 Everything from exquisite accessories to the latest fashions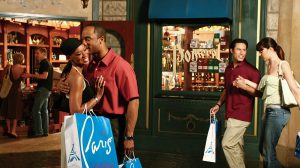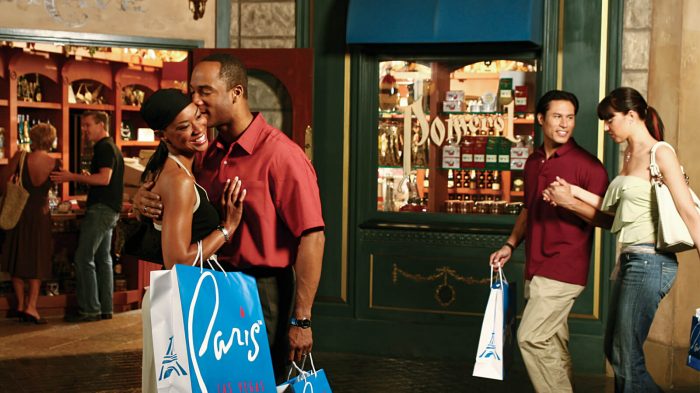 Top-rated shopping in two promenades
Start of dialog window.
Why You'll Love It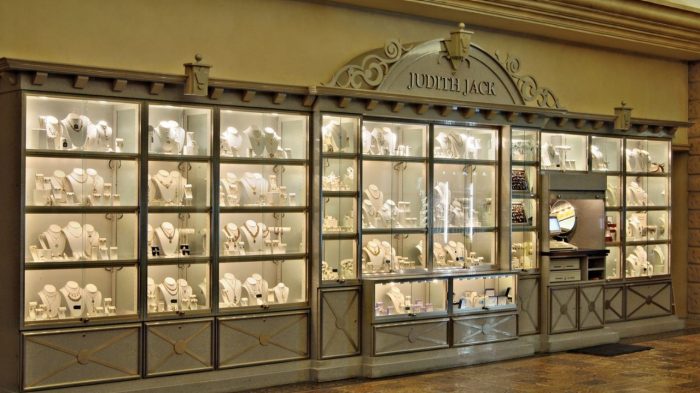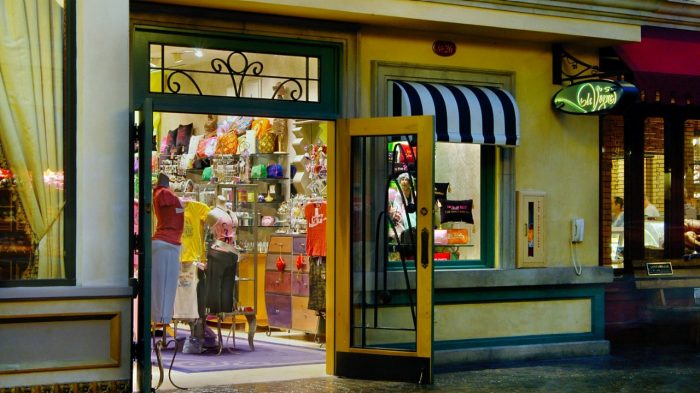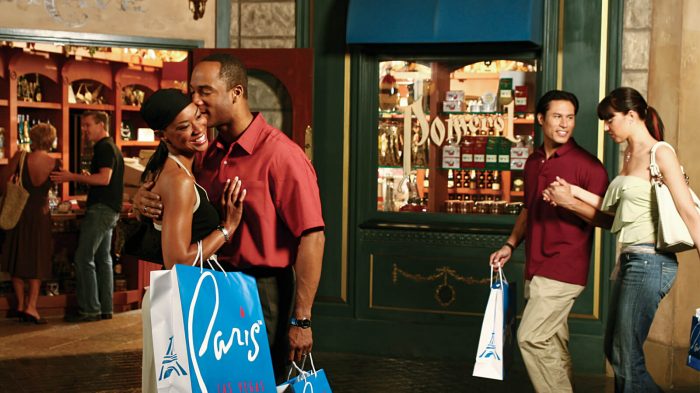 End of dialog window.