Earl of Sandwich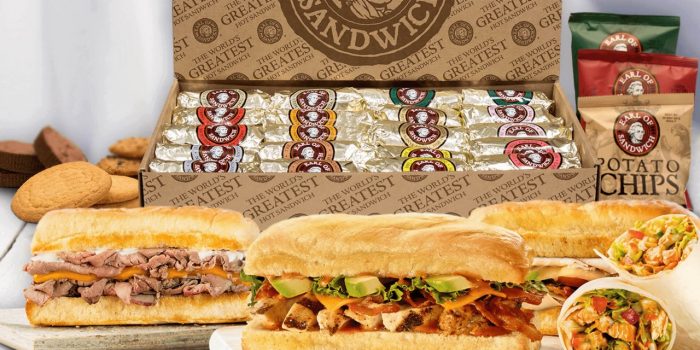 Book A Room
Facts
Cuisine
Cafe/Variety
AVG Entree Price
$5 to $15
Price Level
$
Attire
Casual
Contact
(702) 463-0259
Hours
Daily7am - 2am
#2 Best Fast Casual Restaurants — United States
2018 TripAdvisor Travelers' Choice® awards
The Earl would like to take a moment to thank the travelers for recognizing Earl of Sandwich as an overall winner – ranking second out of ten – for the top U.S.-based fast casual restaurants in the 2018 TripAdvisor Travelers' Choice® awards for Restaurants. The hallmarks of Travelers' Choice restaurants winners are remarkable service and quality.
After partying all night, what could be better than a tasty, carb-laden meal? Better yet, what could be better than warm, fluffy bread with the works? Located inside Planet Hollywood Las Vegas, Earl of Sandwich is much more than your typical "fast fix" lunch or midnight snack. Open around the clock, this Las Vegas deli is sure to satisfy any sandwich craving morning, noon or night.
Lines can get long at this upscale sandwich shop, but once you order your sandwich, wait time is no issue. Earl of Sandwich actually has a history which traces back to 1762 – it's been around for some time!
WHAT TO EAT AT THIS ADVENTUROUS SANDWICH JOINT
Here the ultimate Las Vegas sandwich is much more than just meat between two slices of bread. The extensive menu brings sandwiches to a whole new artistic level with options like the Full Montagu, roasted beef, turkey, Swiss and cheddar; Original 1762, roasted beef, cheddar, horseradish sauce; and the Earl's Club with turkey, bacon and Swiss. Each is made with fresh-baked, artisan bread and the finest ingredients.
For a taste of the tropics, try Hawaiian BBQ – grilled chicken, ham, Swiss, pineapple and BBQ sauce. Salads, wraps vegetarian and gluten-free options are also available. Fulfill your sweet tooth with fresh-baked cookies, brownie crème sandwiches and cupcakes. Breakfast sandwiches are served until 11 a.m.
EXPERT TIPS
Delicious sandwiches and other tempting options, available 24 hours daily
Try the famous Original 1762 – roasted beef, cheddar and horseradish sauce
Wallet-friendly - everything is reasonably priced
Enjoy the softest, tastiest bread in the market
Great option for the on-the-go traveler
"Sometimes only a sandwich will do. That's when you head to Earl of Sandwich, order up something tasty and rejoice in the wonder of a well-stacked lunch."
"The Earl of Sandwich offers deli-style sandwiches that are uniquely fresh, filled with meats and cheeses and made to order. Try sandwiches like the original fresh roast beef -- creamy horseradish and sharp cheddar cheese on made-to-order artisan bread."