YOLÖS Mexican Grill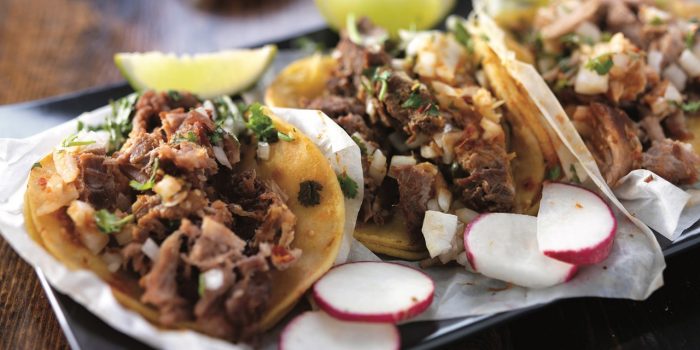 Reserve a Table
Facts
Cuisine
Mexican/Southwestern
AVG Entree Price
$15 to $25
Price Level
$$
Attire
Casual
Contact
(702) 785-0122
Hours
Restaurant
Thurs & Fri3 PM - 11 PM
Sat & SunNoon - 11 PM
Bar
Thurs3 PM - Midnight
Fri - SunNoon - Midnight
Yolo! You only live once, right? At Yolös Mexican Grill at Planet Hollywood Las Vegas, it's all about the fiesta. Whether you're here to choose from 60 tequilas or sip on a fresh fruit margarita, you're going to have the time of your life. Oh, and there's great food too.
The fun-loving crowd and bright interior at this casual Las Vegas Mexican restaurant makes for a great cantina experience on the Strip. Delve into all your favorite Mexican favorites and even sample dishes with Pacific Rim, South American, and Caribbean influences.
WHAT TO EAT AT THIS LAS VEGAS MEXICAN RESTAURANT
One of the popular appetizers is the fresh guacamole ¡Delicioso! This Las Vegas Mexican restaurant offers other tasty dishes like fajitas, adobo enchiladas and shredded beef, chicken or carne asada options.
There's always something going on at Yolös. Swing by and join the party. The restaurant has convenient access to the Strip, so this adventure is only the beginning.
EXPERT TIPS
Sample more than 60 tequilas
Enjoy fresh fruit margaritas
Order delicious Mexican food with creative, international twists
Brace yourself for a party-hearty atmosphere
Convenient access to the Las Vegas Strip
Why You'll Love It
An eclectic selection of over 60 tequilas
A fresh take on classic Mexican cuisine
Fresh fruit margaritas
Traditional Mexican favorites with global fair
Start of dialog window.
Why You'll Love It
End of dialog window.
"This "unfussy" cantina in Planet Hollywood slings "delicious" Mexican grub washed down with "lots of tequila"; it's "not expensive" and stays open "late."
"At Yolos Mexican Grill, the fun-loving crowd, and the cool and energetic colors of the dining room all serve notice that this urbane cantina is a little different from what you'll find anywhere else in Las Vegas. The service is as gracious as any down Mexico way."
"If you're getting a craving for margaritas and Mexican, steer yourself straight to Yolos. This casual eatery serves exciting takes on south-of-the-border staples, like mahi-mahi taco salad, braised beef enchiladas and blue corn chicken."