The Winner's Circle Race Sports Pub is a new dimension of race wagering and sports betting. This energetic, Las Vegas-style lounge features flat screen televisions that bring the intensity and action of horse racing and all types of sports to life. Guests will enjoy modern personal betting equipped with individual monitors and dedicated sports viewing areas. Guests will also have easy access to a food and beverage grab-and-go and the benefits of Caesars Rewards.
Check out our daily specials and promotions at Winners Circle Clarksville. Now offering a starting pool of $500 for Sur-5-vor! New contest TKO Challenge starting on Mondays in August!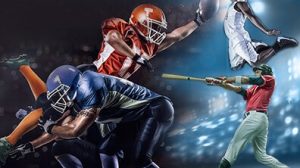 Caesars Race & Sportsbook Now Open!
Winner's Circle Race, Sports, Pub sports betting is now open.
Winner's Circle offers state-of-the-art sports betting technology, high-definition televisions, and luxury seating.
Guests are able to wager on professional football, basketball, baseball, wrestling, and select Division 1 college sports. With more than 100 events over the course of the year, we are thrilled to expand our entertainment offerings to the world of sports betting.
Now accepting sports wagering tickets from Caesars Sportsbook.